Blinds Outdoor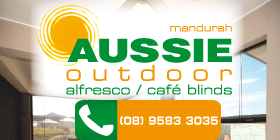 *Aussie Outdoor Alfresco/Cafe Blinds - Phone 9583 3035 - Blinds Outdoor Mandurah - Mandurah, WA 6210

MANDURAH, ROCKINGHAM, KWINANA
OUTDOOR BLINDS MANDURAH, OUTDOOR BLINDS ROCKINGHAM, OUTDOOR BLINDS KWINANA. OUTDOOR UMBRELLAS MANDURAH. OUTDOOR UMBRELLAS ROCKINGHAM. OUTDOOR UMBRELLAS KWINANA.
Number One Blind Manufacturer in Australia - Patented Lock Jaw System to withstand harsh weather - Three Year Warranty - Free Measure and Quote - Interest Free Terms


---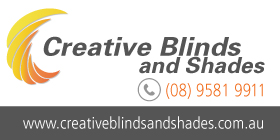 *Creative Blinds and Shades - Phone 08 9581 9911 - Blinds Outdoor Mandurah - Mandurah, 6210

MANDURAH - PEEL REGION
OUTDOOR BLINDS MANDURAH. INDOOR BLINDS MANDURAH. ROLLER SHUTTERS MANDURAH. BLINDS PEEL REGION. SUN SHADES MANDURAH.
At Creative Blinds and Shades, we pride ourselves on the quality of our products and our workmanship. So if you want to create a space you'll love coming home to, talk to the specialists at Creative Blinds and Shades today on 08 9581 9911 to arrange a free measure & quote...
CLICK FOR OBLIGATION FREE QUOTE ON FEATURE

---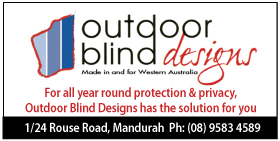 *Outdoor Blind Designs - Phone 9583 4589 - Blinds Outdoor Mandurah - Mandurah, 6210

MANDURAH ROCKINGHAM KWINANA
OUTDOOR BLINDS MANDURAH. OUTDOOR BLINDS PORT KENNEDY. OUTDOOR BLINDS DAWESVILLE. OUTDOOR BLINDS BUNBURY. OUTDOOR BLINDS BUSSELTON.
FREE IN-HOME MEASURE & QUOTE - SPECIAL: MASSIVE 40% OFF SUPPLY AND INSTALLATION
For all year round protection and privacy Outdoor Blind Designs has the solution for you. Blinds Custom made to order: Urban Track - Retractable Blind, Zipped U-Lock Rope & Pulley Blind, Channel Blinds. Frigerio Folding Arm Awnings: California-Standard, Universa-Deluxe, Europa-Semi Cassette (hood box)
A family owned business with a combined 15 years experience. Mandurah Display OPEN 24/7.
CLICK FOR FACEBOOK & GALLERY ON FEATURE

---
---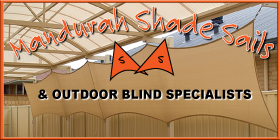 Mandurah Shade Sails - Ph 9582 3666 - Blinds Outdoor Bouvard Mandurah
- Bouvard, WA 6210
MANDURAH , ROCKINGHAM AND SURROUNDING AREAS
OUTDOOR BLINDS MANDURAH. SHADE SAILS MANDURAH.
Outdoor Blinds fully fitted in Mandurah Rockingham and Peel Region
Mandurah Shade Sails is a local, family-owned company, established over 6 years ago to meet the high demand for top-quality shade sails, outdoor blinds and awnings in the area.
NEW SYNTHESIS SHADECLOTH:
Car Park, Playground, Privacy Screening - combine High Density Polyethylene, advanced Ultra Violet (UV) stabilisers and pigment.
SEE SHADE SAILS FOR FULL FEATURE
---
---