Newsagents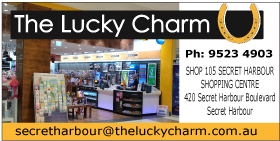 *The Lucky Charm Secret Harbour - Secret Harbour, 6173

SECRET HARBOUR
Newsagents Secret Harbour, Newsagency located Secret Harbour Shopping Centre
Magazines, Ink and Toner Cartridges, Stationery, Gifts, Lottery Products, and much more.

---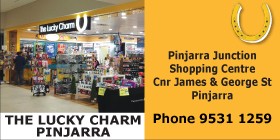 *The Lucky Charm Pinjarra - Phone (08) 9531 1259 - Newsagent Pinjarra - Pinjarra, 6208

PINJARRA
NEWSAGENT PINJARRA.
Newsagent located in Pinjarra Junction Shopping Centre, Pinjarra. Stationery, Cards, Gifts, Lottery Products, Ink & Toner

---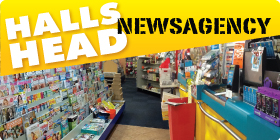 *Halls Head Newsagency - Phone (08) 9581 5554 - Newsagent Halls Head - Halls Head, 6210

MANDURAH
NEWSAGENCY HALLS HEAD MANDURAH.
Newsagency located in Halls Head Mandurah. LOTTO, Stamps, Gifts, Magazines and Papers, Stationery, plus much more..

---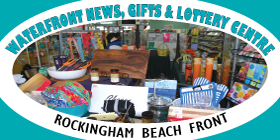 *Waterfront News, Gifts & Lottery Centre - Phone 9527 1307 - Newsagent Rockingham - Rockingham, 6168

ROCKINGHAM
NEWSAGENT ROCKINGHAM.
Newsagency located Rockingham Beach Front, Rockingham. For Gifts, Magazines, Greeting Cards, Lottery Products, plus much more..

---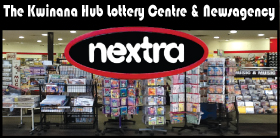 *The Kwinana Hub Lottery Centre & Newsagency - Phone 9419 1868 - Newsagent Kwinana - Kwinana, 6167

KWINANA AND SURROUNDING AREAS
NEWSAGENT KWINANA.
Lottery Centre and Newsagency located in Kwinana Market Place, Kwinana. Gifts, Stationery, Cards, Magazines plus much more

---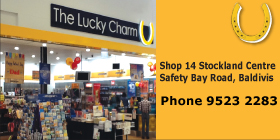 *The Lucky Charm Baldivis - Phone 9523 2383 - Newsagent Baldivis - Baldivis, 6171

BALDIVIS, ROCKINGHAM SURROUNDING AREAS
NEWSAGENT BALDIVIS.
Newsagent located in Stockland Shopping Centre, Baldivis. Stationery, Greeting Cards, Gifts, Magazines, Lottery Products, Loyalty Rewards Program.

---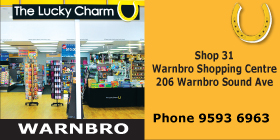 *The Lucky Charm Warnbro - Phone 9593 6963 - Newsagent Warnbro Rockingham - Warnbro, 6169

WARNBRO ROCKINGHAM
NEWSAGENT WARNBRO ROCKINGHAM.
Newsagent located in Warnbro Shopping Centre, Warnbro. Stationery, Greeting Cards, Gifts, Lottery

---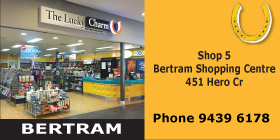 *The Lucky Charm Bertram - Phone 9439 6178 - Newsagent Bertram - Bertram, 6167

BERTRAM
NEWSAGENT BERTRAM.
Newsagent located in Bertam Shopping Centre, Bertam. Stationery, Cards, Gifts, Lottery Products

---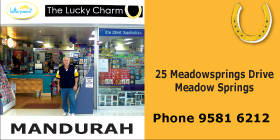 *The Lucky Charm Mandurah - Phone 9581 6212 - Newsagent Meadow Springs - Meadow Springs, 6210

MANDURAH, MEADOW SPRINGS
NEWSAGENT MEADOW SPRINGS.
The Lucky Charm Newsagents located in Meadow Springs, WA
Stationery • Magazines
Greeting Cards • Gifts
Loyalty Rewards Program
Lottery Products

---
---
---