Swimming Pools and Spas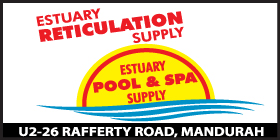 *Estuary Pool & Spa Supplies - Phone 9534 9534 - Swimming Pools and Spas Mandurah - Mandurah, WA 6210

MANDURAH, PEEL REGION
SWIMMING POOL SUPPLIES MANDURAH
SPA SUPPLIES MANDURAH. MANDURAH POOL AND SPA SERVICING
Water Testing - Pool and Spa Chemicals - Pumps - Filters - Salt Chlorinators - Auto Cleaners - Solar Covers - Parts and Accessories - Pool Cleaners - Pool Lights - Water Blades - Solar Heating - Heat pumps.

---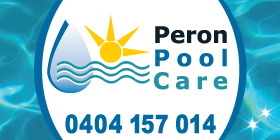 *Peron Pool Care - Phone 9528 1534 - Swimming Pools and Spas Safety Bay Rockingham - Safety Bay, WA 6169

ROCKINGHAM - GOLDEN BAY - MANDURAH - PEEL REGION
SWIMMING POOL MAINTENANCE ROCKINGHAM. SWIMMING POOL REPAIRS ROCKINGHAM. SPA CARE ROCKINGHAM. POOL CARE ROCKINGHAM.
Take the Hassle out of Pool Care.
Regular Maintenance - Training for Pool Owners - Existing Equipment Repair - New Equipment Installations - Water Treatment & Balancing - Computer Water Analysis - Troubleshooting.
We will tailor a service that suits your pool, your lifestyle and budget.
BOOK ONLINE BUTTON ON FEATURE

---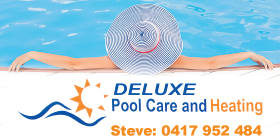 *Deluxe Pool Care and Heating - 0417 952 484 - Swimming Pools and Spas Port Kennedy Rockingham - Port Kennedy, 6172

ROCKINGHAM - MANDURAH
MOBILE POOL CARE & HEATING SPECIALISTS, POOL LEAK DETECTION
PORT KENNEDY SOLAR POOL HEATING ROCKINGHAM.
PORT KENNEDY POOL MAINTENANCE ROCKINGHAM. PORT KENNEDY POOL LEAK DETECTION ROCKINGHAM. PORT KENNEDY POOL EQUIPMENT ROCKINGHAM.
Your Local Pool Maintenance and Heating specialists.
Steve the owner of Deluxe Pool Care and Heating has been in the pool industry for 20 years.
CLICK FOR FACEBOOK & CLICK FOR MOBILE SERVICE ON FEATURE

---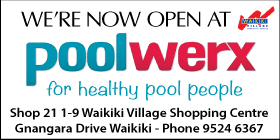 *Poolwerx Rockingham Waikiki - Swimming Pools & Spas Rockingham - 1800 009 000 - Waikiki, 6169

WAIKIKI, ROCKINGHAM, WARNBRO
Swimming Pool Supplies Waikiki Rockingham, Spa Supplies Waikiki Rockingham, Pool and Spa specialists Waikiki Village Shopping Centre.
We stock a complete range of pool & spa chemicals, equipment, parts and accessories. Our pool experts are always on hand with friendly, professional advice on how to keep your pool healthy and sparkling.
MOBILE POOL AND SPA SERVICE ROCKINGHAM, WAIKIKI, WARNBRO AND SURROUNDING AREAS. "We Come To You".


---
---
---