4WD Service and Repairs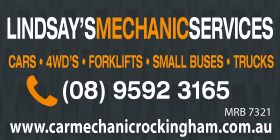 *Lindsay's Mechanic Services - AFFORDABLE RELIABLE 4WD'S CARS FORKLIFTS SMALL BUSES TRUCKS SERVICE & REPAIRS - Rockingham, WA 6168

ROCKINGHAM 4WD SERVICE, GOLDEN BAY 4WD SERVICE, MANDURAH 4WD DRIVE SERVICE
4WD VEHICLE REPAIRS ROCKINGHAM, PORT KENNEDY 4WD REPAIRS AND SERVICING, BALDIVIS 4WD SPECIALISTS, SPECIALISTS IN FOUR WHEEL DRIVE VEHICLE REPAIRS BALDIVIS, KARNUP 4WD REPAIRS. Motor Vehicle Repair Rockingham - Car Servicing Rockingham - 4wd Service and Repairs Rockingham, Forklifts, Small Buses, Truck Servicing Rockingham..
We can come to you.. Warranty Servicing on most Makes & Models, Rockingham area. Log Book Servicing. For top quality services and vehicles repairs, contact one of the best car mechanics in Rockingham.
ROCKINGHAM FLEET SERVICING AT A COMPETITIVE PRICE We not only service cars, also 4wd, forklifts, small buses and trucks as well. We are competitive on price and have many qualified mechanics to service your needs.
We have access to the latest tools including the revolutionary Snap-On Diagnostic vehicle programs. We can come to you.
CLICK TO CONTACT & CLICK FOR FACEBOOK ON FEATURE

---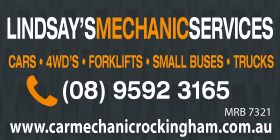 *Lindsay's Mechanical Services - 4WD SERVICE AND REPAIRS ROCKINGHAM - BALDIVIS - Rockingham, 6168

ROCKINGHAM 4WD REPAIRS, GOLDEN BAY 4WD REPAIRS, MANDURAH 4WD REPAIRS
4WD SERVICE ROCKINGHAM 4WD REPAIRS AND SERVICING BALDIVIS ROCKINGHAM. Baldivis Mechanics, Golden Bay Mechanics and 4wd Service and repairs secret harbour. Port Kennedy 4wd Service and Repairs. Kwinana 4wd Service and Repairs. Light and Heavy Machinery Service and Repairs Rockingham. Where can I find a good mechanic near me Motor Vehicle Repair Rockingham Forklift Service and Repairs rockingham- Car Servicing Rockingham - 4wd Service and Repairs I need my 4wd serviced Rockingham, Forklifts, Small Buses, Truck Servicing Rockingham.
Lindsay's Mechanical Services a wide range of mechanical vehicles - cars, 4wd, forklifts, small buses and trucks. We are competitive on price and have many qualified mechanics to service your needs.
We have access to the latest tools including the revolutionary Snap-On Diagnostic vehicle programs.
No matter what vehicle brand you have, we can repair and service it. We can also come to you!
CLICK TO CONTACT & CLICK FOR FACEBOOK ON FEATURE

---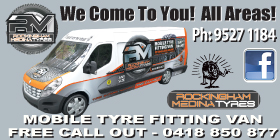 Rockingham Medina Tyre Service - 4WD Service and Repairs Rockingham 4WD Service and Repairs Kwinana 4WD Service and Repairs Mandurah 4WD Service and Repairs
- Rockingham, 6168
ROCKINGHAM 4WD SERVICE AND REPAIRS BALDIVIS 4WD SERVICE AND REPAIRS MANDURAH 4WD SERVICE AND REPAIRS KWINANA 4WD SERVICE AND REPAIRS SECRET HARBOUR 4WD SERVICE AND REPAIRS

ALL 4WD REPAIR ROCKINGHAM FOUR WHEEL DRIVE SERVICE (in store)
TYRES ROCKINGHAM. BATTERIES ROCKINGHAM. LASER WHEEL ALIGNMENT ROCKINGHAM (in store). COMPUTERISED WHEEL BALANCING ROCKINGHAM. MAG WHEELS ROCKINGHAM.
Licensed Repairer MRB 694 - Your Locally Owned Tyre Professionals...
WE COME TO YOU.. Phone 0418 850 877
ROCKINGHAM, KWINANA, MANDURAH, ALL AREAS MOBILE TYRE FITTING VAN.
SEE TYRES FOR FULL FEATURE
---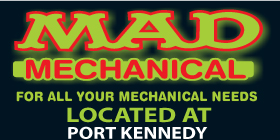 *Mad Mechanical - 4WD Service and Repairs Port Kennedy Rockingham -SERVICE SPECIALS FROM $180 - Port Kennedy, 6172

ROCKINGHAM 4WD DRIVE SERVICE & REPAIRS, PORT KENNEDY 4WD DRIVE SERVICE & REPAIRS, BALDIVIS 4WD DRIVE SERVICE & REPAIRS, SECRET HARBOUR 4WD DRIVE SERVICE & REPAIRS, MANDURAH 4WD DRIVE SERVICE & REPAIRS
PORT KENNEDY FOUR WHEEL DRIVE SERVICE ROCKINGHAM MOTOR VEHICLE REPAIRS PORT KENNEDY. ROCKINGHAM 4WD VEHICLE REPAIRS PORT KENNEDY. MOTOR MECHANICS ROCKINGHAM. VEHICLE REPAIRERS AND SERVICING
CAR REPAIRS ROCKINGHAM, MANDURAH KWINANA VEHICLE REPAIRS PORT KENNEDY, CAR SERVICING AND REPAIRS ROCKINGHAM, PORT KENNEDY MANDURAH CAR REPAIRS AND SERVICING 4x4 SERVICES Mad Mechanical is a family owned and operated business servicing vehicles in the Rockingham region for more than 12 years.
Specialising in general repairs and servicing, 4x4 vehicles, fuel injection, brake, clutch and engine rebuilds.
Ray and his team assure you will receive the absolute best mechanical repairs for most well-known car brands and models.
Mad Mechanical is known to be the most dedicated and efficient automotive workshop in the Rockingham area.
Every piece of work is assured to use top of the range parts at the lowest prices possible. Ray and El Tara's well trained and friendly staff are there to ensure you receive the exact job you were looking for at the right price.
CLICK FOR FACEBOOK & QUOTE ON FEATURE.
---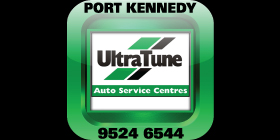 Ultra Tune Port Kennedy - 4WD Service and Repairs Port Kennedy - Port Kennedy, 6172

ROCKINGHAM 4WD SERVICE AND REPAIRS PORT KENNEDY ROCKINGHAM 4WD SERVICE AND REPAIRS 4WD SERVICE AND REPAIRS KWINANA 4WD SERVICE AND REPAIRS BALDIVIS 4WD SERVICE AND REPAIRS
ROCKINGHAM 4WD CAR SERVICING BALDIVIS 4WD CAR MECHANICS, PORT KENNEDY 4WD VEHICLE SERVICING AND REPAIRS MOTOR VEHICLE REPAIRS ROCKINGHAM 4WD PORT KENNEDY 4WD CAR SERVICING 4WD R4WD SUSPENSION PORT KENNEDY 4WD CAR AIR-CONDITIONING PORT KENNEDY 4WD AUTO AIR CONDITIONING ROCKINGHAM 4WD TYRES BALDIVIS 4WD AUTO AIR CONDITIONING REPAIRS AND SERVICE Baldivis motor vehicle repairs Warnbro 4WD motor vehicle repairs Rockingham 4WD BRAKE AND CLUTCHES Baldivis CAR SERVICING Rockingham TYRES Warnbro.
Ultra Tune offers a complete range of car servicing options, designed to suit most vehicle types.
Ultra Tune Service Centres specialise in vehicle maintenance.
Licensed Repairer MRB 1996.
4WD Repair and Servicing Tyres, Suspensions, Car Auto Air Servicing
CLICK FOR ULTRA TUNE PORT KENNEDY OR TO WATCH VIDEO ON FEATURE

---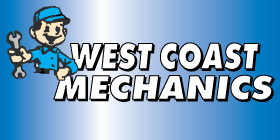 *West Coast Mechanics - 4WD Service & Repairs Rockingham - Rockingham, 6168

ROCKINGHAM 4WD SERVICE AND REPAIRS KWINANA 4WD SERVICE AND REPAIRS BALDIVIS 4WD SERVICE AND REPAIRS MANDURAH 4WD SERVICE AND REPAIRS
ROCKINGHAM 4WD Rockingham Motor Mechanics Rockingham, Vehicle Servicing Rockingham CAR REPAIRS Kwinana FOUR WHEEL DRIVE SERVICE, Baldivis FOUR WHEEL DRIVE REPAIRS PORT KENNEDY SHOCK ABSORBERS, SECRET HARBOUR AUTOMOTIVE REPAIRER ROCKINGHAM LIGHT TRUCK SERVICING ROCKINGHAM FOUR WHEEL DRIVE MECHANIC ROCKINGHAM BRAKE & CLUTCH ROCKINGHAM SHOCK ABSORBERS KARNUP MECHANICS GOLDEN BAY MOTOR VEHICLE REPAIRS
Originally established in the 1980s by Tom Howard, West Coast Mechanics has been providing premium quality automotive repairs to drivers in Rockingham and the surrounding area ever since.
With over 40 years of experience in automotive repairs, Tom leads a team consisting of his son Sam, a fully qualified tradesman, and two qualified mechanics.
Here at West Coast Mechanics we are proud of our value for money, reliability, and open communication with the customer. When you give us a call, you'll talk to the person working on your car, not someone sitting behind a desk.
Quality and Expert Service you can rely on
CLICK FOR FACEBOOK ON FEATURE

---
---
---