Beauty Therapy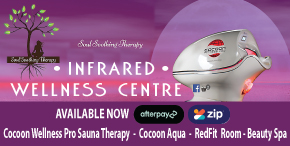 SOUL SOOTHING THERAPY INFRARED WELLNESS CENTRE - ZIP AND AFTERPAY AVAILABLE - MONTHLY SPECIALS - COCOON INFRARED DETOX SPA PODS WELLNESS CENTRE - ❤️💆
- Rockingham, 6168
BEAUTY THERAPY ROCKINGHAM ROCKINGHAM BEACH BEAUTY THERAPY - LATEST FACIAL TREATMENTS

BEAUTY THERAPY ROCKINGHAM, ROCKINGHAM BEAUTY THERAPISTS, BEST BEAUTY FACIALS, Rezenerate Rockingham, GOLD ALGAE MASKS ROCKINGHAM, MANDURAH GOLD ALGAE MASKS, BEST FACIAL EVER ROCKINGHAM, CASMARA PRESTIGE 24k GOLD ALGAE MASK ROCKINGHAM, CASMARA VITAMIN C VEGETABLE FACIAL WITH OXYGEN INFUSED PRODUCTS ROCKINGHAM, ROCKINGHAM BEAUTY THERAPY, BALDIVIS GOLD ALGAE MASKS, BALDIVIS REZENERATE FACIALS, BEST FACIALS BALDIVIS, BEAUTY THERAPY Port Kennedy, BEST FACIALS Port Kennedy, BEAUTY TREATMENTS WARNBRO, WARNBRO GOLD ALGAE MASKS, REZENERATE FACIALS Port Kennedy, SECRET HARBOUR BEAUTY THERAPY CENTRES, BEST FACIALS SECRET HARBOUR, REZENERATE FACIALS SECRET HARBOUR, MANDURAH REZENERATE FACIALS, KWINANA BEST FACIALS, KWINANA BEAUTY THERAPY BEST FACIALS, SAFETY BAY BEST BEAUTY FACIALS, REZENERATE FACIALS SAFETY BAY, GOLD ALGAE MASKS SAFETY BAY, COCOON DETOX SPA PODS ROCKINGHAM, MANDURAH COCOON DETOX SPA PODS, INFRARED COCOON THERAPY ROCKINGHAM, INFRARED COCOON THERAPY MANDURAH, INFRARED COCOON THERAPY PORT KENNEDY, WELLNESS CENTRE PORT KENNEDY, WELLNESS CENTRE ROCKINGHAM, WARNBRO INFRARED COCOON THERAPY, SECRET HARBOUR INFRARED COCOON THERAPY, BALDIVIS INFRARED COCOON THERAPY, KWINANA INFRARED COCOON, THERAPY COCKBURN CENTRAL, INFRARED COCOON THERAPY WARNBRO, COCOON THERAPY ROCKINGHAM, Rockingham Detoxification on a cellular level ROCKINGHAM, Eliminate Inflammation Cocoon Therapy Port Kennedy, Wellness Centre Port Kennedy, Increase Circulation Cocoons Rockingham, Boost the Immune System Cocoons Rockingham, Reduce pain from injury Cocoons Rockingham, Accelerates healing process Cocoons Rockingham, Weight management, including significant calorie burning Cocoons Rockingham, Cell Regeneration Cocoons Rockingham, Reduce depression and anxiety Cocoons Rockingham, Improve sleep quality
SOUL SOOTHING THERAPY INFRARED WELLNESS CENTRE located Rockingham Beach Road,
❤️ Introducing our NEWEST FACIAL TREATMENTS, Rezenerate - BEST - FACIAL - EVER - AND CASMARA PRESTIGE 24k GOLD ALGAE MASK - CASMARA VITAMIN C VEGETABLE FACIAL WITH OXYGEN INFUSED PRODUCTS.
We also offer excellent options in Pain Management, Detox and Cocoon Wellness Pro Pods, Cocoon Hydration Pod helping with:
Including our RedFit Room Thermal Workout and Recover
LES MILLS VIRTUAL EXERCISE BIKE SESSIONS.
Shrinking Violet Inch Loss Body Treatments, Oxygen Therapy, Pure Smile Teeth Whitening, Sauna Suits, Non-Surgical Face Lift - The Ultimate Skin Care Ritual, plus much more..
Packages Available on all treatments.
---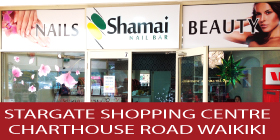 SHAMAI NAIL BAR 💁💅 BEAUTY SALON ONLINE PRICE LIST AVAILABLE - WE ARE OPEN BOOKINGS WELCOME OR WALK-INS
- Waikiki , 6169
ROCKINGHAM BEAUTY SALON WAIKIKI BEAUTY SALONS WARNBRO BEAUTY SALONS BALDIVIS BEAUTY SALON

ROCKINGHAM BEAUTY AND NAIL SALON WARNBRO BEAUTY AND NAIL SALON, WAXING BEAUTY WAXING AVAILABLE SAFETY BAY NAIL SALONS, BEAUTY THERAPISTS ROCKINGHAM, WAIKIKI BEAUTY SALON ROCKINGHAM. BEAUTY THERAPY WAIKIKI ROCKINGHAM.BEAUTY SALONS SAFETY BAY, BEAUTY AND NAIL SALON PORT KENNEDY, BALDIVIS BEAUTY SALON AND NAIL SALON, WAIKIKI NAIL SALONS
Shamai Nail Bar is a family owned and run salon located inside the Stargate Shopping Centre, Charthouse Road Waikiki.
Jenny and her staff are highly trained and experienced nail technicians specialising in Acrylic Nails, Shellac Nails, Nail Art and SNS Nails as well as Spa Pedicures, Waxing and Beauty Treatments,
APPOINTMENTS FROM MONDAY TO SATURDAY. Phone to book on 0403 898 707.
CLICK FOR FACEBOOK ON FEATURE
---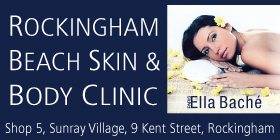 ROCKINGHAM BEACH SKIN & BODY CLINIC ❤️ ELLA BACHE SALON - SUMMER SPECIALS - BOOKINGS RECOMMENDED
- Rockingham, WA 6168
ROCKINGHAM ELLA BACHE BEAUTY SALON BALDIVIS ELLA BACHE BEAUTY SALON PORT KENNEDY BEAUTY SALONS ROCKINGHAM BEACH ELLA BACHE BEAUTY SALON

FREE PRODUCTS SPECIAL FACIAL PRODUCTS SPECIALS BEAUTY THERAPY SPECIALS FREE ELLA BACHE PRODUCTS ROCKINGHAM BONUS ELLA BACHE PRODUCTS ROCKINGHAM Rockingham Ella Bache Beauty Salon Rockingham Special Beauty Salon Baldivis Ella Bache Beauty Therapy Port Kennedy Ella Bache Beauty Salon, FEATHER TOUCHY BROWS ROCKINGHAM TOUCH BROW SPECIALIST ROCKINGHAM Warnbro Ella Bache Beauty Therapy. Rockingham, Shellac Nails Rockingham, Gel Nails Rockingham, Ella Bache Specialised Treatments Rockingham, Shellac Permanent Nail Polish Rockingham, Biosculpture Gel Nails, evo2 Nails Rockingham, Manicures Rockingham, Waxing Rockingham, Massage Rockingham, Spray Tanning Rockingham, Lash Tinting Rockingham, Brow Tinting Rockingham, Lash Lift Rockingham, Feather Touch Brows Rockingham, Beauty Treatments Baldivis Ella Bache Treatments Warnbro Beauty Treatments Waikiki Rockingham Ella Bache Specialist.
ROCKINGHAM BEACH SKIN & BODY CLINIC - ELLA BACHE SALON - BOOKINGS RECOMMENDED
Rockingham Beach Skin and Body Clinic is a family owned and run salon offering personalised service in a pleasant and relaxing atmosphere.
Situated in Rockingham Beach, the clinic is a specialist salon for Ella Bache products and all beauty treatments.
Highly trained and experienced staff will answer your skin care queries and advise the best treatment for your skin and body.
The Clinic offers the full range of skin, nail and body treatments.
---
---
---