Bistro and Function Room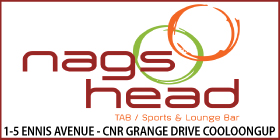 Nags Head - Bistro, Sports and Lounge Bar Rockingham - Cooloongup, 6168

ROCKINGHAM COOLOONGUP ALL AREAS
Rockingham Bistro and Bar Cooloongup, Nags Head located Ennis Avenue, Cooloongup.
Rockingham Pub Bistro Cooloongup, Bistro and Bar Rockingham, Rockingham Bar, Bistro and Lounge. Sports Bar Rockingham, Sports Bar Bistro and TAB Cooloongup Rockingham. Rockingham Tavern Cooloongup. New Owners Nags Head Cooloongup. Bottle Shop Cooloongup, Sports Bar and TAB Cooloongup, Bistro and Restaurant Rockingham. Open 7 Days a week, family friendly Restaurant Bistro. Function Room for Corporate and Private Events. Drive Thru Bottleshop, Lounge Bar and Bistro.

---
---
---