Blinds Outdoor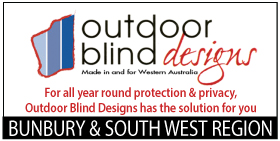 OUTDOOR BLIND DESIGNS - AMAZING SUMMER SPECIALS - CERTEGY EZI-PAY AVAILABLE - WHY WAIT FOR YOUR OUTDOOR BLINDS & AWNINGS WHEN YOU CAN HAVE THEM NOW! -
- Bunbury, 6230
BUNBURY - HARVEY - PICTON

OUTDOOR BLINDS BUNBURY OUTDOOR BLINDS AUSTRALIND OUTDOOR BLINDS EATON OUTDOOR BLINDS LESCHENAULT OUTDOOR BLINDS BRUNSWICK OUTDOOR BLINDS WATERLOO OUTDOOR BLINDS MYALUP OUTDOOR BLINDS BINNINGUP OUTDOOR BLINDS HARVEY OUTDOOR BLINDS BUSSELTON OUTDOOR BLINDS PRESTON BEACH OUTDOOR BLINDS URBAN TRACK BLINDS BUSSELTON URBAN TRACK BLINDS BUNBURY URBAN TRACK BLINDS SOUTH WEST URBAN TRACK BLINDS AUSTRALIND Zipped U-Lock – Rope & Pulley Blinds BUNBURY Zipped U-Lock – Rope & Pulley Blinds BUSSELTON Zipped U-Lock – Rope & Pulley Blinds AUSTRALIND Zipped U-Lock – Rope & Pulley Blinds BRUNSWICK Zipped U-Lock – Rope & Pulley Blinds HARVEY Zipped U-Lock – Rope & Pulley Blinds MYALUP Zipped U-Lock – Rope & Pulley Blinds MELROSE
Outdoor Blind Designs is a family owned and managed company that specialises in the manufacture, supply and install of quality outdoor blinds and awnings for the Australian market.
For all year round protection and privacy Outdoor Blind Designs has the solution for you. Blinds Custom made to order.
Bunbury Office Located 22 Georges st Bunbury, next door to Dan Murphys
WHY WAIT ASK ABOUT CERTEGY EZI-PAY NO INTEREST EVER!
---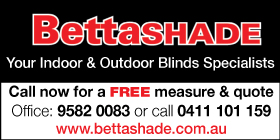 BETTASHADE - YOUR INDOOR OUTDOOR BLINDS SPECIALISTS - FREE MEASURE AND QUOTE
- Greenfields, WA 6210
MANDURAH BLINDS OUTDOOR MANDURAH ROLLER BLINDS MANDURAH INDOOR BLINDS GREENFIELDS BLINDS PINJARRA OUTDOOR BLINDS MANDURAH ROLLER SHUTTERS

MANDURAH BLINDS OUTDOOR GREENFIELDS BLINDS SALES MANDURAH INDOOR BLINDS ROCKINGHAM OUTDOOR BLINDS KWINANA ROLLER SHUTTERS MANDURAH BALDIVIS WINDOW BLINDS SALES MEADOW SPRINGS ROLLER BLINDS HALLS HEAD OUTDOOR BLINDS A WIDE DISPLAY OF FASHION BLINDS SALES LAKELAND INDOOR BLINDS PINJARRA BLINDS FOLDING ARM BLINDS MANDURAH PATIO BLINDS FALCON COCKBURN OUTDOOR BLINDS COCKBURN INDOOR BLINDS
Bettashade Your Indoor & Outdoor Blinds Specialists
BETTA QUALITY - BETTA PRICE - BETTA SHADE
Bettashade guarantees a high quality product at a competitive price.
Bettashade Mandurah offers factory direct prices and designs that are custom-made to meet your needs. If you need shade in a tight space, Bettashade has got you covered for angles, doorways, maintain your view, provide privacy, increase security, our blinds and shutters are custom made to suit your needs.
Call now for a FREE measure & quote
CLICK FOR QUOTE & TO VIEW GALLERY ON FEATURE
---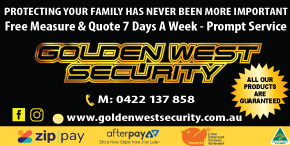 GOLDEN WEST SECURITY ✔️ AFTERPAY - ZIP PAY - HUMM FINANCE AVAILABLE OUTDOOR BLINDS SLIDETRACK
- Rockingham, 6168
SLIDETRACK BLINDS ROCKINGHAM OUTDOOR BLINDS ROCKINGHAM CAFE BLINDS BALDIVIS SLIDETRACK OUTDOOR BLINDS MANDURAH

OUTDOOR BLINDS ROCKINGHAM CAFE BLINDS BALDIVIS SLIDETRACK OUTDOOR BLINDS ROCKINGHAM SLIDETRACK BLINDS KWINANA SLIDETRACK OUTDOOR BLINDS MANDURAH KARNUP SLIDETRACK BLINDS COCKBURN SLIDETRACK BLINDS SUPPLIED INSTALLED SLIDETRACK FULLY RESTRAINED IN TRACKS SUN PROTECTION AND SHADING, BREEZE CONTROL BLINDS SLIDETRACK FREMANTLE HAMILTON HILL SLIDETRACK OUTDOOR BLINDS Crimsafe SECURITY DOORS ROCKINGHAM INVISI GARD SECURITY ROCKINGHAM Crimsafe Doors BALDIVIS Crimsafe Doors GOLDEN BAY Crimsafe Doors WELLARD Crimsafe Doors KWINANA Crimsafe Doors COCKBURN FREMANTLE Crimsafe Doors AND INVISI GARD SECURITY MANDURAH SECURITY GRILLS ROCKINGHAM SECURITY WINDOW SCREENS crimsafe security doors invisi gard security MANDURAH SECURITY PORT KENNEDY - STEEL MESH SECURITY CUSTOM SECURITY DOORS FREMANTLE ROLLER SHUTTERS ROCKINGHAM SECURITY DOORS JARRAHDALE SECURITY DOORS SERPENTINE SECURITY WINDOW SCREENS MANDURAH SECURITY WINDOW SCREENS ROCKINGHAM, PERSPEX SCREENS KARNUP PERSPEX SCREENS MANDURAH PERSPEX SCREENS Crimsafe Doors FALCON SECURITY PORT KENNEDY PATIO ENCLOSURES BALDIVIS PATIO ENCLOSURES AND HOME SECURITY FREMANTLE CUSTOM SECURITY DOORS Crimsafe Doors FREMANTLE ROCKINGHAM Crimsafe Doors PATIO ENCLOSURES AND HOME SECURITY KWINANA PATIO ENCLOSURES AND HOME SECURITY COCKBURN PATIO ENCLOSURES AND HOME SECURITY WELLARD DECORATIVE SECURITY DOORS BALDIVIS DECORATIVE SECURITY DOORS COCKBURN DECORATIVE SECURITY DOORS COCKBURN DECORATIVE SECURITY DOORS HAMILTON HILL DECORATIVE SECURITY DOORS KWINANA CUSTOM SECURITY DOORS DECORATIVE SECURITY DOORS KWINANA Stainless Steel Doors & Screens ROCKINGHAM PATIO ENCLOSURES AND HOME SECURITY STEEL MESH ROCKINGHAM, CUSTOM SECURITY DOOR Mandurah safety decorative doors, PINJARRA windows shutter FREMANTLE enclosures and pet doors, LAKELANDS DECORATIVE DOORS COODANUP PET DOORS SINGLETON SECURITY DOORS AND SCREENS KARNUP Patio Enclosures FREMANTLE Custom Built with Sports or Company Logo CALISTA Security Grills SETTLERS HILL Pet Doors ROCKINGHAM Robe Doors DAWESVILLE Roller Shutters ROCKINGHAM SCREENS Repairs & Maintenance WELLARD Decorative Doors ROCKINGHAM Door & Window Locks
Golden West Security is a one-stop security shop located in Rockingham offering a wide range of quality products and professional service.
Golden West Security also caters for working families on a budget by offering appointments outside of business hours.
There is nothing better than no deposit &NO INTEREST EVER WITH HUMM ALSO OFFERING AFTERPAY & ZIP PAY.
It's never been easier to get your new Security Doors and Screens supplied and installed straight away.
Golden West Security now also offer Slidetrack Outdoor Blinds and Rollashield External Screens.
---
---
---