Chiropractors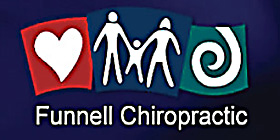 *Funnell Chiropractic Clinic - Phone 9527 6168 - Chiropractors Rockingham
- Rockingham, WA 6168
ROCKINGHAM
CHIROPRACTORS ROCKINGHAM.
CLICK FOR FACEBOOK & BOOK ONLINE SEE FULL FEATURE PAGE
Our approach is simple. We believe that health is among our most valuable possessions. And while we generally meet people after they've lost their health, our commitment is twofold.
1. Relief Care
When many people seek care in our office they have one goal: relief. So that's where we start! During this initial stage of intensive care, we have several obligations: Uncover the underlying cause of the health problem Suggest a care plan to produce the fastest results possible Offer ways patients can participate in their recovery Explain the value of post-symptomatic wellness care
2. Wellness Care
Our Chiropractors look forward to meeting you soon! We're committed to teaching our patients that true health is a journey, not a destination. Through educational opportunities (like this website), we hope to communicate the value of ongoing chiropractic care. Our desire is to see our practice members abandon the prevailing sickness care model of health (waiting for symptoms and then taking action), in favour of the emerging wellness model.
You choose
Regardless of your health goals, please understand that we are here to help you. You're the boss! It's your body, your health and your future. Our job is to offer you the finest chiropractic care possible in Rockingham, and it's up to you to decide how much of it you want.

---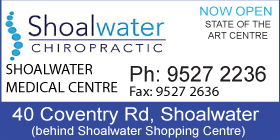 *Shoalwater Chiropractic Shoalwater Medical Centre - Chiropractor Shoalwater Rockingham -- Ph 9527 2236 - Shoalwater, 6169

SHOALWATER - ROCKINGHAM - SAFETY BAY -
CHIROPRACTORS at Shoalwater Medical Centre Rockingham
Shoalwater Doctors Medical Centre Rockingham Chiropractor.
BOOK ONLINE SEE FULL FEATURE PAGE - OPEN 6 DAYS
Our experienced and friendly Chiropractor from Shoalwater
*Improved spinal function
*Back and neck pain
*Headaches
*Sciatica
*Pregnancy and Postnatal Care
*Infant and children's health
*Sports injury management
*Geriatic spinal care
*Preventative spinal care


---
---
---