Deceased Estates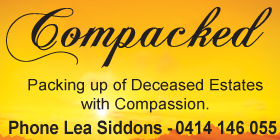 *Compacked - Phone 0414 146 055 - Rockingham, 6168

ROCKINGHAM AND ALL AREAS
Overwhelmed? We will arrange everything from packing up and cleaning your loved one's home.
How I can Help You:
As a Professional Organiser, I can help you at a time when you are feeling overwhelmed. This is a difficult if not impossible task for many to undertake on their own. I can ease the burden, by quietly and efficiently packing up the deceased estate, elminating any extra stress.
Why You Sometimes Need Help:
The grief can be too overwhelming to even consider this emotionally draining, but still necessary task.. My service is provided efficiently and with compasion at all times.
You may have commitments to work or family, leaving very little time leftover..
There may be conflict between family members, or people due to inherit from the estates - being a neutral and unbiased professional, I can perform the task on their behalf..
Distance may be a problem, including the added expense of travel and airfares.

---
---
---