Doors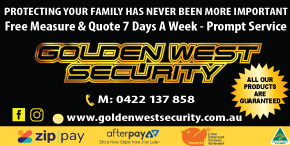 GOLDEN WEST SECURITY ✔️ AFTERPAY - ZIP PAY - HUMM FINANCE AVAILABLE SECURITY DOORS AND SCREENS
- Rockingham, 6172
CRIMSAFE SECURITY DOORS INVISIGARD ROCKINGHAM SECURITY DOORS SAFETY BAY SECURITY DOORS MANDURAH, SECURITY DOORS GOLDEN BAY, SECURITY DOORS KWINANA, SECURITY DOORS PORT KENNEDY

Crimsafe SECURITY DOORS ROCKINGHAM INVISI GARD SECURITY ROCKINGHAM Crimsafe Doors BALDIVIS Crimsafe Doors GOLDEN BAY Crimsafe Doors WELLARD Crimsafe Doors KWINANA Crimsafe Doors COCKBURN FREMANTLE Crimsafe Doors AND INVISI GARD SECURITY MANDURAH SECURITY GRILLS ROCKINGHAM SECURITY WINDOW SCREENS crimsafe security doors invisi gard security MANDURAH SECURITY PORT KENNEDY - STEEL MESH SECURITY CUSTOM SECURITY DOORS FREMANTLE ROLLER SHUTTERS ROCKINGHAM SECURITY DOORS JARRAHDALE SECURITY DOORS SERPENTINE SECURITY WINDOW SCREENS MANDURAH SECURITY WINDOW SCREENS ROCKINGHAM, PERSPEX SCREENS KARNUP PERSPEX SCREENS MANDURAH PERSPEX SCREENS Crimsafe Doors FALCON SECURITY PORT KENNEDY PATIO ENCLOSURES BALDIVIS PATIO ENCLOSURES AND HOME SECURITY FREMANTLE CUSTOM SECURITY DOORS Crimsafe Doors FREMANTLE ROCKINGHAM Crimsafe Doors PATIO ENCLOSURES AND HOME SECURITY KWINANA PATIO ENCLOSURES AND HOME SECURITY COCKBURN PATIO ENCLOSURES AND HOME SECURITY WELLARD DECORATIVE SECURITY DOORS BALDIVIS DECORATIVE SECURITY DOORS COCKBURN DECORATIVE SECURITY DOORS COCKBURN DECORATIVE SECURITY DOORS HAMILTON HILL DECORATIVE SECURITY DOORS KWINANA CUSTOM SECURITY DOORS DECORATIVE SECURITY DOORS KWINANA Stainless Steel Doors & Screens ROCKINGHAM PATIO ENCLOSURES AND HOME SECURITY STEEL MESH ROCKINGHAM, CUSTOM SECURITY DOOR Mandurah safety decorative doors, PINJARRA windows shutter FREMANTLE enclosures and pet doors, LAKELANDS DECORATIVE DOORS COODANUP PET DOORS SINGLETON SECURITY DOORS AND SCREENS KARNUP Patio Enclosures FREMANTLE Custom Built with Sports or Company Logo CALISTA Security Grills SETTLERS HILL Pet Doors ROCKINGHAM Robe Doors DAWESVILLE Roller Shutters ROCKINGHAM SCREENS Repairs & Maintenance WELLARD Decorative Doors ROCKINGHAM Door & Window Locks
Golden West Security is a one-stop security shop located in Rockingham offering a wide range of quality products and professional service.
Owner Dwayne Van Den Ancker has operated the business for more than 15 years and has more than 25 years industry experience.
Dwayne has built a team that not only have excellent product knowledge that are able to help their customers find the right security solutions, but customers can also feel safe in the knowledge that all of their installers are licenced by the WA Police Commercial Agents Squad.
Dwayne has also recently received clearance by the Australian Federal Police and is now accredited to supply Panther Protect, a product 400% stronger than the next competitor
Golden West Security also caters for working families on a budget by offering appointments outside of business hours. There is nothing better than no deposit & NO INTEREST EVER WITH HUMM ALSO OFFERING AFTERPAY & ZIP PAY it's never been easier to get your new Security Doors and Screens supplied and installed straight away.
Golden West Security now also offer Slidetrack Outdoor Blinds and Rollashield External Screens
One Stop Security Shop: Providing premium security products and expert advice
---
---
---