Fencing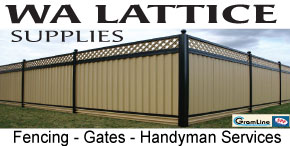 *WA Lattice Supplies - AFFORDABLE FENCING, GATES, POOL FENCING, HANDYMAN SERVICES - WE ARE HERE FOR YOUR GENERAL AND EMERGENCY REPAIRS
- Rockingham, WA 6168
ROCKINGHAM FENCING BALDIVIS FENCING KWINANA FENCING SECRET HARBOUR FENCING MANDURAH FENCING PINJARRA FENCING

ROCKINGHAM FENCING ROCKINGHAM, LATTICE FENCING ROCKINGHAM, COLORBOND FENCING ROCKINGHAM, FIBRO FENCING ROCKINGHAM, HARDIFENCE ROCKINGHAM, POOL FENCING ROCKINGHAM, HANDYMAN ROCKINGHAM LATTICE GATES BALDIVIS FENCING KWINANA LATTICE FENCING MANDURAH COLORBOND FENCING PINJARRA FIBRO FENCING KARNUP HARDIFENCE SECRET HARBOUR, POOL FENCING PERTH, HANDYMAN FREMANTLE LATTICE GATES BALDIVIS FENCING CONTRACTORS ROCKINGHAM FENCING CONTRACTORS BALDIVIS FENCING CONTRACTORS KARNUP FENCING CONTRACTORS SERPENTINE
WA Lattice Supplies is a locally owned and operated business, first established in 2000. Over the past 20 years we have been providing the Rockingham community with their Fencing and Lattice needs.
Our timber lattice products are made in our workshop from HCCA Treated Pine and assembled with Galvanised Dacrotised nails, NOT staples.
They are available with 40mm or 60mm holes, Square or Diagonal, Framed or Unframed and Painted or Natural. If you require your lattice painted, we use Wattle Sunfast and is available in most colours.
For all our NEW fencing installations we use Gramline products exclusively. These products are manufactured from Quality, Certified, Tested and prepainted Hi-Tensile Steel. If you have an existing fence that does not require full replacement, ie you just need some damaged infill sheets replacing, we will attempt to match your existing fence if that product is still available.
Our pool fencing products are made in our workshop from 30mm square tube and 16mm round tube Galavanised Steel.
Our Product is NOT FACE WELDED. Instead, we drill our rails so that the round tube passes through the the centre of the rail and then welded in place. This adds extra strength and also looks better.
Our Perimeter or Garden fencing is made from the same material, and to the same standard, as our Pool fencing and can be used for either purpose. The fence is then oven baked powdercoated to a choice of most popular colours.
---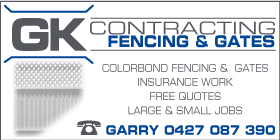 *GK CONTRACTING FENCING & GATES - COMPETITIVE PRICES - INSURANCE WORK - RELIABLE WORKMANSHIP - Waikiki, WA 6169

ROCKINGHAM FENCING BALDIVIS FENCING KWINANA FENCING SECRET HARBOUR FENCING MANDURAH FENCING
Rockingham Fencing Rockingham Gates Rockingham ALUMINIUM fencing Rockingham ALUMINIUM Fence supplies Rockingham ALUMINIUM Gates supplied and fitted, ROCKINGHAM fencing supplied and fitted. FENCING INSURANCE WORK ROCKINGHAM MANDURAH FENCING INSURANCE WORK, KWINANA FENCE INSURANCE, KWINANA FENCE AND GATES, MANDURAH FENCING MANDURAH ALUMINIUM GATES HALLS HEAD FENCING HALLS HEAD GATES SECRET HARBOUR FENCING SECRET HARBOUR GATES WANDI FENCING PINJARRA FENCING PINJARRA GATES - ALUMINIUM GATES ROCKINGHAM AFFORDABLE ALUMINIUM FENCING ROCKINGHAM AFFORDABLE ALUMINIUM FENCING FREMANTLE AFFORDABLE ALUMINIUM FENCING FALCON AFFORDABLE ALUMINIUM FENCING MELROSE AFFORDABLE ALUMINIUM FENCING BUNBURY AFFORDABLE FENCING ROCKINGHAM AFFORDABLE ALUMINIUM FENCING MANDURAH AFFORDABLE ALUMINIUM FENCING MANDURAH AFFORDABLE ALUMINIUM FENCING MANDURAH AFFORDABLE ALUMINIUM FENCING COCKBURN AFFORDABLE ALUMINIUM FENCING BALDIVIS AFFORDABLE ALUMINIUM FENCING MANDURAH KARNUP AFFORDABLE ALUMINIUM FENCING AND GATES.
GK CONTRACTING for all your Brickpaving , Fencing, Gates and Soakwells, Brickpaving supplied and laid, Soakwells Installed, Free measure and quote. competitive prices reliable tradesman, small and large jobs. Also Fencing and Gates phone Garry 0427 087 390.

---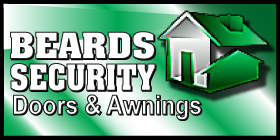 *Beards Security Doors and Awnings - Fencing Rockingham Mandurah Baldivis Kwinana - Rockingham, WA 6168

ROCKINGHAM FENCING MANDURAH FENCING NAVAL BASE FENCING SINGLETON FENCING BALDIVIS FENCING KWINANA FENCING
ROCKINGHAM FENCING MANDURAH FENCING BALDIVIS FENCING KWINANA FENCING WELLARD FENCING SECRET HARBOUR FENCING SINGLETON FENCING KARNUP FENCING ROCKINGHAM ALUMINIUM SLAT FENCING MANDURAH & PEEL REGIONS. ROCKINGHAM ALUMINIUM SLAT GATES MANDURAH & PEEL REGIONS. ROCKINGHAM SECURITY DOORS MANDURAH & PEEL REGIONS. ROCKINGHAM SECURITY SCREENS MANDURAH & PEEL REGIONS. ROCKINGHAM ROLLER SHUTTERS MANDURAH & PEEL REGIONS.
At Beards Security Doors & Awnings, we're all about securing your home against intruders of the human or insect kind, so you and your family are safe!
We are proudly West Australian owned and operated with over 25 years of experience in the industry. We pride ourselves on providing you with security products of the highest quality at competitive prices.
Couple that with our high quality of workmanship and superior customer service, and you have a home security door and Security screens solution that can't be beaten. Contact us today to see how we can help secure your home.
CLICK TO GET AN OBLIGATION FREE MEASURE AND QUOTE & FOR FACEBOOK ON FEATURE

---
---
---