Fish and Chips Takeaways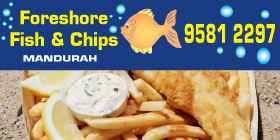 *Foreshore Fish & Chips Mandurah - Ph 9581 2297 - Fish and Chips Takeaways Mandurah
- Mandurah, WA 6210
MANDURAH
MANDURAH TAKEAWAYS FISH AND CHIPS OPEN 7 DAYS A WEEK. TAKEAWAYS MANDURAH - FISH AND CHIPS MANDURAH FORESHORE.
House Fish is Snapper. FRESH BAIT MANDURAH. FISH AND CHIPS MANDURAH. Family Fish and Chip deals. Grilled Fish Available. Cholesterol Free Oil for Fish and Chips. Gluten Free Chips cooked separately from the fish. Locally Owned and employing local staff.
CLICK FOR FACEBOOK & FULL ONLINE MENU AVAILABLE SEE FEATURE PAGE...

---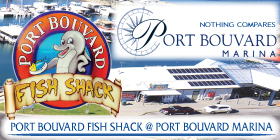 *Port Bouvard Fish Shack - Phone 9534 3206 - Port Bouvard Fish and Chips Takeaways Mandurah - Wannanup, WA 6210

PORT BOUVARD MANDURAH
FISH SHACK PORT BOUVARD MARINA. TAKEAWAY FISH AND CHIPS PORT BOUVARD MANDURAH.
OPEN EARLY FOR BREAKFAST 7AM SATURDAY AND SUNDAY SUBJECT TO CHANGE IN SEASON - CONTACT THE FISH SHACK FOR DETAILS
Award winning fish and chips Port Bouvard Mandurah, burgers Port Bouvard Mandurah, hot dogs Port Bouvard Mandurah, soft serve ice cream, hot tea and coffee and more. Large outdoor seating area, marine views and dolphins at Port Bouvard Marina.
CLICK FOR FACEBOOK & MENU ON FEATURE

---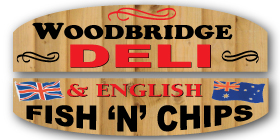 *Woodbridge Super Deli - Phone 9527 1510 - Fish and Chips Takeaways Woodbridge Rockingham - Cooloongup, 6168

ROCKINGHAM
ROCKINGHAM TAKEAWAYS
TAKEAWAY FISH AND CHIPS ROCKINGHAM
ROCKINGHAM TAKEAWAYS, WOODBRIDGE SUPER DELI AND ENGLISH FISH AND CHIPS.
ONLINE MENU AVAILABLE
- DELIVERY 7 NIGHTS A WEEK 5pm-8pm On orders $25 or more (food) Rockingham to Port Kennedy
TAKEAWAY FISH AND CHIPS ROCKINGHAM, HOME MADE DESERTS AND CAKES
DELI ROCKINGHAM OPEN 365 DAYS A YEAR - SUPER DELI, FULL TAKEAWAY MENU... KIWI PRODUCTS ROCKINGHAM (LOTS OF VARIETY), WOODBRIDGE. ENGLISH FISH N CHIPS. SPECIALITY CAKES ROCKINGHAM.
YES WE DELIVER - 7 NIGHTS A WEEK 5PM - 8PM min order $25 on food.
CLICK FOR FACEBOOK BUTTON ON FEATURE

---
---
---