Foot Care and Orthotics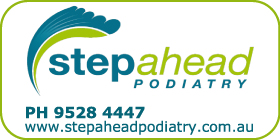 STEPAHEAD PODIATRY ✔️ Foot Care and Orthotics Rockingham
- Rockingham, 6168
ROCKINGHAM FOOT CARE AND ORTHOTICS BALDIVIS FOOT CARE SECRET HARBOUR FOOT CARE KWINANA ORTHOTICS SECRET HARBOUR FOOT CARE KARNUP FOOT CARE AND ORTHOTICS WAIKIKI FOOT CARE AND ORTHOTICS SHOALWATER FOOT CARE AND ORTHOTICS

FOOT CARE ROCKINGHAM. ORTHOTICS ROCKINGHAM. PODIATRIST ROCKINGHAM.ROCKINGHAM PODIATRISTS ROCKINGHAM Foot Doctor BALDIVIS Ankle Injuries ROCKINGHAM Achilles ROCKINGHAM Tendonitis, PORT KENNEDY Knee Pain Doctor SECRET HARBOUR Shin Splints, ROCKINGHAM Heel Spur Doctor, BALDIVIS PODIATRIST, KARNUP Footsore, ROCKINGHAM Sports Injuries, ROCKINGHAM Nail Surgery, ROCKINGHAM Orthotics Rockingham, KNEE PAIN Baldivis Orthotics Mandurah Foot Management Kwinana Nail Surgery Waikiki
As a major local provider in foot care, the team at Step Ahead Podiatry are equipped to look after all aspects of podiatry ranging from basic toenail care to limb threatening diabetic complications, orthotics and minor surgery.
With a special interest in sports, Step Ahead Podiatry provide personalised treatment plans and strive to improve your performance and quality of life.
Whether you have sore, tired, aching feet & legs, thickened or ingrowing toenails or painful corns & calluses, our podiatrist can help you. The team at Step Ahead Podiatry are caring and highly trained to focus on your specific needs and give you professional assistance.
Step Ahead Podiatry is registered with the Department of Veteran Affairs (DVA) and we are able to accept referrals.
CLICK FOR FACEBOOK & TO BOOK ONLINE ON FEATURE
---
---
---