Garden Services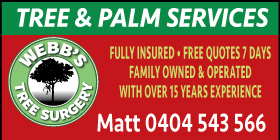 *Webb Tree Surgery - Pruning and Tree Services Rockingham - Ph 0404 543 566 - Secret Harbour, 6172

ROCKINGHAM AND ALL AREAS
Pruning and Tree Services Rockingham, Secret Harbour, Baldivis, Golden Bay, Mandurah Pruning Services. Rockingham and all areas. 7 DAYS A WEEK - FREE QUOTES.

EMERGENCY CALL OUTS
Mulch, Large Tree Specialists.
Full Insured with over 15 years experience.
Pensioner Discounts available
SEE FACEBOOK LINK ON FULL FEATURE PAGE


---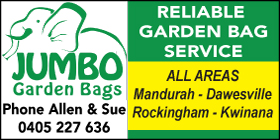 *Jumbo Garden Bags - Garden Services Mandurah - Phone 0405 227 636 - Mandurah , 6210

MANDURAH DAWESVILLE ROCKINGHAM KWINANA
GARDEN SERVICES ROCKINGHAM. GARDEN SERVICES KWINANA.
GARDEN SERVICES MANDURAH. Keep your yard looking beautiful all year round.
No more Leaves, Lawn Clippings, Tree Cuttings laying around. Garden Bag Hire ALL AREAS
Rockingham, Mandurah, Kwinana, Dawesville and surrounding areas. Phone Allen or Sue today. Prompt four weekly service. Reliable Garden Bag Service.
CLICK BUTTON FOR PRICING & FACEBOOK ON FULL FEATURE

---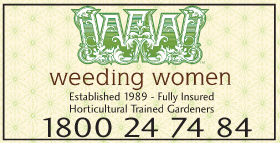 *Weeding Women - 1800 24 74 84 - Rockingham , WA 6168

ROCKINGHAM KWINANA
Gardening Rockingham, Garden and yard services Rockingham. Established 1989, Fully Insured, Horticultural Trained Gardeners. Garden Clean Ups. Weeding and Yard Clean ups Rockingham. Landscaping Rockingham, Kwinana.
CLICK FOR FREE ONLINE QUOTE BUTTON ON FEATURE

---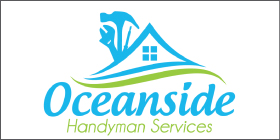 *Oceanside Handyman Services - Phone 0433 770 070 - Garden Services Shoalwater Rockingham - Shoalwater, 6169

ROCKINGHAM MANDURAH FREMANTLE
GARDEN SERVICES ROCKINGHAM. GARDEN SERVICES MANDURAH. GARDEN SERVICES FREMANTLE.
Call us for all your odd jobs and handyman requirements between Fremantle, Rockingham and Mandurah. Services include: * General home maintenance * Lawn care * Gutter cleaning * Fly screen repairs * Yard cleanups * Window cleaning * Retic and sprinkler repairs * Taps and washers And much much more.
CLICK FOR FACEBOOK ON FEATURE

---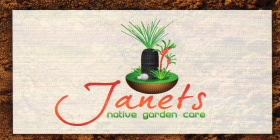 *Janets Native Garden Care - Garden Services Baldivis Rockingham - Ph 0407 992 692 - Baldivis, 6171

BALDIVIS, ROCKINGHAM, ALL AREAS
BALDIVIS GARDEN SERVICES ROCKINGHAM, ALL AREAS.
Baldivis Landscaping Rockingham, Port Kennedy Garden Maintenance Baldivis, Rockingham Garden Clean-ups Baldivis. Baldivis Garden Planning & Installation Rockingham - helping clients choose the right plants and layout for their soil, location and needs. Installing a garden that will flourish for years to come.
CLICK FOR FACEBOOK ON FEATURE

---
---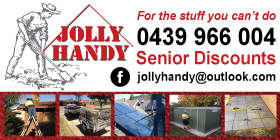 Jolly Handy - Phone 0439 966 004 - Garden Services Rockingham
- Rockingham, 6168
ROCKINGHAM
HANDYMAN ROCKINGHAM TO FREMANTLE. GARDENING ROCKINGHAM TO FREMANTLE. GARDEN SERVICES ROCKINGHAM TO FREMANTLE.
JOLLY HANDY - 'for the stuff you can't do'...
Home Improvements Rockingham - Property Maintenance Rockingham - Renovations Rockingham.
SEE HANDYMAN SERVICES FOR FULL FEATURE
---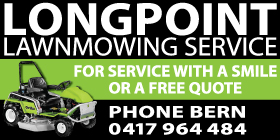 Longpoint Lawnmowing Service - Phone 0417 964 484 - Garden Services Safety Bay Rockingham
- Safety Bay, 6169
ROCKINGHAM
SAFETY BAY GARDEN SERVICE ROCKINGHAM.
ROCKINGHAM RETICULATION SAFETY BAY.
• DOMESTIC & COMMERCIAL LANDSCAPING ROCKINGHAM & SAFETY BAY LAWNMOWING.
• Lawnmowing • Fertilizing • Reticulation • Vertimowing • Lawn & Weed Spraying
FOR SERVICE WITH A SMILE OR A FREE QUOTE PHONE BERN...
SEE LAWNMOWING CONTRACTORS FOR FULL FEATURE...
---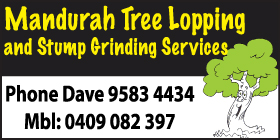 Mandurah Tree Lopping - Garden Services Mandurah - Phone 9583 4434
- Mandurah, 6210
MANDURAH
GARDEN SERVICES MANDURAH. TREE SERVICES MANDURAH.
TREELOPPING MANDURAH. STUMP GRINDING MANDURAH.
Mandurah Tree Lopping and Stump Grinding Services. Rockingham, Mandurah, Kwinana, Peel Region. Tree Services, Tree Removal, Stump Grinding, Block Clearing, Mulching, 21Mtr Cherry Picker, Mulch Sales, Free Quotes. Fully Insured.
SEE TREELOPPING FOR FULL FEATURE
---
---