Garden Services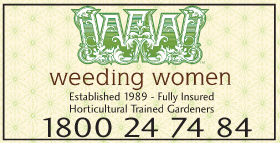 *Weeding Women - Garden Services Rockingham
- Rockingham , WA 6168
ROCKINGHAM GARDEN SERVICES KWINANA GARDEN SERVICES

GARDENING ROCKINGHAM, GARDENING KWINANA GARDENING BALDIVIS GARDENING KARNUP GARDENING SECRET HARBOUR GARDENING MANDURAH GARDEN AND YARD SERVICES ROCKINGHAM GARDEN AND YARD SERVICES BALDIVIS GARDEN AND YARD SERVICES MANDURAH GARDEN AND YARD SERVICES SECRET HARBOUR GARDEN AND YARD SERVICES KWINANA Weeding and Yard Clean ups Rockingham. Weeding and Yard Clean ups KWINANA Weeding and Yard Clean ups BALDIVIS Weeding and Yard Clean ups KARNUP Weeding and Yard Clean ups GOLDEN BAY Landscaping Rockingham, Landscaping Kwinana. Landscaping BALDIVIS Landscaping KARNUP Landscaping GOLDEN BAY
Established in 1989, we have a history and hard earned reputation for bringing tired gardens back to life and we get much satisfaction from making a fresh new space for our clients to enjoy their life in.
Though many of us come from different professions and walks of life, we have one thing in common, and that is we are passionate about everything gardening.
So if you have looked out your window and want it to be magically be weed free, tidy, blooming and cared for then you have come to the right place, because it's exactly where we love to be!
Or if you are a gardener, just aching to be working outdoors doing what you love then please visit our employment page here. We are always looking for passionate, hardworking and dedicated gardeners to join us.
CLICK FOR FREE ONLINE QUOTE & FACEBOOK ON FEATURE

---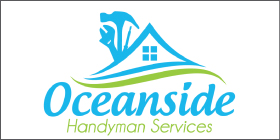 *Oceanside Handyman Services - Garden Services Shoalwater Rockingham - Shoalwater, 6169

ROCKINGHAM MANDURAH FREMANTLE
GARDEN SERVICES ROCKINGHAM. GARDEN SERVICES MANDURAH. GARDEN SERVICES FREMANTLE.
Call us for all your odd jobs and handyman requirements between Fremantle, Rockingham and Mandurah. Services include: * General home maintenance * Lawn care * Gutter cleaning * Fly screen repairs * Yard cleanups * Window cleaning * Retic and sprinkler repairs * Taps and washers And much much more.
CLICK FOR FACEBOOK ON FEATURE
---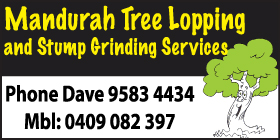 *Mandurah Tree Lopping - Garden Services Mandurah - Mandurah, 6210

MANDURAH GARDEN SERVICES ROCKINGHAM GARDEN SERVICES KWINANA TREE AND GARDEN SERVICES BALDIVIS GARDEN SERVICES KARNUP TREES AND GARDENS PINJARRA GARDEN SERVICES
GARDEN SERVICES MANDURAH GARDEN SERVICES BALDIVIS GARDEN SERVICES PINJARRA TREE LOPPING MANDURAH. TREE LOPPING ROCKINGHAM, TREE LOPPING BALDIVIS, TREELOPPING MEADOW SPRINGS, TREE LOPPING KARNUP, TREE LOPPING KARNUP, STUMP GRINDING MANDURAH. STUMP GRINDING ROCKINGHAM STUMP GRINDING BALDIVIS STUMP GRINDING GOLDEN BAY STUMP GRINDING KARNUP
Mandurah Tree Lopping and Stump Grinding Services are fully insured. Dave and his team offer the full range of Tree Services, including Tree Removal, Stump Grinding, Block Clearing, Mulching and have a 21Mtr Cherry Picker.
Mandurah Tree Lopping Service also offer Mulch for sale.
Phone Dave on 0409 082 397 for an Obligation Free Quote.
CLICK FOR FACEBOOK ON FEATURE

---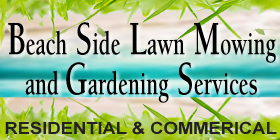 BEACH SIDE LAWN MOWING AND GARDENING - COMPETITIVE RATES - SENIORS DISCOUNT
- Rockingham, 6168
GARDEDN SERVICES ROCKINGHAM LAWN MOWING AND GARDEN ROCKINGHAM GARDEN SERVICES WARNBRO LAWNMOWERS

LAWN MOWING ROCKINGHAM GARDEN SERVICES ROCKINGHAM LAWNMOWERS ROCKINGHAM GARDENING ROCKINGHAM YARD CLEANUP ROCKINGHAM COMMERCIAL LAWN MOWERS ROCKINGHAM WARNBRO LAWN MOWING SERVICES WARNBRO GARDEN SERVICES GOLDEN BAY LAWN MOWING CONTRACTORS COMMERCIAL LAWN MOWERS ROCKINGHAM RESIDENTIAL LAWN MOWING ROCKINGHAM KWINANA LAWN MOWERS KWINANA GARDEN SERVICES SECRET HARBOUR LAWN MOWING SERVICES SECRET HARBOUR GARDEN AND LAWN SERVICES COMMERCIAL LAWN MOWERS SECRET HARBOUR SINGLETON LAWN MOWING AND GARDEN SERVICES KARNUP LAWN MOWING CONTRACTORS BALDIVIS LAWN MOWING AND GARDEN SERVICES BALDIVIS GARDEN SERVICES BALDIVIS LAWN MOWING CONTRACTORS
Beach Side Lawn Mowing and Garden Services offer full Lawn Mowing services on a ongoing schedule or one off jobs. We offer full gardening services including: Basic Reticulation, Yard Clean Ups, Fertilising, Edging, Lawn Mowing, Whipper Snipping, Weed Spraying, High Pressure Cleaning. We also offer basic Pool Cleaning Services along with General Garden Maintenance. Full Police Clearance and Insurance. Seniors Discount offered, contact Pat today for a free competitive quote. 0468 426 489.
---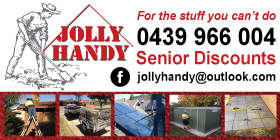 Jolly Handy - Garden Services Rockingham FOR THE STUFF YOU CAN'T DO! - Rockingham, 6168

ROCKINGHAM GARDEN SERVICES FREMANTLE GARDEN SERVICES KWINANA GARDEN SERVICES BALDIVIS GARDEN SERVICES
FREMANTLE GARDEN SERVICES - HANDYMAN ROCKINGHAM TO FREMANTLE, GARDENING ROCKINGHAM GARDENING FREMANTLE, GARDEN SERVICES ROCKINGHAM HANDYMAN SERVICES FREMANTLE MANDURAH GARDEN SERVICES BALDIVIS GARDEN SERVICES HAMILTON HILL GARDEN SERVICES BICTON HANDYMAN SERVICES SOUTH FREMANTLE HANDYMAN GARDENING YARD MAKEOVERS FREMANTLE ROCKINGHAM RUBBISH REMOVALS ROCKINGHAM HOME CLEANUPS FHANDYMAN ROCKINGHAM TO FREMANTLE, GARDENING ROCKINGHAM TO FREMANTLE, GARDEN SERVICES ROCKINGHAM TO FREMANTLE
We specialise in Home Improvements Rockingham, - Fremantle and Property Maintenance and Renovations from Fremantle to Rockingham, Our services include garden & yard makeovers, gutter cleaning, down pipe & roof repairs, solar panel cleaning, rubbish removal, tiling (wall & floor), ceiling repairs, move assist & home clean ups, selling makeovers, shed installation, patio construct & repairs, fencing and gates.
---
---
---