Gift Shops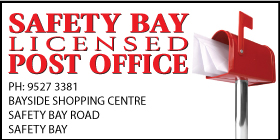 *Safety Bay Licensed Post Office - Giftware Safety Bay - AN ESSENTIAL SERVICE STILL OPEN FOR BUSINESS - Safety Bay, 6169

SAFETY BAY GIFT SHOPS ROCKINGHAM GIFT SHOPS SHOALWATER GIFT SHOPS WAIKIKI POSTAL GIFT SHOP
SAFETY BAY GIFTWARE ROCKINGHAM. Safety Bay Postal Services Rockingham - Safety Bay Bill Paying Rockingham - Safety Bay Stationery Rockingham - Safety Bay Cards Rockingham - Safety Bay Gifts Rockingham - Safety Bay Banking Rockingham - Safety Bay Police Clearances Rockingham - Safety Bay Travel Insurance Rockingham - Safety Bay Travel Cards Rockingham - Safety Bay Fax Rockingham - Safety Bay Photocopying Rockingham - Safety Bay PO Box Rockingham.
Safety Bay Licensed Post Office is family owned and operated and offer a wide variety of services.
Located on Safety Bay Road,(near the SBYC) in the Bayside Shopping Centre it is easy to access having adjacent parking and services. The staff offer fast and efficient services with a smile.
CLICK FOR MY POST BUTTON ON FEATURE

---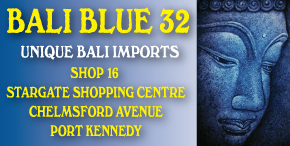 *BALI BLUE 32 - UNIQUE BALI IMPORTS HOMEWARE GIFTS CRYSTALS - CALL IN OR ORDERS WELCOME AUSTRALIA WIDE DELIVERY
- Port Kennedy, 6172
BALI IMPORT SHOP PORT KENNEDY WA BALI JEWELLERY SHOP ROCKINGHAM SHOP ONLINE OR IN STORE BALI IMPORTED HOMEWARES PERTH SHOP ONLINE OR IN STORE BALI IMPORTED HOMEWARES KALBARRI SHOP ONLINE OR IN STORE BALI IMPORTED HOMEWARES DENHAM SHOP ONLINE OR IN STORE BALI IMPORTED HOMEWARES DAMPIER SHOP ONLINE OR IN STORE BALI IMPORTED HOMEWARES PORT HEDLAND SHOP ONLINE OR IN STORE BALI IMPORTED HOMEWARES TOM PRICE SHOP ONLINE OR IN STORE BALI IMPORTED HOMEWARES GIFTS NEWMAN SHOP ONLINE OR IN STORE BALI IMPORTED HOMEWARES GIFTS CARNARVON SHOP ONLINE OR IN STORE BALI IMPORTED HOMEWARES MEEKATHARRA SHOP ONLINE OR IN STORE BALI IMPORTED HOMEWARES GIFTS SOUTHERN CROSS SHOP ONLINE OR IN STORE BALI IMPORTED HOMEWARES GIFTS FREMANTLE SHOP ONLINE OR IN STORE BALI IMPORTED HOMEWARES AND GIFTS ONLINE SHOPPING GIFTS MARGARET RIVER DELIVERING AUSTRALIA WIDE BALI IMPORTED HOMEWARES GIFTS SHOP DELIVERING AUSTRALIA WIDE BALI IMPORTED HOMEWARES SHOP BUNBURY DELIVERING AUSTRALIA WIDE BALI IMPORTED HOMEWARES SHOP BUSSELTON DELIVERING AUSTRALIA WIDE BALI IMPORTED HOMEWARES SHOP ESPERENCE DELIVERING AUSTRALIA WIDE BALI IMPORTED HOMEWARES SHOP KALGOORLIE DELIVERING AUSTRALIA WIDE BALI IMPORTED HOMEWARES SHOP EUCLA DELIVERING AUSTRALIA WIDE BALI IMPORTED HOMEWARES SHOP ALBANY DELIVERING AUSTRALIA WIDE BALI IMPORTED HOMEWARES SHOP ROCKINGHAM DELIVERING AUSTRALIA WIDE BALI IMPORTED HOMEWARES SHOP GOLDEN BAY DELIVERING AUSTRALIA WIDE BALI IMPORTED HOMEWARES SHOP MANDURAH DELIVERING AUSTRALIA WIDE BALI IMPORTED HOMEWARES SHOP BALDIVIS DELIVERING AUSTRALIA WIDE BALI IMPORTED HOMEWARES SHOP COCKBURN DELIVERING AUSTRALIA WIDE BALI IMPORTED HOMEWARES SHOP SECRET HARBOUR BALI IMPORT SHOP PINJARRA BALI IMPORT GIFT SHOP
Bali Blue 32 located at Stargate Shopping Centre, Chelmsford Avenue, Port Kennedy. We stock a large range of Incense, Oils, Incense Cones and Tumble Stones to support our beautiful range of Balinese Homewares and Outdoor Lanterns offers in shop Bali imported Homewares of every kind you might find while shopping in Bali.
PHONE ORDERS WELCOME OR SHOP INSTORE and WE POST AUSTRALIA WIDE, SAFE AND SECURE.
---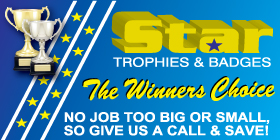 STAR TROPHIES - Gift Shop Rockingham - LOCALLY OWNED & OPERATED UNIQUE GIFTS - Rockingham, 6168

ROCKINGHAM GIFT SHOP, KWINANA GIFT SHOP, BALDIVIS GIFT SHOP, WAIKIKI GIFT SHOP
ROCKINGHAM GIFT SHOP ROCKINGHAM PERSONALISED GIFTS AND TROPHIES ROCKINGHAM, BALDIVIS TROPHIES AND PERSONAL GIFT ITEMS. KWINANA PERSONAL GIFTWARE AND TROPHIES GIFTWARE ROCKINGHAM ENGRAVING.
TROPHIES ROCKINGHAM. BADGES ROCKINGHAM MEDALS.
Star Trophies is a family owned business that provides for all sporting and non-sporting clubs and events.
Here at Star Trophies, rewarding YOUR stars is our passion.
We offer a fantastic selection of trophies, badges, specialised engraving, glassware, clocks and personalised gift ideas for every club, school, corporate event and sporting star at unbeatable prices.
In fact we are so passionate about what we do, we will match any genuine written quote! NO JOB TOO BIG OR SMALL, SO GIVE US A CALL & SAVE!

---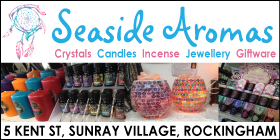 *Seaside Aromas - Gift Shop Rockingham Spiritual Giftware Rockingham AFTERPAY AVAILABLE - HUGE RANGE OF PRODUCTS IN STORE OR SHOP ONLINE
- Rockingham, 6168
ROCKINGHAM GIFT SHOPS BALDIVIS GIFT SHOPS PORT KENNEDY GIFTS WARNBRO GIFT SHOPS SAFETY BAY GIFT SHOPS

GIFT SHOP ROCKINGHAM SPIRITUAL GIFTWARE AND GIFT SHOP SAFETY BAY BALDIVIS SPIRITUAL GIFT SHOPS, KWINANA SPIRITUAL GIFT SHOPS, PORT KENNEDY SPIRITUAL GIFT SHOPS,MANDURAH CRYSTALS AND CANDLES SHOP ONLINE FREMANTLE CRYSTALS AND CANDLES SHOP ONLINE SPEARWOOD CRYSTALS AND CANDLES SHOP ONLINE GOLDEN BAY CRYSTALS AND CANDLES SHOP ONLINE SECRET HARBOUR CRYSTALS AND CANDLES SHOP ONLINE PINJARRA CRYSTALS AND CANDLES SHOP ONLINE PERTH CRYSTALS AND CANDLES SHOP ONLINE HAMILTON HILL
If you are looking for something special or unique, love inspirational gifts and books then you need to visit us at Seaside Aromas Rockingham
We have everything from Scented candles & incense - Willow Tree Figurines - Lisa Pollock Art From The Heart products - herbal teas - Crio Bru Cocao - crystals - dream catchers - jewellery - earrings - necklaces - gem stones - home made jams and sauces - essential oils - tree of life ornaments
Clairvoyant readings available daily
SEE FULL FEATURE PAGE - SHOP ONLINE BUTTON & CLICK FOR FACEBOOK
AFTER PAY AVAILABLE
---
---
---