Guitar Lessons
---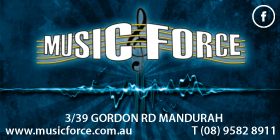 Music Force - Guitar Lessons Mandurah
- Mandurah, 6210
MANDURAH, PEEL REGION
GREENFIELDS GUITAR LESSONS MANDURAH, BALDIVIS GUITAR LESSONS SILVER SANDS, PINJARRA GUITAR LESSONS ROCKINGHAM.
SHOP -
BROWSE: Guitars to Pianos & PA Systems to Drum Kits.
LESSONS -
Teaching 1-on-1 Lessons for most Musical Instruments & Styles.
REPAIRS & SERVICING -
To most Musical Equipment & Instruments.
HIRE -
PARTY OR EVENT? Affordable Lights, Sound Systems & Staging.
SEE MUSIC STORES FOR FULL FEATURE
---
---