Hairdressers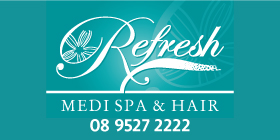 *Refresh Medi Spa & Hair - HAIRDRESSING & BEAUTY SALON AFFORDABLE COMPETITIVE PRICING - Rockingham, 6168

ROCKINGHAM HAIRDRESSERS BALDIVIS BEAUTY SALON BALDIVIS HAIRDRESSING PORT KENNEDY BEAUTY SALON PORT KENNEDY HAIRDRESSERS AND BEAUTY SALON
HAIRDRESSERS AND BEAUTY SALON ROCKINGHAM, TALENTED HAIRDRESSER BALDIVIS HAIRDRESSERS AND BEAUTY SALON, SECRET HARBOUR HAIRDRESSERS AND BEAUTY SALON. BEAUTY SALON ROCKINGHAM BEACH HAIRDRESSER WARNBRO ACNE TREATMENT SHOALWATER ANTI WRINKLE REJUVENATION PORT KENNEDY DERMAL FILLERS SINGLETON SPIDER VEINS WAIKIKI IPL HAIR REMOVAL MEADOW SPRINGS COSMETIC TATTOOING MANDURAH
Refresh Medi Spa & Hair - Hairdresser Rockingham Beach offers a full range of hair and cosmetic beauty treatments. We have fully qualified staff and a safe environment for our treatments. New skin products - Australiana Based - in store now.
Ask about our Membership for discounts on hair, skin, cosmetic tattooing, products and injectable services.

---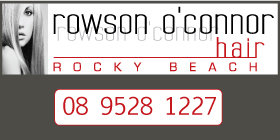 *Rowson O'Connor Hair - Hairdresser Rockingham FULLY SUSTAINABLE SALON - Rockingham, WA 6168

ROCKINGHAM HAIRDRESSERS SAFETY BAY HAIRDRESSERS BALDIVIS HAIRDRESSERS PORT KENNEDY SUSTAINABLE HAIRDRESSERS
ROCKINGHAM HAIRDRESSING SALONS, ROCKINGHAM BEACH HAIR SALON, SUNRAY VILLAGE HAIRDRESSERS, SUSTAINABLE HAIR SALON IN ROCKINGHAM, ROCKINGHAM SUSTAINABLE HAIRDRESSING SALON BALDIVIS, HAIRDRESSING SALON SAFETY BAY HAIRDRESSING SALON WARNBRO, BALDIVIS HAIRDRESSING SALON PORT KENNEDY HAIRDRESSERS ROCKINGHAM. HAIR SALON AND STOCKIST ROCKINGHAM, 
ROWSON O'CONNOR HAIR IS A FULLY SUSTAINABLE SALON.
Established for over 12 years. All proceeds from repurposing salon materials are donated to OzHarvest and KiwiHarvest to provide meals for those in need.
A SOCIAL ENTERPRISE THAT RESCUES UP TO 95% OF SALON RESOURCES FROM LANDFILL AND FINDS REPURPOSING SOLUTIONS THAT BENEFIT OUR PLANET, ALL WHILE SUPPORTING THE COMMUNITY!
CLICK FOR HAIRDRESSING SERVICES BUTTON ON FEATURE

---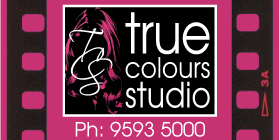 True Colours Studio - Hairdressers Rockingham FULL BEAUTY SALON SENIORS DISCOUNT AVAILABLE - Waikiki, WA 6169

ROCKINGHAM HAIRDRESSERS WAIKIKI HAIRDRESSERS SAFETY BAY HAIR SALON ROCKINGHAM HAIRDRESSERS WARNBRO UNISEX SALON
WAIKIKI HAIRDRESSERS ROCKINGHAM, HAIR SALONS WARNBRO BEAUTY SERVICES SAFETY BAY HAIRDRESSING SALONS, WAIKIKI HAIRDRESSERS, SECRET HARBOUR Hairdresser Waikiki, Rockingham. Beauty Therapy Waikiki, Rockingham, UNISEX SALON Warnbro MOBILE HAIRDRESSER Port Kennedy Beauty Salon. Find all you need for that special occasion in one shop: Hairdresser, Beauty Therapy, Spray Tans...
MOBILE HAIRDRESSING SERVICE FOR SENIORS AND DISABLED LOCAL AREA ONLY
True Colours Studio's professional hairstylists pride themselves on delivering top quality service to their existing and new clients. We ensure ALL clients needs are met.
The salon stocks the full product range of Joico, which guarantees an array of colours with a beautiful shine for all hair types.
We have extensive training in tape in and clip in extensions, perms, cutting and all colouring/foiling, roller setting, chemical straightening etc.

---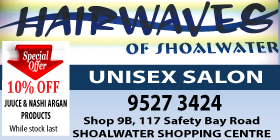 *Hairwaves of Shoalwater - Unisex Hair Salon - Shoalwater, 6169

SHOALWATER HAIRDRESSERS SAFETY BAY HAIRDRESSERS WAIKIKI HAIRDRESSERS ROCKINGHAM HAIRDRESSERS
ROCKINGHAM HAIRDRESSING SALON SHOALWATER UNISEX HAIR SALON SAFETY BAY UNISEX HAIRDRESSERS ROCKINGHAM HAIRDRESSING SALON SAFETY BAY, SHOALWATER HAIRDRESSERS.

10% OFF ALL PRODUCTS WITH ANY PERM, COLOUR, TINT OR FOILS
Privately Owned Unisex Hair Salon Shoalwater. Fashion Cuts & Styles. Specialising in Foiling, Colouring and Perms.
Facial and Brow Waxing, Brow and Lash Tinting. Seniors Discount Monday to Friday. Gift Vouchers Available. Easy Parking available.
FIND US ON FACEBOOK AND CLICK TO VIEW GALLERY ON FEATURE
---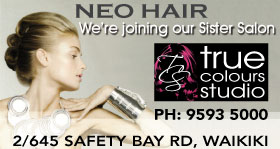 *Neo Hair Salon - Merged with True Colours Studio, Waikiki Hairdressers - Waikiki, WA 6169

ROCKINGHAM HAIRDRESSERS WAIKIKI HAIRDRESSERS SAFETY BAY HAIRDRESSERS
HAIRDRESSERS WAIKIKI ROCKINGHAM HAIRDRESSERS SAFETY BAY, HAIR SALON WARNBRO.
KERATIN SMOOTHING ROCKINGHAM. KIDS CUTS ROCKINGHAM, MENS BARBER
WE HAVE NOW MOVED AND MERGED WITH OUR SISTER SALON, TRUE COLOURS STUDIO, LOCATED 2/645 Safety Bay Road, Waikiki, Phone 9593 5000
Our staff are now working at True Colours Studio.
MOBILE HAIRDRESSING SERVICE NOW AVAILABLE FOR SENIORS AND DISABLED CLIENTS 0- LOCAL AREAS ONLY

---
---
---