Indoor Blinds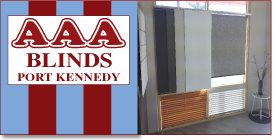 AAA BLINDS PORT KENNEDY ✦ AFFORDABLE LOCALLY PRODUCED INDOOR BLINDS
- Port Kennedy, 6172
ROCKINGHAM INDOOR BLINDS PORT KENNEDY INDOOR BLINDS GOLDEN BAY INDOOR BLINDS MANDURAH INDOOR BLINDS

PORT KENNEDY INDOOR BLINDS ROCKINGHAM INDOOR BLINDS BALDIVIS INDOOR BLINDS, SECRET HARBOUR INDOOR BLINDS, VENETIAN BLINDS BALDIVIS VENETIAN BLINDS ROCKINGHAM VENETIAN BLINDS KWINANA INDOOR BLINDS PORT KENNEDY INDOOR BLINDS ROCKINGHAM. PORT KENNEDY WINDOW BLINDS ROCKINGHAM, ROMAN BLINDS PORT KENNEDY VENETIAN BLINDS ROCKINGHAM, PORT KENNEDY ALUMINIUM BLINDS ROCKINGHAM, PORT KENNEDY VERTICAL BLINDS ROCKINGHAM ROMAN BLINDS, PORT KENNEDY ROLLER BLINDS ROCKINGHAM, PORT KENNEDY PLANTATION SHUTTERS ROCKINGHAM MOTORISED ROLLER BLINDS
AAA Blinds Port Kennedy are a small family owned business committed to customer service and quality products. Whether you are starting from scratch, renewing your blinds or looking for ideas to update your home decor, Dixie and her staff can offer advice and suggestions with a huge range of products to choose from. They stock the latest in home blinds and fabrics with trendy finishes and colours.
CLICK FOR FACEBOOK & GALLERY ON FEATURE
---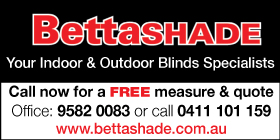 BETTASHADE - Your Indoor & Outdoor Blinds Specialists - Indoor Blinds Mandurah
- Mandurah, 6210
MANDURAH INDOOR BLINDS PINJARRA INDOOR BLINDS GREENFIELDS INDOOR BLINDS HALLS HEAD INDOOR BLINDS ROCKINGHAM INDOOR BLINDS BALDIVIS INDOOR BLINDS SECRET HARBOUR INDOOR BLINDS

MANDURAH BLINDS GREENFIELDS, GREENFIELDS INDOOR BLINDS MANDURAH INDOOR BLINDS ROCKINGHAM INDOOR BLINDS KWINANA, Indoor Blinds Baldivis Indoor Blinds Meadow Springs Indoor Blinds Lakelands Indoor Blinds Halls Head Blinds for all windows indoor, outdoor, privacy. PATIO BLINDS CAFE BLINDS,INDOOR BLINDS MANDURAH, INDOOR BLINDS WANNANUP, AWNINGS ROCKINGHAM, AWNINGS, AWNINGS WANNANUP, EXTERNAL WINDOW BLINDS WANNANUP, FALCON EXTERNAL WINDOW BLINDS, EXTERNAL WINDOW BLINDS ERSKINE, DAWESVILLE EXTERNAL WINDOW BLINDS, ROOF TO FENCE BLINDS DAWESVILLE, WANNANUP ROOF TO FENCE BLINDS, ROLLER SHUTTERS MANDURAH, ROLLER SHUTTERS DAWESVILLE, ROOF TO FENCE BLINDS ROLLER SHUTTERS ROLLER SHUTTER CLEANING MANDURAH, ROLLER SHUTTER CLEANING ROCKINGHAM, ROLLER SHUTTER CLEANING FALCON, PINJARRA ROLLER SHUTTER CLEANING, MANDURAH CANALS ROLLER SHUTTER CLEANING, FABRICS GERMAN SHUTTERS MANDURAH, GERMAN SHUTTERS HALLS HEAD, GERMAN SHUTTERS BALDIVIS, FALCON GERMAN SHUTTERS Servicing areas along the South Coast of Western Australia, including Rockingham, Baldivis, Mandurah, Dawesville, Dudley Park, Falcon, Greenfields, Halls Head, Lake Clifton, Madora Bay, Meadow Springs, Wannanup. INDOOR BLINDS ROCKINGHAM OUTDOOR BLINDS KWINANA affordable blinds Baldivis Window Blinds Meadow Springs Roller Blinds Lakelands Patio Blinds Halls Head
BETTA QUALITY - BETTA PRICE - BETTA SHADE
Bettashade guarantees a high quality product at a competitive price.
Bettashade Mandurah offers factory direct prices and designs that are custom-made to meet your needs. If you need shade in a tight space, Bettashade has got you covered for angles, doorways, maintain your view, provide privacy, increase security, our blinds and shutters are made to really to suit your needs.
Bettashade - Your Indoor & Outdoor Blinds Specialists
Call now for a FREE measure & quote
CLICK FOR QUOTE & TO VIEW GALLERY ON FEATURE
---
---
---