Landscape Kerbing
---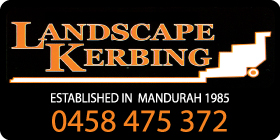 Landscape Kerbing - Landscape Kerbing Mandurah
- Mandurah , 6210
MANDURAH PEEL REGION ROCKINGHAM
LANDSCAPE KERBING MANDURAH, PEEL REGION. LANDSCAPE KERBING ROCKINGHAM.
Landscaping and Kerbing - A professionally kerbed garden not only enhances garden contours but also adds value to a property.
Lawn Edges Mandurah and Driveway Edges Mandurah. Small Industrial Repairs Mandurah.
ESTABLISHED IN MANDURAH 1985.
Servicing the whole Peel area and "We will travel to all areas,even country regions, with a truck and fully equipped trailer so there is no location we can't accommodate for". Landscaping Mandurah - Landscape Kerbing Mandurah.
SEE KERBING FOR FULL FEATURE
---
---