Laundry Renovations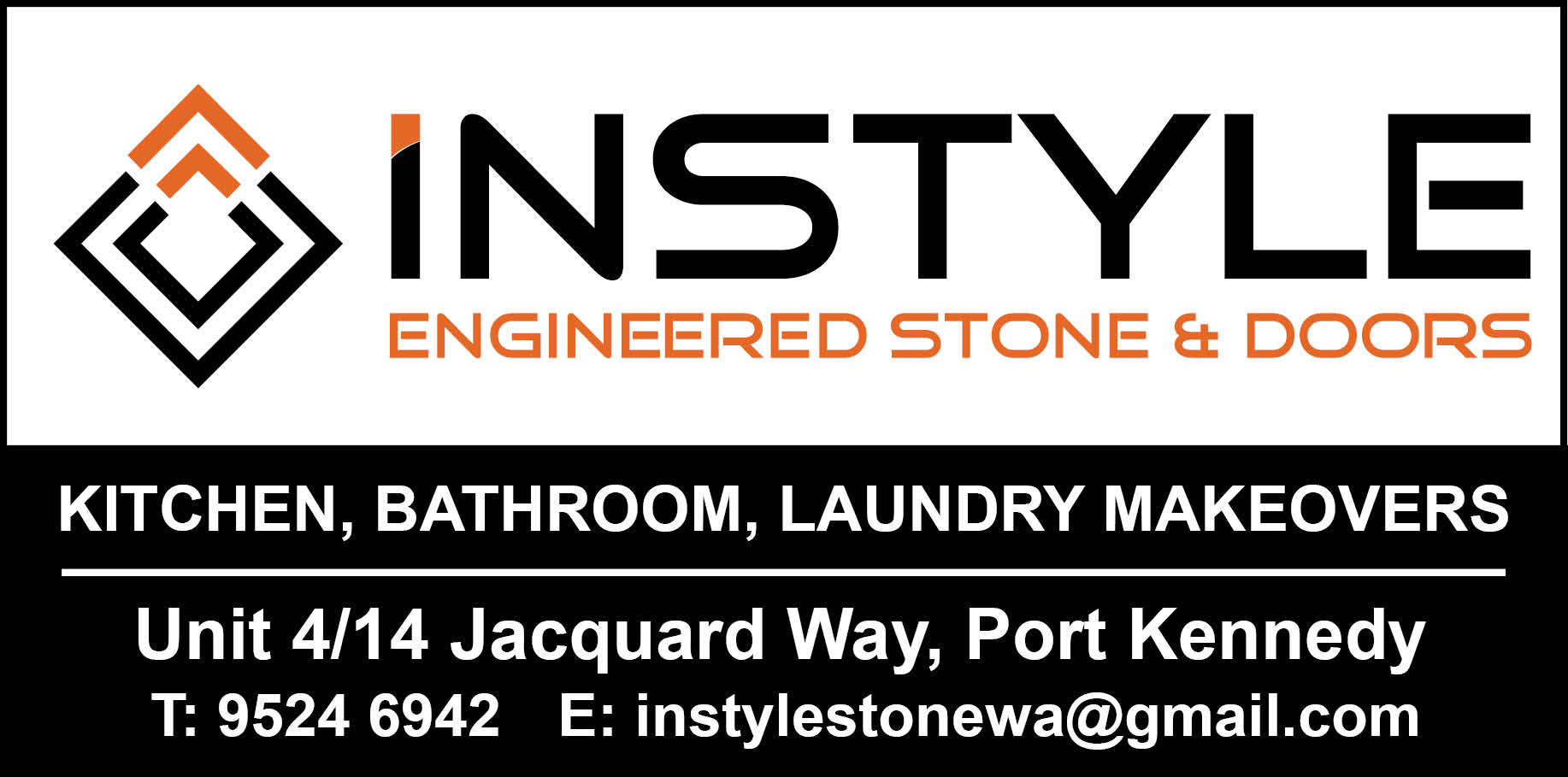 INSTYLE ENGINEERED STONE & DOORS - OPEN 9-3PM - QUALITY AT AN AFFORDABLE PRICE - KITCHEN BATHROOM LAUNDRY MAKEOVERS - Port Kennedy, 6172

PORT KENNEDY LAUNDRY RENOVATIONS ROCKINGHAM LAUNDRY RENOVATIONS MANDURAH LAUNDRY RENOVATIONS KWINANA LAUNDRY RENOVATIONS ATWELL LAUNDRY RENOVATIONS COCKBURN
Port Kennedy Laundry Renovations Rockingham Laundry cabinets Mandurah Laundry Renovations Port Kennedy Kitchen Renovations Rockingham cabinetmakers Mandurah Kitchen Renovations, Port Kennedy and all areas Bathroom Renovations Mandurah Bathroom cabinets Port Kennedy Cabinetmakers Rockingham Cabinetmakers Port Kennedy and Mandurah Peel Region laundry renovations Success laundry cupboards Atwell Laundry cupboards and fittings Aubin Grove Laundry renovations Cockburn
Instyle Engineered Stone and Doors are experts in affordable kitchen, laundry and bathroom makeovers, with fantastic service, quality workmanship and products. We will work with you to make your dream kitchen, bathroom and laundry become a reality.
Deal with the same people from start to finish see full feature for free quote
CLICK TO BOOK A FREE QUOTE & FACEBOOK ON FEATURE

---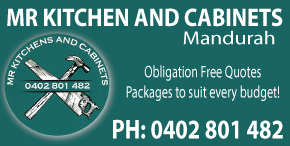 *MR KITCHENS AND CABINETS - KITCHEN RENOVATION SPECIALISTS - AFFORDABLE LAUNDRY RENOVATIONS - BENCHTOP RESURFACING QUALITY FINISH
- Mandurah, 6210
MANDURAH laundry renovations laundry renovation ideas pinjarra rockingham laundry renovations

KITCHEN renovations mandurah Pinjarra KITCHEN renos quality affordable renovations, Kitchen Renovations mandurah, pinjarra affordable kitchen renovations, kitchen renovations falcon, vinyl wrapped cabinet doors mandurah rockingham quality kitchen renos, baldivis affordable kitchen renovations, KITCHEN renovations meadow springs, full kitchen renovations mandurah, quality renovations for your KITCHEN bathroom laundry. Rockingham home renovations bathroom, kitchen, laundry. Toilet Installation mandurah - Tilers mandurah - vinyl wrapped cabinet doors pinjarra Bath Installation vinyl wrapped cabinet doors mandurah Bath Installation vinyl wrapped cabinet doors rockingham Bath Installation Shower Installations rockingham Shower Installations mandurah Shower Installations pinjarra Shower Installations halls head Shower Installations falcon Bathroom Renovations mandurah Bathroom Renovations rockingham pinjarra Bathroom Renovations Vanity Installations mandurah Vanity Installations pinjarra Vanity Installations falcon Vanity Installations erskine Vanity Installations rockingham Basin Installation vinyl wrapped cabinet doors erskine vinyl wrapped cabinet doors meadow springs Bathroom Resurfacing rockingham Bathroom Resurfacing mandurah Bathroom Resurfacing pinjarra falcon Bathroom Resurfacing baldivis Bathroom Resurfacing meadow springs Bathroom Resurfacing yunderup Bathroom Resurfacing Bathroom Vanities mandurah Built in Book Cases rockingham Built in Book Cases falcon Built in Book Cases pinjarra Built in Book Cases baldivis Cabinet Doors rockingham Cabinet Makers rockingham Cabinet Makers Bathroom renos rockingham Cabinet Makers Bathroom renos baldivis Vanities - Built-in Furniture rockingham Built-in Furniture mandurah pinjarra Built-in Furniture falcon Built-in Furniture baldivis Built-in Furniture kwinana Built-in Furniture Bookcases Kitchen Renovations - Benchtops - Home Office - Furniture - Custom Design Entertainment Units rockingham Custom Design Entertainment Units mandurah Custom Design Entertainment Units falcon Custom Design Entertainment Units yunderup Cabinets - Custom Built Tables - Custom Built Storage Solutions Consultation - Joinery - Kitchens - Furniture - Shop & Office Fitouts - Bathroom Windows & Doors - Kitchen - Benchtops - Kitchen Renovation - Project Management New Kitchen ideas mandurah New Kitchen ideas rockingham New Kitchen ideas falcon New Kitchen ideas yunderup New Kitchen ideas halls head New Kitchen ideas meadow springs New Kitchen ideas erskine New Kitchen ideas baldivis New Kitchen ideas rockingham Flat Pack Kitchens pinjarra Flat Pack Kitchens baldivis Flat Pack Kitchens rockingham Resurfacing - Kitchen Design - Marble Stone mandurah Supply & Install Glass Splashbacks rockingham Supply & Install Glass Splashbacks mandurah Supply & Install Glass Splashbacks wellard Supply & Install Glass Splashbacks rockingham Supply & Install Glass Splashbacks pinjarra Splashbacks - Supply & Install Glass Splashbacks - Showrooms Supply & Install Acrylic Splashbacks - Wardrobes - Standalone Wardrobe Builders rockingham Standalone Wardrobe Builders mandurah Standalone Wardrobe Builders erskine Standalone Wardrobe Builders falcon Standalone Wardrobe Builders yunderup Standalone Wardrobe Builders kwinana Built In Wardrobe Builders - Shelving & Storage Solutions rockingham Shelving & Storage Solutions mandurah Shelving & Storage Solutions erskine Shelving & Storage Solutions halls head Shelving & Storage Solutions golden bay Shelving & Storage Solutions secret harbour
Mr Kitchen and Cabinets offer quality and the best options for your full Kitchen, Bathroom and Laundry Renovations. With over 25 years of Tradesman Experience. Mark and his team offer a free measure and quote with many options to choose from suiting every budget!
Vinyl Wrap with 7 years guarantee. 2 Pack Lacquer/Melamine, Granite, Laminates and much more..
---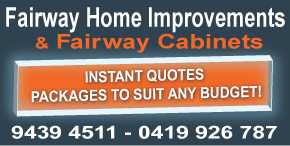 FAIRWAY HOME IMPROVEMENTS AND FAIRWAY CABINETS - INSTANT QUOTES PACKAGES TO SUIT ANY BUDGET! - Medina, WA 6167

KWINANA LAUNDRY RENOVATIONS, ROCKINGHAM LAUNDRY RENOVATIONS, BALDIVIS LAUNDRY RENOVATIONS, GREENFIELDS LAUNDRY RENOVATIONS BALDIVIS
LAUNDRY RENOVATIONS KWINANA CABINETMAKERS ROCKINGHAM, KITCHEN RENOVATIONS COCKBURN KITCHEN DESIGNERS BALDIVIS KITCHEN HOME RENOVATIONS FAIRWAY HOME IMPROVEMENTS ROCKINGHAM KITCHEN DESIGNERS KWINANA KITCHEN DESIGNERS ROCKINGHAM, BALDIVIS KITCHEN LAUNDRY BATHROOM RENOVATIONS KWINANA CABINETMAKERS FAIRWAY HOME IMPROVEMENTS ROCKINGHAM KITCHEN BATHROOM FAIRWAY HOME IMPROVEMENTS BALDIVIS LAUNDRY RENOVATIONS ROCKINGHAM CABINETMAKERS NAVAL BASE KITCHEN DESIGN FREMANTLE LAUNDRY RENOVATIONS SOUTH FREMANTLE KITCHENS HAMILTON HILL
AT FAIRWAY HOME IMPROVEMENTS AND FAIRWAY CABINETS YOU CAN VISIT OUR STUNNING SHOWROOM ON SEABROOK WAY, MEDINA. GET INSPIRED!
Tailored Design & Budget to suit everyone. Supply all Materials, Professional Installation, Stone Tops, Appliances - including: Ovens, Cooktops, Range Hoods, Microwaves, Dishwashers, Sink and Tapware, BBQ's, Electrical, Plumbing, Tiles, Tiling, Glass Splashbacks, Paint and Patching. Absolutely everything you need from start to finish. Don't stress over project-managing a house full of tradies - you simply deal with one of our friendly experts and let us take care of the rest.
Renovating your Kitchen, Bathroom or Laundry - give us a call. With over 30 years Trade Experience we can co-ordinate your entire project start to finish with the results you would expect!
We also do DIY kitchens.

---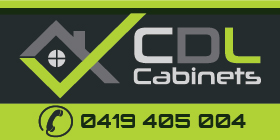 *CDL Cabinets - Cabinetmakers Rockingham - Laundry Renovations - Rockingham, 6168

ROCKINGHAM LAUNDRY RENOVATIONS BALDIVIS LAUNDRY RENOVATIONS MANDURAH LAUNDRY RENOVATIONS KWINANA LAUNDRY RENOVATIONS FREMANTLE LAUNDRY RENOVATIONS SECRET HARBOUR LAUNDRY RENOVATIONS
ROCKINGHAM LAUNDRY RENOVATIONS ROCKINGHAM CARPENTERS ROCKINGHAM CABINETMAKERS ,BALDIVIS LAUNDRY CABINETS ROCKINGHAM BATHROOM CABINETS ROCKINGHAM LAUNDRY CABINETS ROCKINGHAM WALK IN ROBES ROCKINGHAM TV UNITS ROCKINGHAM ALFRESCOS, BALDIVIS LAUNDRY RENOVATIONS SINGLETON CABINETS WARNBRO CABINETMAKER PORT KENNEDY LAUNDRY RENOVATIONS BALDIVIS CABINETMAKER SINGLETON CABINETS WARNBRO CABINETMAKER PORT KENNEDY LAUNDRY RENOVATIONS AND CABINETS ROCKINGHAM CARPENTERS ROCKINGHAM CABINETMAKERS KWINANA BALDIVIS CABINETMAKERS AND RENOVATIONS BATHROOM RENOVATIONS ROCKINGHAM COCKBURN CABINETMAKERS RENOVATIONS SPEARWOOD CABINETMAKERS PINJARRA CABINETMAKERS ERSKINE CABINETMAKERS FALCON CABINETMAKERS
FULLY QUALIFIED TEAM START TO FINISH - TURN KEY PACKAGES, CALL INTO OUR SHOWROOM OR CALL US FOR A FREE MEASURE & QUOTE.
At CDL Cabinets we pride ourselves on high quality workmanship. We can provide a very professional service to complete all your cabinet needs, such as kitchens, bathrooms, laundries, walk in robes, tv units & alfrescos.
We manufacture all our cabinets, solid timber furniture and bench tops in house. We ensure quality control by installing all of our own work.

---
---
---