Laundry Services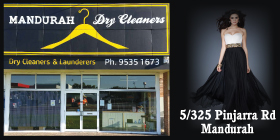 *Mandurah Dry Cleaners - Laundry Services Mandurah - Mandurah, 6210

MANDURAH
MANDURAH DRY CLEANERS & LAUNDERERS MANDURAH. Dry Cleaners Mandurah. All Clothing Garments, Business Suits & Suits. Dry Cleaning Wedding Dresses, Curtains and Bedding. Dry Cleaning Uniforms - Safety Clothing - Overalls - Seat Covers - Costumes. Launderers Mandurah. Sheets, Towels, All Sports Clothing. Work Clobba, Washing and Folding
Ironing Service - Corporate Accounts Welcome.
Alterations Mandurah and Mending Mandurah. Locally owned and operated.
LAUNDRY SERVICES MANDURAH.

---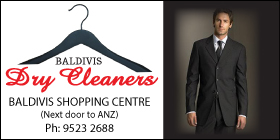 *Baldivis Dry Cleaners - Laundry Services Baldivis - Baldivis , 6171

BALDIVIS, ROCKINGHAM
BALDIVIS DRY CLEANERS. Dry Cleaners Rockingham. All Clothing Garments, Business Suits & Suits. Dry Cleaning Wedding Dresses, Curtains and Bedding. Drycleaning Uniforms - Safety Clothing - Overalls - Seat Covers - Costumes. Launderers Baldivis. Sheets, Towels, All Sports Clothing. Work Clobba, Washing and Folding
Ironing Service - Corporate Accounts Welcome.
Alterations and Mending Baldivis. Locally owned and operated.
BALDIVIS LAUNDRY SERVICES ROCKINGHAM.
CLICK TO CONTACT ON FEATURE

---
---
---