Mufflers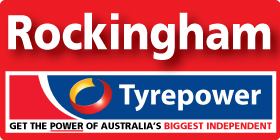 *Tyrepower Rockingham - Phone 9527 7722 - Mufflers Rockingham - Rockingham, 6168

ROCKINGHAM
MUFFLERS ROCKINGHAM, EXHAUSTS ROCKINGHAM, BATTERY MAINTENANCE ROCKINGHAM, TYRES ROCKINGHAM, WHEEL ALIGNMENT ROCKINGHAM, SUSPENSION ROCKINGHAM, BRAKES ROCKINGHAM.
Run Flat Tyres Rockingham - Low profile Tyres Rockingham - Tyre Load Rating Rockingham.
GET THE POWER OF AUSTRALIA'S BIGGEST INDEPENDENT...
CLICK FOR FACEBOOK & CLICK TO CONTACT ON FEATURE

---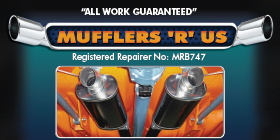 *Mufflers R Us - Phone 9581 6234 - Mufflers Greenfields Mandurah - Greenfields, WA 6210

MANDURAH
GREENFIELDS MUFFLERS MANDURAH. GREENFIELDS EXHAUSTS MANDURAH.
Registered Repairer No: MRB747 - "ALL WORK GUARANTEED"
Locally Owned & Operated - 30 years experience.
CLICK FOR FACEBOOK & CLICK FOR GALLERY BUTTON ON FEATURE

---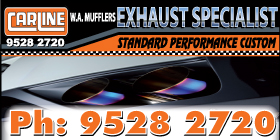 *WA Mufflers Carline - Phone 9528 2720 - Mufflers Rockingham - Rockingham, WA 6168

ROCKINGHAM
EXHAUSTS ROCKINGHAM
MUFFLERS ROCKINGHAM
* Friendly old fashioned service * Established Business for more than 25 years.
CLICK FOR FACEBOOK ON FEATURE

---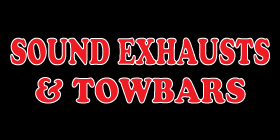 *Sound Exhausts & Towbars - Phone 9524 6622 - Mufflers Port Kennedy Rockingham - Port Kennedy, WA 6172

ROCKINGHAM
EXHAUSTS ROCKINGHAM. CARLINE MUFFLERS ROCKINGHAM.
ALL SYSTEMS FITTED * 20+ YEARS EXPERIENCE * ALL WORK GUARANTEED.
CARLINE MUFFLER PORT KENNEDY. EXHAUST PORT KENNEDY.

---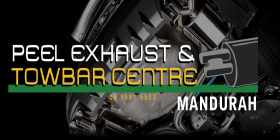 *Peel Exhaust & Towbar Centre - Phone 9581 6500 - Mufflers Mandurah - Mandurah, 6210

MANDURAH, PEEL REGION
Mandurah Mufflers supplied and fitted. Tow Bars Mandurah, Tow Bars, Exhausts and Mufflers supplied and fitted Peel Region.
NEW ADDRESS NOW LOCATED AT 2 THORNBOROUGH ROAD MANDURAH
Custom System Exhausts in Mandurah, "3" 4x4 Systems available Mandurah Tow Bars, Bull Bars fitted in Mandurah. Peel Exhaust & Towbar Centre, Quality Work, Best Prices Guaranteed, Fitting While You Wait. Mandurah & Peel.
CLICK FOR PRODUCTS ON FEATURE

---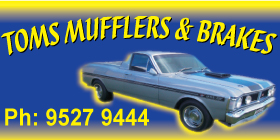 *Toms Mufflers & Brakes - Phone 9527 9444 - Mufflers Rockingham - Rockingham, WA 6168

ROCKINGHAM
MUFFLERS ROCKINGHAM, MUFFLERS KWINANA, MUFFLERS MANDURAH.
Brakes & all types of Suspension in Rockingham, Kwinana, Mandurah. Exhausts Rockingham, Kwinana, Mandurah.

---
---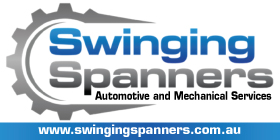 Swinging Spanners Automotive and Mechanical Services - Phone 08 9592 7334 - Mufflers Rockingham
- Rockingham, 6168
ROCKINGHAM
MUFFLERS ROCKINGHAM. EXHAUSTS ROCKINGHAM. MOTOR VEHICLE REPAIRS ROCKINGHAM.
New Automotive and Mechanical Store in Rockingham with 20 years experience.
We open to suit your schedule and provide maintenance and repair to any machine or vehicle in your fleet.
Heavy Duty Mechanical Repair Rockingham - Truck Repair and Servicing Rockingham.
SEE MOTOR VEHICLE REPAIRS FOR FULL FEATURE
---
---