Nails Acrylic and Beauty Salon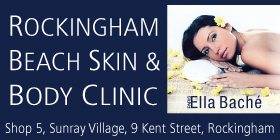 ROCKINGHAM BEACH SKIN & BODY CLINIC ❤️ ELLA BACHE SALON - SUMMER SPECIALS ❤️ BOOKINGS RECOMMENDED
- Shop 5, Sunray Village, 9 Kent Street, 6168
ROCKINGHAM NAIL SALONS WAIKIKI NAIL SALON WARNBRO NAIL AND BEAUTY SAFETY BAY NAIL SALON PORT KENNEDY NAIL SALONS

Nail Salon acrylic and gel Rockingham Ella Bache Beauty Salon Rockingham Beauty Salon Baldivis Ella Bache Beauty Therapy Port Kennedy Ella Bache Beauty Salon, Warnbro Ella Bache Beauty Therapy. Rockingham, Shellac Nails Rockingham, Gel Nails Rockingham, Ella Bache Specialised Treatments Rockingham, Shellac Permanent Nail Polish Rockingham, Biosculpture Gel Nails, evo2 Nails Rockingham, Manicures Rockingham, Waxing Rockingham, Massage Rockingham, Spray Tanning Rockingham, Lash Tinting Rockingham, Brow Tinting Rockingham, Lash Lift Rockingham, Feather Touch Brows Rockingham, Beauty Treatments Baldivis Ella Bache Treatments Warnbro Beauty Treatments Waikiki Rockingham Ella Bache Specialist.
Rockingham Beach Skin and Body Clinic in Rockingham Beach is your specialist salon for Ella Bache products and all beauty treatments. We are a family owned and run salon offering personalised service in a relaxing atmosphere.
CLICK TO VIEW TREATMENT MENU BUTTON & CLICK FOR FACEBOOK ON FEATURE
---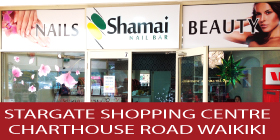 SHAMAI NAIL BAR 💅BEAUTY SALON ONLINE PRICE LIST AVAILABLE - WE ARE OPEN BOOKINGS WELCOME OR WALK-INS WELCOME
- Waikiki, 6169
ROCKINGHAM ACRYLIC NAIL SALONS WAIKIKI NAIL SALON WARNBRO ACRYLIC NAIL AND BEAUTY SAFETY BAY NAIL SALON PORT KENNEDY NAIL SALONS

ACRYLIC NAILS ROCKINGHAM BEAUTY AND NAIL SALON WARNBRO BEAUTY AND NAIL SALON, SAFETY BAY NAIL SALONS, BEAUTY THERAPISTS ROCKINGHAM, WAIKIKI BEAUTY SALON ROCKINGHAM. BEAUTY THERAPY WAIKIKI ROCKINGHAM.BEAUTY SALONS SAFETY BAY, BEAUTY AND NAIL SALON PORT KENNEDY, BALDIVIS BEAUTY SALON AND NAIL SALON, WAIKIKI NAIL SALONS WAIKIKI SNS NAILS ROCKINGHAM SNS NAIL TECHNICIAN BALDIVIS HUGE RANGE OF COLOURS FOR SNS NAILS PORT KENNEDY SNS NAIL BAR SAFETY BAY SNS NAILS WAIKIKI BEAUTY AND NAIL SALON WHERE CAN I GET A NAIL FIXED ROCKINGHAM WAXING WAIKIKI ALL ROUND EXPERIENCED NAIL TECHNICIAN
Shamai Nail Bar is a family owned and run salon located inside the Stargate Shopping Centre, Charthouse Road Waikiki.
Jenny and her staff are highly trained and experienced nail technicians specialising in SNS, Acrylic Nails, Shellac Nails and amazing Nail Art as well as Spa Pedicures, Waxing and Beauty Treatments,
Shamai Nail Bar offers a huge range of colours for SNS Nails which provide a bit of extra strength and length to your nails, whilst maintaining a lightweight feel. It is much thinner than acrylic but thicker than gel polish. It's a great way of getting a bit of extra strength in your nails, whilst maintaining a more "natural-looking" finish.
APPOINTMENTS FROM MONDAY TO SATURDAY. Phone to book on 0403 898 707.
CLICK FOR FACEBOOK ON FEATURE
---
---
---