Packaging Supplies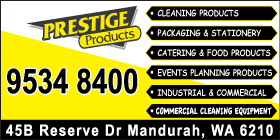 *Prestige Products - MANDURAH PACKAGING SUPPLIES Phone 9534 8400 - Mandurah, WA 6210

MANDURAH ROCKINGHAM PEEL
PACKAGING SUPPLIES MANDURAH.
SHOP ONLINE PACKAGING PRODUCTS MANDURAH, ROCKINGHAM, ALL AREAS SEE FULL FEATURE LINK
STATIONERY SUPPLIES MANDURAH. Catering Supplies Mandurah, Food Supplies Mandurah, Cleaning Products Mandurah, Mandurah Events Planning Products, Industrial and Commercial Cleaning Product Supplies Mandurah, Commercial Cleaning Equipment Sales and Repairs Mandurah - Commercial Vacuum Cleaner Mandurah, Commercial Carpet Washer Mandurah.

---
---
---