Personal Loans
---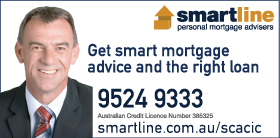 Smartline Personal Mortgage Advisers - Personal Loans Port Kennedy Rockingham
- Port Kennedy, 6172
ROCKINGHAM
PORT KENNEDY PERSONAL LOANS ROCKINGHAM. PERSONAL LOANS SECRET HARBOUR.
HOME LOANS ROCKINGHAM. PORT KENNEDY HOME LOANS SECRET HARBOUR.
PORT KENNEDY MOBILE MORTGAGE BROKER ROCKINGHAM. MORTGAGE BROKER SECRET HARBOUR.
- Mortgage & Finance Association Winner (MFAA) 2014
- Compare loans from over 25 top lenders - Get the right loan for your needs.
- It pays to get smart mortgage advice - We dont charge you for our service.
- Your home loan can make the difference between a good and a great property investment.
SEE FINANCE HOME LOANS FOR FULL FEATURE
---
---