Pools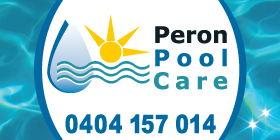 *PERON POOL CARE - SPECIAL $99 SUMMER POOL MAINTENANCE LIMITED TIME ONLY BOOK TODAY! - Safety Bay, 6169

Rockingham MOBILE POOL MAINTENANCE ROCKINGHAM, POOL MAINTENANCE AND REPAIRS SAFETY BAY
ROCKINGHAM SPA AND SWIMMING POOL MAINTENANCE ROCKINGHAM, SWIMMING POOL MAINTENANCE AND REPAIRS SAFETY BAY ROCKINGHAM SPA AND POOL RESCUES AND DIAGNOSTICS WANDI POOL SERVICE GOLDEN BAY POOL MAINTENANCE, MOBILE SWIMMING POOL MAINTENANCE CASUARINA POOL REPAIRS AND MAINTENANCE ONSITE POOL MAINTENANCE ROCKINGHAM ONSITE POOL MAINTENANCE SECRET HARBOUR POOL REPAIRS AND MAINTENANCE NAVAL BASE POOL RESCUES CASUARINA SPA SERVICE ROCKINGHAM TRAINING FOR YOUR NEW POOL WANDI HOW TO KEEP YOUR POOL CLEAN GOLDEN BAY POOL CHEMICALS SAFETY BAY POOL TECHNICIANS.
PERON POOL CARE take the hassle out of Pool Care.
We conduct Regular Maintenance - Training for Pool Owners - Existing Equipment Repair - New Equipment Installations - Water Treatment & Balancing - Computer Water Analysis - Troubleshooting.
We will tailor a service that suits your pool, your lifestyle and budget.
SPECIAL $99 SUMMER POOL MAINTENANCE LIMITED TIME ONLY *conditions apply
CLICK FOR SERVICES OR TO BOOK ONLINE ON FEATURE



---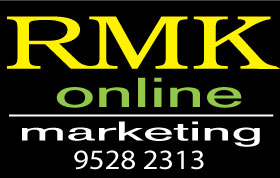 *ESTUARY POOL - VIEW OUR CURRENT ONLINE POOL BUSINESSES - ,

MANDURAH POOL & SPA SERVICING, FALCON POOL SERVICING, GOLDEN BAY SPA SUPPLIES BALDIVIS POOLS & SPAS
SWIMMING POOL SUPPLIES MANDURAH SPA SUPPLIES, MANDURAH POOL SHOPS, MANDURAH POOL AND SPA SERVICING, GOLDEN BAY POOL SUPPLIES, MEADOW SPRINGS POOL SUPPLIES, MANDURAH, GREENFIELDS POOL SUPPLIERS, BALDIVIS SWIMMING POOL SUPPLIES, PORT BOUVARD SPA SUPPLIES, HALLS HEAD WATER TESTING SWIMMING POOL SUPPLIES, SPA SUPPLIES, POOL AND SPA SERVICING ROCKINGHAM
PLEASE CLICK ABOVE RIGHT BUTTON AND VIEW OUR FULL LIST OF SWIMMING POOLS AND SPA CLIENTS..

---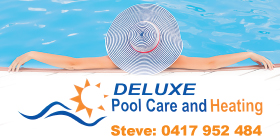 *Deluxe Pool Care and Heating - Pools Port Kennedy Rockingham - Port Kennedy, 6172

ROCKINGHAM POOLS MANDURAH POOLS NAVAL BASE POOLS SINGLETON POOLS BALDIVIS POOLS KWINANA POOLS KARNUP POOL CARE SERPENTINE POOLS AND SPAS JARRAHDALE POOL CARE
PORT KENNEDY MOBILE POOL CARE & HEATING SPECIALISTS PORT KENNEDY SOLAR POOL HEATING ROCKINGHAM MOBILE POOL CARE PORT KENNEDY POOL HEATING BALDIVIS POOL CARE PORT KENNEDY SOLAR POOL HEATING ROCKINGHAM, PORT KENNEDY POOL MAINTENANCE ROCKINGHAM SOLAR POOL HEATING PORT KENNEDY POOL POOL CARE ROCKINGHAM POOL BLANKETS PORT KENNEDY POOL EQUIPMENT ROCKINGHAM POOL CLEANING MANDURAH MOBILE POOL SERVICE ROCKINGHAM AFFORDABLE ZODIAC CLEANING ROBOTS MANDURAH POOL BLANKETS ROCKINGHAM HEAT PUMPS BALDIVIS FILTER SAND CHANGE ROCKINGHAM POOL EQUIPMENT PORT KENNEDY GREEN POOL RECOVERY NAVAL BASE POOL SERVICING SECRET HARBOUR POOL CARE KARNUP POOL SERVICING MANDURAH
Deluxe Pool Care and Heating are Rockingham, Mandurah & Baldivis' one-stop-shop for everything related to pool cleaning, equipment service and installations, maintenance and heating.
A family-owned and run business, Deluxe Pool Care offers the highest quality service and we individually tailor our services to suit each customer's needs.
Steve the owner of Deluxe Pool Care and Heating has been in the pool industry for more than 20 years.
As we are a 100% mobile business, we don't have to cover the overheads associated with running a retail business, so are able to pass these savings onto our customers. Our fully equipped mobile workshop has everything required to efficiently clean and maintain your pool as well as install and service any equipment you require to heat your pool and keep it operating at its best.
WE ARE Your Local Pool Maintenance and Heating specialists.
CLICK FOR FACEBOOK & CLICK FOR MOBILE SERVICE ON FEATURE

---
---

See Swimming Pools and Spas - Rockingham, Mandurah, Kwinana,

ROCKINGHAM MANDURAH KWINANA
POOLS IN ROCKINGHAM MANDURAH AND KWINANA.

---
---