Property Maintenance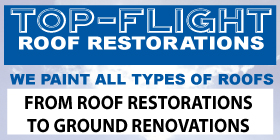 TOP-FLIGHT ROOF RESTORATIONS - KITCHEN BATHROOM HOUSE RENOVATIONS ROCKINGHAM - Mandurah, 6210

MANDURAH ROCKINGAM PEEL REGION
PROPERTY MAINTENANCE ROCKINGHAM, PROPERTY MAINTENANCE PORT KENNEDY OFFICE AND HOME MAINTENANCE, TILING ROCKINGHAM, ALL TILING ROCKINGHAM, BALDIVIS HOME AND OFFICE PROPERTY MAINTENANCE, SECRET HARBOUR HOME MAINTENANCE, OFFICE REPAIRS AND MAINTENANCE PORT KENNEDY, BALDIVIS HOME HANDYMAN SERVICES. Roofing Mandurah, Roofing Rockingham, Roofing Kwinana, Roofing Peel Region.
ROCKINGHAM HOME RENOVATIONS AND ROOF RESTORATIONS. BALDIVIS ROOF RESTORATIONS AND PROPERTY RENOVATIONS, PINJARRA HOME RENOVATIONS ROOF RESTORATIONS.Brickwork Rockingham, Mandurah, Woodowork Rockingham Mandurah, Painting Rockingham Mandurah Gutters Rockingham Mandurah, Tiling Rockingham Mandurah. HOME RENOVATIONS ROCKINGHAM, HOME AND OFFICE MAINTENANCE BALDIVIS, PINJARRA OFFICE RENOVATIONS, ROCKINGHAM OFFICE AND HOME MAINTENANCE. Roof Coating Mandurah. Roof Coating Rockingham. Roof Coating Peel region. Roof Restoration Mandurah. Roof Restoration Rockingham. Roof Painting Mandurah. Roof Painting Rockingham.
TOP-FLIGHT ROOF RESTORATION CAN RESTORE YOUR ROOF TO NEW. WE PAINT ALL TYPES OF ROOFS. WE OFFER A HUGE RANGE OF SERVICES: *ROOF CLEANING * ROOF RE-POINTING * ROOF BEDDING ALL AREAS . REGISTERED PAINTER Painters Reg: 6905 - Roof Painting Rockingham
---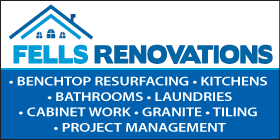 FELLS RENOVATIONS - OPEN FOR BUSINESS AFFORDABLE AND RELIABLE PROPERTY MAINTENANCE - LANDSCAPING - FULL HOME RENOVATIONS
- Port Kennedy, 6172
ROCKINGHAM PROPERTY MAINTENANCE MANDURAH PROPERTY MAINTENANCE NAVAL BASE PROPERTY MAINTENANCE SINGLETON PROPERTY MAINTENANCE BALDIVIS PROPERTY MAINTENANCE KWINANA PROPERTY MAINTENANCE

ROCKINGHAM PROPERTY MAINTENANCE WELLARD PROPERTY MAINTENANCE ROCKINGHAM CABINET MAKERS WELLARD CABINETMAKERS, MANDURAH PROPERTY MAINTENANCE HALLS HEAD CABINETMAKERS, KWINANA PROPERTY MAINTENANCE SECRET HARBOUR PROPERTY MAINTENANCE PINJARRA PROPERTY MAINTENANCE I NEED A REPUTABLE CABINETMAKER FALCON CABINET MAKERS HELP TO DESIGN A NEW BATHROOM DAWESVILLE CABINETMAKERS, BALDIVIS CABINETMAKERS, ROCKINGHAM CABINET WORK, ROCKINGHAM KITCHEN BATHROOM LAUNDRY CABINETMAKERS NAVAL BASE Rockingham Benchtop Resurfacing Mandurah, Rockingham Kitchen Renovations Mandurah, Rockingham Bathroom Renovations Mandurah, Laundries Rockingham Cabinet work, Granite Rockingham Tiling, Project Management Rockingham.
FELLS Renovations is a family driven business that focuses on kitchen and bathroom renovations - custom made cabinets/vanities/units, home improvement and maintenance and custom designed and installation of commercial shop fit-outs.
Director and owner Frank Lanzafame founded this small business in 2005, primarily sub-contracting for several major granite installation companies in the Perth metropolitan area.
After working with a wide variation of different stones, he ventured into importing only the highest quality of products from both international and local sources.
Pride and integrity is the signature of FELLS Renovations, offering a wealth of knowledge and friendly expertise in kitchen and bathroom design at a highly competitive price. In fact, show us your written quotes from companies of a similar service and we will beat it!
REQUEST ONLINE QUOTE OR PHONE US 0421 436 118
---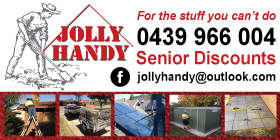 Jolly Handy - Property Maintenance Rockingham to Fremantle - SENIORS DISCOUNT
- Rockingham, 6168
ROCKINGHAM PROPERTY MAINTENANCE FREMANTLE PROPERTY MAINTENANCE BALDIVIS PROPERTY MAINTENENACE PORT KENNEDY PROPERTY MAINTENANCE

PROPERTY MAINTENANCE ROCKINGHAM TO FREMANTLE HOME CLEAN UPS ROCKINGHAM TO FREMANTLE SELLING MAKEOVERS HOME CLEAN UPS FREMANTLE SELLING MAKEOVERS FREMANTLE SHED INSTALLATION ROCKINGHAM PATIOS FREMANTLE FENCING FREMANTLE TILING PROPERTY CLEAN UP FREMANTLE ROCKINGHAM PROPERTY CLEAN UP AND REPAIRS PROPERTY REPAIRS MAINTENANCE KWINANA PROPERTY MAINTENANCE AND REPAIRS PROPERTY MAINTENANCE AND REPAIRS PINJARRA PROPERTY MAINTENANCE AND REPAIRS MANDURAH PROPERTY MAINTENANCE AND REPAIRS WELLARD PROPERTY MAINTENANCE AND REPAIRS FREMANTLE PROPERTY MAINTENANCE AND REPAIRS COCKBURN PROPERTY MAINTENANCE AND REPAIRS HAMILTON HILL PROPERTY MAINTENANCE AND REPAIRS WANDI PROPERTY MAINTENANCE AND REPAIRS BALDIVIS PROPERTY MAINTENANCE AND REPAIRS KARNUP PROPERTY MAINTENANCE AND REPAIRS CASUARINA PROPERTY MAINTENANCE AND REPAIRS
Jolly Handy specialise in Home Improvements Rockingham, - Fremantle and Property Maintenance and Renovations from Fremantle to Rockingham.
Our services include gutter cleaning, down pipe & roof repairs, solar panel cleaning, garden & yard makeovers, rubbish removal, tiling (wall & floor),ceiling repairs, move assist & home clean ups, selling makeovers, shed installation, patio construct & repairs, fencing and gates. JOLLY HANDY - 'for the stuff you can't do'...
---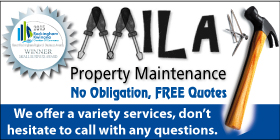 MILA PROPERTY MAINTENANCE - LARGE OR SMALL JOBS AFFORDABLE AND RELIABLE NO OBLIGATION FREE QUOTES
- Warnbro, WA 6169
ROCKINGHAM PROPERTY MAINTENANCE MANDURAH PROPERTY MAINTENANCE BALDIVIS PROPERTY MAINTENANCE KARNUP PROPERTY MAINTENANCE WARNBRO

HANG DOORS ROCKINGHAM CLEAN GUTTERS ROCKINGHAM HANG PICTURES ROCKINGHAM INSTALL SOAKWELLS ROCKINGHAM REPLACE FLYSCREENS ROCKINGHAM CHANGE LIGHT GLOBES BALDIVIS PROPERTY MAINTENANCE WARNBRO, PROPERTY MAINTENANCE KWINANA PROPERTY MAINTENANCE MANDURAH PROPERTY MAINTENANCE SECRET HARBOUR PROPERTY MAINTENANCE KARNUP HANDYMAN WARNBRO, HANDYMAN BATHROOM AND KITCHEN RENOVATIONS KWINANA BATHROOM AND KITCHEN RENOVATIONS ROCKINGHAM BATHROOM AND KITCHEN RENOVATIONS WARNBRO BATHROOM AND KITCHEN RENOVATIONS SECRET HARBOUR, BATHROOM AND KITCHEN RENOVATIONS HILLMAN. HANDYMAN WARNBRO BATHROOM AND KITCHEN RENOVATIONS SECRET HARBOUR BATHROOM AND KITCHEN RENOVATIONS HANDYMAN SERVICES ROCKINGHAM HANDYMAN SERVICES BALDIVIS.
MILA PROPERTY MAINTENANCE are experienced in all building and renovation services. We offer a variety of services and a No Obligation FREE Quote.
Do not hesitate to call with any questions.
Rockingham Kwinana Chamber of Commerce Small Business Awards Winner for 2015.
CLICK FOR FACEBOOK ON FEATURE
---
---
---