Property Valuers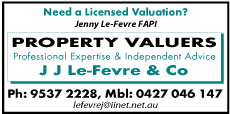 J J Le-Fevre & Co - Incorporating Rockingham Valuation Services and Mandurah Valuation Services - Property Valuers Western Australia
- Karnup, 6176
ROCKINGHAM VALUATIONS KARNUP PROPERTY VALUATIONS MANDURAH PROPERTY VALUATIONS SERPENTINE PROPERTY VALUATIONS PINJARRA PROPERTY VALUATIONS FREMANTLE PROPERTY VALUATIONS PERTH PROPERTY VALUATIONS CLAREMONT PROPERTY VALUATIONS

ROCKINGHAM PROPERTY VALUATION SERVICES MANDURAH PROPERTY VALUATION SERVICES KWINANA PROPERTY VALUATION SERVICES KARNUP PROPERTY VALUATION SERVICES SECRET HARBOUR PROPERTY VALUATION SERVICES PINJARRA PROPERTY VALUATION SERVICES PERTH PROPERTY VALUATION SERVICES
I am;
- Completely Independent.
- Fully experienced with over 40 years within the valuation sphere.
- Fully aware of my limitations, duties and liabilities as a valuer.
- Dedicated to upholding the principles and practice of truly professional and ethical valuations.
My practise is widely based, however, excludes productive rural property and licensed premises, and I do not carry out mortgage valuations .
Liability limited by a scheme approved under Professional Standards Legislation.
Please feel free to call, or email your enquiry to me, anytime.
---
---
---