Removals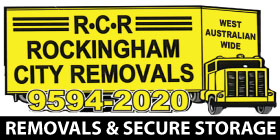 ROCKINGHAM CITY REMOVALS - MOVE NOW PAY LATER - ZIP & LATITUDE PAY AVAILABLE - AFFORDABLE - RELIABLE - 2 CONVENIENT DEPOTS - AFFORDABLE HOUSE PACKUPS AND SECURE STORAGE
- Rockingham , WA 6168
ROCKINGHAM REMOVALS BALDIVIS REMOVALS MANDURAH REMOVALS SECRET HARBOUR REMOVALS KWINANA REMOVALS NAVAL BASE REMOVALS

HOUSE REMOVALS ROCKINGHAM, REMOVALISTS ZIP PAY, ROCKINGHAM REMOVALS USING ZIP PAY, ROCKINGHAM REMOVALISTS ZIP PAY, ZIPPAY REMOVALISTS Western Australia, AFFORDABLE HOUSE PACKUPS ROCKINGHAM USE ZIP PAY, ZIP PAY REMOVALS ROCKINGHAM, AFFORDABLE HOUSE PACKUPS AND REMOVALS Western Australia ZIP PAY, WA REMOVALS USING ZIP PAY, ROCKINGHAM LOCAL REMOVALISTS ZIPPAY, FREMANTLE AFFORDABLE REMOVALISTS ZIP PAY, SPEARWOOD REMOVALS ZIP PAY, Hamilton Hill REMOVALISTS, GOLDEN BAY REMOVALISTS, HOUSE REMOVALISTS FREMANTLE USE ZIP PAY, FURNITURE REMOVALS ROCKINGHAM, SAFETY BAY REMOVALS, GOLDEN BAY REMOVALS, SINGLETON REMOVALS, BALDIVIS REMOVALISTS, WARNBRO REMOVALISTS ZIP PAY AND LATITUDE PAY AVAILABLE, REMOVAL COMPANY ROCKINGHAM, AFFORDABLE REMOVALISTS ROCKINGHAM, BALDIVIS REMOVALS, OFFICE REMOVALS ROCKINGHAM, GOLDEN BAY REMOVALS, WARNBRO REMOVALS, Rockingham Removals, Rockingham Furniture Removals, Baldivis, Removals, Mandurah Removalists, Removalist Pinjarra, Removals Rockingham, Furniture Removals Rockingham Removalists, SECURE FURNITURE STORAGE ROCKINGHAM, SECURE STORAGE ROCKINGHAM ZIP PAY, MOVING CARTONS ROCKINGHAM, AFFORDABLE MOVING BOXES ROCKINGHAM, CARTONS ROCKINGHAM STORAGE, PRE PACK ROCKINGHAM, BUBBLE WRAP AND BOXES ROCKINGHAM, SHRINK WRAP ROCKINGHAM PACKING PAPER, PORTA ROBES ROCKINGHAM, Removals Rockingham , Furniture Removals Mandurah, Removalists Baldivis West Australia Wide, Warnbro Removals ZIP PAY, Golden Bay Removals ZIP PAY, Lakelands Removals ZIP PAY, Waikiki AFFORDABLE Furniture Removals, Kwinana Rockingham Removals ZIP PAY, WA REMOVALISTS ZIP PAY, Rockingham Furniture Removals,, Baldivis Removals ZIP PAY, Mandurah Removalists, Removalist Pinjarra ZIP PAY, Removals Rockingham ZIP, Furniture Removals Rockingham, ROCKINGHAM Removalists OFFER ZIP PAY, SECURE STORAGE, CARTONS ROCKINGHAM STORAGE, PRE PACK ROCKINGHAM BUBBLE WRAP, SHRINK WRAP ROCKINGHAM PACKING PAPER, PORTA ROBES ROCKINGHAM, Removals Rockingham , Furniture Removals Mandurah , Removalists Baldivis West Australia Wide, Warnbro Removals, Golden Bay Removals, Lakelands Removals, Waikiki Furniture Removals, Kwinana HOME Removalists Perth ZIP
At Rockingham City Removals you can trust us to pack and transport your valuables with the utmost care and reliability with 2 CONVENIENT DEPOTS -
MOVE NOW PAY LATER WITH ZIP & LATITUDE PAY AVAILABLE
AFFORDABLE SECURE STORAGE ON SITE.
PHONE US ON 9524 2020 FOR A NO OBLIGATION FREE QUOTE.
---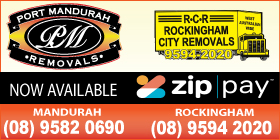 PORT MANDURAH REMOVALS incorporating Rockingham City Removals 2 CONVENIENT DEPOTS - ZIP PAY AVAILABLE AFFORDABLE HOUSE PACKUPS AND SECURE STORAGE
- Mandurah, 6210
MANDURAH REMOVALS ZIP PAY OPTIONS ROCKINGHAM CITY REMOVALS PINJARRA REMOVALS PORT BOUVARD REMOVALS

HOUSE REMOVALISTS ROCKINGHAM ZIP PAY AVAILABLE HOME REMOVALS ZIP PAY AVAILABLE ROCKINGHAM HOME REMOVALS MANDURAH HOME AND OFFICE REMOVALS PERTH GREY NOMADS HOUSE PACKUPS, COCKBURN HOME REMOVALISTS PERTH REMOVALISTS RELOCATING HOUSE PACKUPS ZIP PAY AVAILABLE FULL REMOVAL SERVICE ROCKINGHAM FULL REMOVALISTS SERVICE MANDURAH ZIP PAY AVAILABLE HOME PACKUPS AND SECURE STORAGE MANDURAH HOME PACKUPS KWINANA HOME REMOVALISTS MANDURAH HOME REMOVALISTS AND PACKUPS PINJARRA HOME REMOVALISTS AND PACKUPS PORT KENNEDY HOME REMOVALISTS COCKBURN HOME REMOVALISTS AND HOUSE PACKUPS COCKBURN HOME REMOVALISTS SECRET HARBOUR HOME REMOVALISTS AND PACKUPS YUNDERUP HOME REMOVALISTS AND SECURE STORAGE PINJARRA HOME REMOVALISTS AND SECURE STORAGE GREY NOMADS MANDURAH HOME REMOVALISTS Removals Mandurah, Removals Rockingham Commercial Removals Mandurah Commercial Removal Company ZIP PAY Mandurah Packing and Removal Service, Rockingham Removal and Packing Pinjarra Packing and Removals Pinjarra and Packing services, ZIP PAY Furniture Removals Mandurah. Storage Mandurah, Storage Pinjarra, Storage Facilities Mandurah.
At Port Mandurah Removals, we are focused on providing a removals services with the highest levels of customer satisfaction – we will do everything we can to meet your expectations, and take the stress out of moving.
We move everyone and everything from Grand Pianos to Offices and Coffee shops, and everything in between.
We offer a variety of options to choose from, pre-pack, un-pack, long haul moves, and storage for short and long terms available, in secure premises. The big point of difference is that we are not self storage so no one else but us can get to your treasured possessions, providing additional security!
PHONE US ON 9524 2020 FOR A NO OBLIGATION FREE QUOTE.
---
---
---