Restaurants Rockingham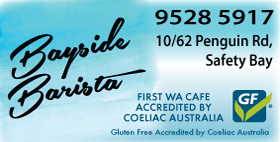 BAYSIDE BARISTA 👌 MULTI AWARD WINNING CAFE - DINE-IN OR TAKEAWAYS - GLUTEN FREE - COELIAC ACCREDITED CAFE GOLD PLATE WINNERS
- Safety Bay, 6169
SAFETY BAY GLUTEN FREE CAFE ROCKINGHAM COELIAC GLUTEN FREE CAFE BALDIVIS GLUTEN FREE PORT KENNEDY COELIAC FREE

ROCKINGHAM CAFE RESTAURANT ROCKINGHAM RESTAURANT CAFE SAFETY BAY RESTAURANTS SAFETY BAY GLUTEN FREE COELIC ACCREDITED RESTAURANT CAFES. WARNBRO RESTAURANT CAFES SHOALWATER RESTAURANT CAFES, SAFETY BAY CAFE COELIAC AUSTRALIAN ACCREDITED. CAFE ROCKINGHAM COELIAC AUSTRALIAN ACCREDITED CAFE RESTAURANT SAFETY BAY, GLUTEN FREE CAFE SAFETY BAY ROCKINGHAM COELIAC AUSTRALIAN ACCREDITED CAFE ROCKINGHAM SAFETY BAY SAFETY BAY RESTAURANT ROCKINGHAM
Bayside Barista offers Delicious All Day Breakfast & Brunch GLUTEN AND COELIAC FREE ~ Lunches ~ Fresh Cakes
Premium Gesha Coffee ~ Gourmet Specials - Vegan Dishes - Hot and Cold Takeaways
100% Gluten Free
WE ARE OPEN FOR DINE-IN OR TAKEAWAY 6.30AM-1PM WALK-INS WELCOME OR PLEASE PHONE 9528 5917 TO BOOK
FIRST WA CAFE ACCREDITED BY COELIAC AUSTRALIA - GLUTEN FREE ACCREDITED BY COELIAC AUSTRALIA
2021 AWARD FOR EXCELLENCE BEST BREAKFAST AND BEST CAFE - 2020 AWARDS FOR EXCELLENCE BEST BREAKFAST - 2020 RKCC BUSINESS WARDS WINNERS FOR BUSINESS OF THE YEAR & TOURISM OR HOSPITALITY EXCELLENCE AWARD - 2018 GOLD PLATE FINALIST BEST COFFEE SHOP, BEST BREAKFAST - 2017 GOLD PLATE AWARD WINNER FOR BEST COFFEE SHOP
VIEW FULL FEATURE PAGE FOR ONLINE MENU AND FACEBOOK LINK
---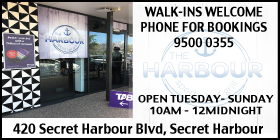 THE HARBOUR SPORTS BAR & GRILL - BIG SCREENS - PUBTAB - GREAT FOOD & ATMOSPHERE - DAILY SPECIALS - ONLINE MENUS
- Secret Harbour, 6173
TAVERNS PUB TAB SECRET HARBOUR PUBTAB SECRET HARBOUR SPORTS BAR SECRET HARBOUR RESTAURANTS ROCKINGHAM RESTAURANTS ROCKINGHAM PUBS

SECRET HARBOUR SPORTS BAR AND RESTAURANTS SECRET HARBOUR BARS WITH PUB TABS, PUBTABS SECRET HARBOUR, PUB TABS ROCKINGHAM, SPORTS BAR AND RESTAURANTS WITH PUB TAB GOLDEN BAY, RESTAURANTS SECRET HARBOUR, RESTAURANTS ROCKINGHAM, RESTAURANT GIFT VOUCHERS ROCKINGHAM, GIFT VOUCHERS FOR RESTAURANTS SECRET HARBOUR, GOLDEN BAY RESTAURANTS GIFT VOUCHERS, BALDIVIS RESTAURANTS WITH GIFT VOUCHERS, SPORTS BAR AND RESTAURANTS WITH PUB TAB SINGLETON, HOT ROCKS MENU SECRET HARBOUR, BEST STEAKS SECRET HARBOUR, BEST ONLINE MENUS SECRET HARBOUR, MANDURAH SPORTS BAR AND RESTAURANTS WITH PUB TAB, SPORTS BAR AND RESTAURANTS WITH PUB TAB Port Kennedy, KARNUP SPORTS BAR AND RESTAURANTS WITH PUB TAB, BALDIVIS SPORTS BAR AND RESTAURANTS WITH PUB TAB, GREENFIELDS SPORTS BAR AND RESTAURANTS WITH PUB TAB, MEADOW SPRINGS SPORTS BAR AND RESTAURANTS WITH PUB TAB, SPORTS BAR AND TAB ROCKINGHAM, SECRET HARBOUR RESTAURANTS SPORTS BAR, THE HARBOUR ONLINE MENU, THE HARBOUR SPORTS BAR ONLINE MENUS, THE HARBOUR SECRET HARBOUR PUBS, SECRET HARBOUR HAPPY HOUR, SECRET HARBOUR LUNCH SPECIALS, PUB LUNCH SPECIALS SECRET HARBOUR, Port Kennedy PUB MEALS ONLINE MENUS, ROCKINGHAM SPORTS BARS RESTAURANTS ONLINE MENUS, BEST SPORTS BAR ROCKINGHAM, BEST SPORTS BAR SECRET HARBOUR, LIVE MUSIC SECRET HARBOUR RESTAURANTS, GOLDE BAY RESTAURANTS, BALDIVIS RESTAURANTS BAR AND BISTROS, ROCKINGHAM SECRET HARBOUR PUB TABS, PUB MEALS SECRET HARBOUR, BEST PUB MEALS SECRET HARBOUR, SECRET HARBOUR PUB ENTERTAINMENT, LIVE ENTERTAINMENT SECRET HARBOUR, ROCKINGHAM PUB TABS ONLINE MENUS, SINGLETON PUB TAB AND SPORTING BARS. SECRET HARBOUR SPORTS BAR AND BISTRO LOCATED RIGHT OUTSIDE SECRET HARBOUR SQUARE SHOPPING CENTRE, BEST PUB TABS MENU SPECIALS SECRET HARBOUR, MANDURAH RESTAURANTS, BAR AND BISTRO WARNBRO SECRET HARBOUR, SECRET HARBOUR PUB TAB AND SPORTING BARS. MANDURAH RESTAURANTS, GOLDEN BAY RESTAURANT TAVERN. LAKELANDS SPORTS BAR AND TAB, LAKELANDS RESTAURANT SPORTS BAR, SECRET HARBOUR RESTAURANTS, LAKELANDS RESTAURANTS, Port Kennedy BAR AND BISTRO
Welcome to "The Harbs" –
We're here to bring you all the live action across sporting matches, sky racing and TAB betting!
Call in to enjoy a great atmosphere, watch your sports on the big screen, have a drink with your friends and enjoy delicious food.
The Harbour is the premier Sports Bar in the Rockingham area located right outside Secret Harbour Square. We offer great food and atmosphere, with all your favourite sports on the big screens.
GIFT VOUCHERS AVAILABLE
---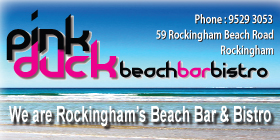 PINK DUCK BEACH BAR BISTRO - Rockingham Restaurants WA's LONGEST LUNCH FROM $15.95
- Rockingham, WA 6168
ROCKINGHAM RESTAURANTS BAR AND BISTRO ROCKINGHAM RESTAURANTS BALDIVIS

ROCKINGHAM RESTAURANTS LOCATED ROCKINGHAM FORESHORE, ROCKINGHAM'S BEACH BAR AND BISTRO RESTAURANT BALDIVIS, ROCKINGHAM RESTAURANTS BAR AND BISTROS. RESTAURANTS PORT KENNEDY, RESTAURANT WARNBRO, RESTAURANT SAFETY BAY, RESTAURANT KARNUP, RESTAURANT WELLARD
THE PINK DUCK BAR AND BISTRO is located by the stunning waters of Rockingham Beach.
It is the perfect place to enjoy a classy drink whilst chilling on the relaxing lounges, having a nibble from our delicious range of cheese, antipasto, and pizzas, or one of our famous
hot rock steaks and main meals form our extensive menu.
We offer WA'S LONGEST LUNCH AT FROM $15.95 11AM TIL 9PM daily.
With a great selection of bottled & tap beers, excellent wine and cocktail list plus all standard and top shelf spirits, Pink Duck is the exclusive place to be seen in Rockingham!
---
---
---