Restaurants Rockingham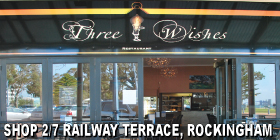 *THREE WISHES RESTAURANT - Phone 9592 9666 - ROCKINGHAM FORESHORE RESTAURANT - Rockingham, WA 6168

ROCKINGHAM
RESTAURANTS ROCKINGHAM
Dine-In or Takeaway.
Fantastic atmosphere * excellent cuisine.
Group Bookings Welcome. Restaurant Railway Terrace Rockingham.
Great Choice of takeaway Pizza and Pasta dishes Rockingham Foreshore to Order and Pick Up.
LUNCH SPECIAL WED TO SAT : $16.90 & FREE glass of wine, beer or soft drink.
FULL ONLINE MENU AVAILABLE SEE FULL FEATURE PAGE

---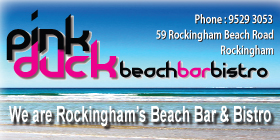 *Pink Duck Bar & Bistro - Phone 9529 3053 - Beach Bar Rockingham and Bistro Rockingham - Rockingham, WA 6168

ROCKINGHAM
RESTAURANTS ROCKINGHAM,
ROCKINGHAM BEACH BAR AND BISTRO
ONLINE MENU & VIDEO SEE FULL FEATURE PAGE
PINK DUCK BAR AND BISTRO LOCATED BEACH FRONT ROCKINGHAM, BAR & BISTRO. TAP BEERS, PRIVATE FUNCTION VENUE ROCKINGHAM BEACH FRONT. Specials all week, Lunch Special available Pink Duck Bar and Bistro Rockingham Foreshore.
We have live Acoustic music every Friday night from 7.30pm and Sunday afternoons from 2.30pm and Your Favorite hits with our resident DJ's on Saturday Nights!
NEW WA'S LONGEST LUNCH 11AM-9PM LUNCH SPECIAL $15.95


---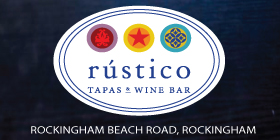 *RUSTICO TAPAS & WINE BAR - Phone 9528 4114 - ROCKINGHAM BEACH RESTAURANT TAPAS AND WINE BAR - Rockingham, WA 6168

ROCKINGHAM
RESTAURANTS ROCKINGHAM
ROCKINGHAM TAPAS AND WINE BAR AND RESTAURANT
FULL ONLINE MENU AVAILABLE SEE FULL FEATURE PAGE - BOOK ONLINE
WINTER PROMOTION OFFER SEE FULL FEATURE
With aspects that emulate the rustic Spanish charm, Rustico is the perfect place to socialise, dine or celebrate. As specialists in group bookings, functions, flamenco events and wine dinners there is always something new to experience at Rustico.
Join us every Sunday and enjoy our Live Acoustic Sessions from 2-5pm.


---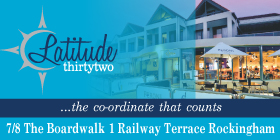 *Latitude 32 - Latitude Thirty Two - Ph: 9592 8881 - Rockingham Restaurant - Rockingham, WA 6168

ROCKINGHAM
RESTAURANTS ROCKINGHAM
STEAK AND SEAFOOD RESTAURANT. Latitude 32 is located on Rockingham Beach Front Premium Steak and Seafood Restaurant
Great Restaurant with fantastic views, food and service.
BOOK ONLINE NOW WITH DIMMI, Online Menu Available - OPEN 7 DAYS A WEEK 11AM TIL LATE
Reservations and Walk-ins welcome. Great for group bookings. Waiter Service, Outdoor seating. Sports Screens and fantastic menu located on the Boardwalk in Rockingham. Also offering a Catering Service.

---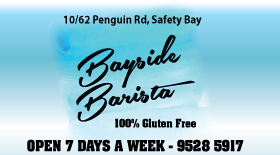 *Bayside Barista - Phone 9528 5917 - Rockingham Restaurant Safety Bay - Safety Bay, 6169

SAFETY BAY ROCKINGHAM
SAFETY BAY RESTAURANT ROCKINGHAM.
100% Gluten Free
Delicious All Day Brunch ~ Lunch ~ Fresh Cakes Premium Gesha Coffee ~ Gourmet Speciality Dishes
FINALIST 2017 - GOLD PLATE AWARD - 'COFFEE SHOP' - BYO(E)
CLICK FOR FACEBOOK & TO VIEW MENU ON FEATURE

---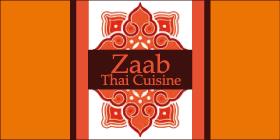 *Zaab Thai Cuisine - Phone 9592 2888 - Rockingham Thai Restaurant - Cooloongup, 6168

ROCKINGHAM
THAI RESTAURANT ROCKIINGHAM
FULL ONLINE MENU AVAILABLE SEE FULL FEATURE PAGE
Sensational Traditional Thai food ~ Excellent service and value ~ A place for the whole family ~ Dine In or Takeaway.
Visit Zaab Thai Cuisines Facebook Link for full menu and details.
www.facebook.com/ZaabThaiCuisine?fref=ts> Authentic Thai Food Rockingham.

---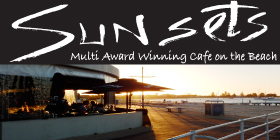 *SUNSETS CAFE - Phone 9528 1910 - ROCKINGHAM BEACH FORESHORE RESTAURANT - Rockingham, WA 6168

ROCKINGHAM
RESTAURANTS ROCKINGHAM
LUNCH SPECIALS $19 Choice of 14 dishes AVAILABLE MONDAY TO FRIDAY
WATERFRONT RESTAURANT ROCKINGHAM
Overlooking the spectacular water vista of the Rockingham foreshore Sunsets Restaurant is locally renowned for it's fine food and ambience.
Breakfast til 11.00am 7 days. 11.00am Lunch through to Dinner. See opening times on main feature.
Takes Reservations, Walk-Ins Welcome, Good For Groups, Good For Kids and Waiter Service.
CLICK FOR FACEBOOK & FULL ONLINE MENU AVAILABLE SEE FULL FEATURE PAGE
ROCKINGHAM RESTAURANT - CAFE ROCKINGHAM - FUNCTION RESTAURANT VENUE ROCKINGHAM.

---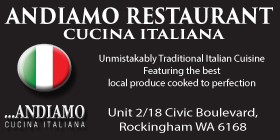 *ANDIAMO ITALIAN RESTAURANT - ROCKINGHAM ITALIAN RESTAURANT- 9592 9946 - Rockingham, WA 6168

ROCKINGHAM
RESTAURANTS ROCKINGHAM
ITALIAN RESTAURANTS
DINNER 5.30 TIL LATE - LUNCH BYY RESERVATION ONLY
ONLINE MENU AVAILABLE
WINNER 2016 Award for Excellence Western Australia Italian Restaurant
Licensed Restaurant, Children's Menu Available
AVAILABLE FOR WEDDINGS & PRIVATE FUNCTIONS
WINNERS OF DIMMI PEOPLE'S CHOICE AWARDS FOR JANUARY 2015


---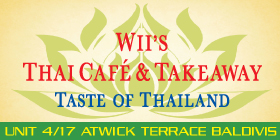 *Wii's Thai Cafe and Takeaway - Phone 9523-6279 - Baldivis Cafe Restaurant Rockingham - Baldivis, 6171

BALDIVIS ROCKINGHAM
RESTAURANTS ROCKINGHAM
THAI RESTAURANT BALDIVIS ROCKINGHAM. THAI CAFE BALDIVIS ROCKINGHAM.
THAI TAKEAWAY BALDIVIS ROCKINGHAM. CATERING BALDIVIS ROCKINGHAM.
FULL ONLINE MENU AVAILABLE SEE FULL FEATURE PAGE
LOCALLY OWNED by Adam and Wii Raabe - Open 7 days from 11.30am to 9.30pm.
Dine in or Takeaways & Home delivery available after 5pm to Baldivis & Rockingham areas.
Fresh cuisine made to order while you wait or delivered to your door.
We cater for Gluten free and are Vegetarian friendly.


---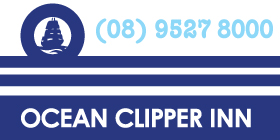 Ocean Clipper Inn - Rockingham Restaurants - Phone 9527 8000 - Rockingham, 6168

ROCKINGHAM
RESTAURANT ROCKINGHAM. ROCKINGHAM RESTAURANT. MERMAID BAR ROCKINGHAM.
WEDDINGS ROCKINGHAM. FUNCTION CENTRE ROCKINGHAM.
The Ocean Clipper Inn is a 63 room motel with accommodation for over 180 guests. Our Bar, Restaurant and Multi-purpose Function Centre are fully licensed for 280 persons and are open to the public everyday except public holidays. (Hotel guests only on public holidays).
Every evening our restaurant is open for our staying guests and the local Rockingham community to enjoy delicious food. Everything is made fresh in our kitchen by our professional chef and our kitchen team. Our Chef is always coming up with specials made with fresh local produce. Keep an eye out for the Daily specials.
Weekly Dinner Specials - Beer on Tap - Big Screen TV's - Accommodation - Function Centre
Under New Management - Dinner from 5.30pm


---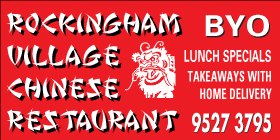 *Rockingham Village Chinese Restaurant - Phone 9527 3795 - Restaurant Rockingham - Rockingham, WA 6168

ROCKINGHAM
RESTAURANTS ROCKINGHAM.
CHINESE RESTAURANT ROCKINGHAM.
CHINESE TAKEAWAYS
LUNCH SPECIALS - BYO CHINESE RESTAURANT - CHINESE HOME DELIVERY - CATERING ROCKINGHAM FOR PARTIES AND FUNCTIONS.
FULL ONLINE MENU AVAILABLE SEE FEATURE PAGE...

---
---
---