Rockingham Restaurants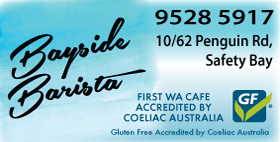 *BAYSIDE BARISTA - ROCKINGHAM AWARD WINNING RESTAURANTS CAFE SAFETY BAY - GLUTEN FREE - COELIAC ACCREDITED CAFE GOLD PLATE WINNERS - Safety Bay, 6169

SAFETY BAY AWARD WINNING GLUTEN FREE RESTAURANT ROCKINGHAM GLUTEN FREE RESTAURANT BALDIVIS GLUTEN FREE RESTAURANT ROCKINGHAM COELIAC FREE ACCREDITED RESTAURANT SHOALWATER COELIAC AND GLUTEN FREE PORT KENNEDY COELIAC AND GLUTEN FREE RESTAURANT CAFE
ROCKINGHAM CAFE RESTAURANT ROCKINGHAM RESTAURANT CAFE SAFETY BAY RESTAURANTS SAFETY BAY GLUTEN FREE COELIC ACCREDITED RESTAURANT CAFES. WARNBRO RESTAURANT CAFES SHOALWATER RESTAURANT CAFES, SAFETY BAY CAFE COELIAC AUSTRALIAN ACCREDITED. CAFE ROCKINGHAM COELIAC AUSTRALIAN ACCREDITED CAFE RESTAURANT SAFETY BAY, GLUTEN FREE CAFE SAFETY BAY ROCKINGHAM COELIAC AUSTRALIAN ACCREDITED CAFE ROCKINGHAM SAFETY BAY
SAFETY BAY RESTAURANT ROCKINGHAM
2017 GOLD PLATE AWARD WINNER FOR BEST COFFEE SHOP
2018 GOLD PLATE FINALIST BEST COFFEE SHOP, BEST BREAKFAST.
Bayside Barista offers Delicious All Day Breakfast & Brunch GLUTEN AND COELIAC FREE ~ Lunches ~ Fresh Cakes
Premium Gesha Coffee ~ Gourmet Specials - Vegan Dishes
FIRST WA CAFE ACCREDITED BY COELIAC AUSTRALIA - GLUTEN FREE ACCREDITED BY COELIAC AUSTRALIA
100% Gluten Free
VIEW FULL FEATURE PAGE FOR ONLINE MENU AND FACEBOOK LINK

---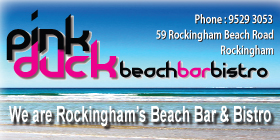 *Pink Duck Bar & Bistro - Rockingham Restaurants - WA LONGEST LUNCH ONLY $15.95
- Rockingham, WA 6168
ROCKINGHAM RESTAURANTS BAR AND BISTRO ROCKINGHAM RESTAURANTS BALDIVIS

ROCKINGHAM RESTAURANTS LOCATED ROCKINGHAM FORESHORE, ROCKINGHAM'S BEACH BAR AND BISTRO RESTAURANT BALDIVIS, ROCKINGHAM RESTAURANTS BAR AND BISTROS. RESTAURANTS PORT KENNEDY, RESTAURANT WARNBRO, RESTAURANT SAFETY BAY, RESTAURANT KARNUP, PUB RESTAURANTS WELLARD
THE PINK DUCK BAR AND BISTRO is located by the stunning waters of Rockingham Beach.
It is the perfect place to enjoy a classy drink whilst chilling on the relaxing lounges, having a nibble from our delicious range of cheese, antipasto, and pizzas, or one of our famous
hot rock steaks and main meals form our extensive menu.
We offer WA'S LONGEST LUNCH AT ONLY $15.95 11AM TIL 9PM daily.
With a great selection of bottled & tap beers, excellent wine and cocktail list plus all standard and top shelf spirits, Pink Duck is the exclusive place to be seen in Rockingham!
PHONE 9529 3053 FOR A BOOKING
---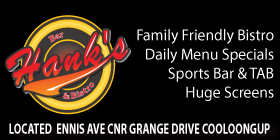 HANKS BAR & BISTRO - **WE ARE OPEN FOR TAKEAWAYS - BOTTLESHOP HOURS AS NORMAL** - Cooloongup, 6168

ROCKINGHAM RESTAURANTS PUB BISTRO ROCKINGHAM BISTROS ROCKINGHAM SPORTS BARS ROCKINGHAM PUB MEALS ROCKINGHAM FAMILY FRIENDLY BISTROS
ROCKINGHAM RESTAURANT PUB MEALS ROCKINGHAM RESTAURANTS TAB BAR PUB MEALS ROCKINGHAM PUB BISTROS ROCKINGHAM ONLINE MENUS PUB BISTRO TAB FACILITIES ROCKINGHAM PUB DAILY MENU SPECIALS RESTAURANTS ROCKINGHAM, BALDIVIS RESTAURANTS, WARNBRO RESTAURANTS, MEALS ROCKINGHAM, Rockingham Bistro and Bar Cooloongup, Hank's Bar & Bistro located Ennis Avenue, Cooloongup. Nags Head Tavern IS NOW HANK'S BAR & BISTRO FULL MENU ONLINE SEE FULL FEATURE PAGE Rockingham Pub Bistro Cooloongup, Bistro and Bar Rockingham, Rockingham Bar, Bistro and Lounge. Sports Bar Rockingham, Sports Bar Bistro and TAB Cooloongup Rockingham. Rockingham Tavern Cooloongup. HANKS'S BAR & BISTRO Bottle Shop Cooloongup, Sports Bar and TAB Cooloongup, Bistro and Restaurant Rockingham. Open 7 Days a week, family friendly Restaurant Bistro. Function Room for Corporate and Private Events. Drive Thru Bottleshop, Lounge Bar and Bistro
.PLEASE NOTE WE ARE STILL OPEN FOR TAKEAWAYS- BOTTLESHOP HOURS AS NORMAL
Hank's Bar & Bistro We've Changed Different menu, different layout, bigger TV's. Come down and see what's new. We are located in the picturesque coastal city of Rockingham, just 40kms south from the Perth CBD. Our premises are comprised of an expansive bistro which can accommodate up to 80 people, a sportsbar with TAB facilities and a convenient drive thru bottleshop.

---
---
---