Roofing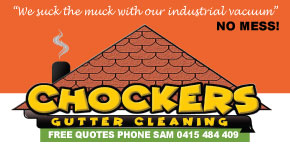 Chockers Professional Gutter Cleaners - Family Owned & Operated - Competitive Rates - Reliable Services - Rockingham, WA 6168

ROCKINGHAM, PERTH
ROCKINGHAM HIGH PRESSURE CLEANING Rockingham gutter cleaning Kwinana gutter cleaning Baldivis gutter cleaning Secret Harbour gutter cleaning Port Kennedy gutter cleaning How do I clean my solar panels Mandurah gutter cleaning Pinjarra gutter cleaning Kalamunda, gutter cleaning Armadale gutter cleaning, Jarrahdale gutter cleaning Pinjarra gutter cleaning Dawesville gutter cleaning My gutters are full of leaves Rockingham High Pressure Roof Cleaning Mandurah High Pressure Roof Cleaning Rockingham Solar Panel Cleaning, Fremantle Gutter Cleaning, Baldivis High Pressure Roof Cleaning Fremantle Solar Panel Cleaning Perth Industrial Vacuum Rockingham Industrial Vacuum
Every time you call CHOCKERS, you will be talking with the owner, Sam.
Every time you book with CHOCKERS, you will be visited by the owner, Sam.
We are a very small family business, so your support is greatly appreciated and we guarantee that because we are a small business, you will receive an exceptional service!
We are based in Warnbro, but set up and willing to travel, so if you are anywhere between Perth, Kalamunda, Armadale, Jarrahdale, Pinjarra, Dawesville, Mandurah, Rockingham or Fremantle we would be very happy to help!
We suck the muck out of your gutters with our Industrial Vacuum. No Mess - Fully insured.

---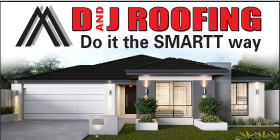 *D and J Roofing - Roofing Rockingham Secret Harbour - Secret Harbour, WA 6173

ROCKINGHAM ROOFING, SECRET HARBOUR ROOFING - MANDURAH ROOFING GUTTERS ROOFING - KWINANA NEW & REROOFING
ROCKINGHAM ROOFING NEW ROOFS - RE-ROOFING ROCKINGHAM, NEW ROOFS MANDURAH, RE-ROOFING MANDURAH, ROOFING KWINANA BALDIVIS ROOFING, ROCKINGHAM GUTTERS DOWNPIPES, ROCKINGHAM RIDGE CAPPING, MANDURAH GUTTERS DOWNPIPES, MANDURAH RIDGE CAPPING, BALDIVIS GUTTERS DOWNPIPES, DOWN PIPES GUTTERS REPAIRS ROCKINGHAM, RIDGE REPAIRS GOLDEN BAY SINGLETON, MANDURAH FALCON ROOFING GUTTERS DOWN PIPES
D and J Roofing is a well established and reputable local business specialising in Gutters and Downpipe Repairs, Ridge Capping Repairs using flexible compound. We are Locally Owned & Operated. Fully Insured, All work guaranteed.
*Free Quotes, CLICK TO CONTACT & FOR PRODUCTS ON FEATURE
---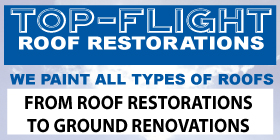 *Top-Flight Roof Restorations - Roofing Mandurah Rockingham Home Office Renovations - Mandurah, WA 6210

MANDURAH ROCKINGHAM KWINANA PEEL REGION
Roofing Mandurah, Roofing Rockingham, Roofing Kwinana, Roofing Peel Region.
ROCKINGHAM HOME RENOVATIONS AND ROOF RESTORATIONS. BALDIVIS ROOF RESTORATIONS AND PROPERTY RENOVATIONS, PINJARRA HOME RENOVATIONS ROOF RESTORATIONS. HOME RENOVATIONS ROCKINGHAM, HOME AND OFFICE MAINTENANCE Brickwork Rockingham, Mandurah, Woodwork Rockingham Mandurah, Painting Rockingham Mandurah Gutters Rockingham Mandurah, Tiling Rockingham Mandurah. BALDIVIS, PINJARRA OFFICE RENOVATIONS, ROCKINGHAM OFFICE AND HOME MAINTENANCE. Roof Coating Mandurah. Roof Coating Rockingham. Roof Coating Peel region. Roof Restoration Mandurah. Roof Restoration Rockingham. Roof Painting Mandurah. Roof Painting Rockingham.
TOP-FLIGHT ROOF RESTORATION CAN RESTORE YOUR ROOF TO NEW. WE PAINT ALL TYPES OF ROOFS. WE OFFER A HUGE RANGE OF SERVICES: *ROOF CLEANING * ROOF RE-POINTING * ROOF BEDDING ALL AREAS . REGISTERED PAINTER Painters Reg: 6905 - Roof Painting Rockingham
---
---

*Emerald Roofing Services - Roofing Mandurah - , WA


ROOFING MANDURAH. ROOFING ROCKINGHAM. FULL ROOF RESTORATION MANDURAH. FULL ROOF RESTORATION ROCKINGHAM. ROOF RESTORATIONS BALDIVIS, SECRET HARBOUR ROOF SERVICES, WANNANUP ROOF TILING PORT BOUVARD. roof renovations rockingham roof renovations cockburn roof renovations falcon roof maintenance roof maintenance halls head roof maintenance meadow springs roof maintenance south yunderup roof maintenance and repairs pinjarra roof maintenance and repairs bunbury roof maintenance australind roof maintenance and repairs eaton melrose roof repair or maintenance A professional roofing service for Mandurah, Rockingham, Perth to Bunbury and surrounding areas. 30 years experience in Roof Tiling in UK & WA. Full Roof Restorations Rockingham, Mandurah and surrounding areas.
A dependable local business * Insurance Work * Free Quotes.
CLICK FOR FREE ONLINE QUOTE & FACEBOOK ON FEATURE

---
---