Skylights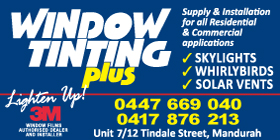 *Window Tinting Plus - Phone 0447 669 040 - Skylights Mandurah
- Mandurah, 6210
MANDURAH - PEEL REGION
SKYLIGHTS MANDURAH VENTILATION ~ WHIRLYBIRDS MANDURAH SOLAR VENTS PEEL REGION.
SKYLIGHTS GOLDEN BAY VENTILATION SILVER SANDS WHIRLY BIRDS BOUVARD SOLAR VENTS PINJARRA. Supply and Installation for all Residential and Commercial applications. An ingenious way of introducing sunlight into any home or work environment...COVERING THE PEEL REGION.
CLICK FOR FACEBOOK ON FEATURE

---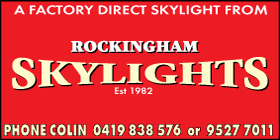 *Rockingham Skylights - Phone 0419 838 576 - Skylights Rockingham
- Safety Bay, 6169
ROCKINGHAM MANDURAH KWINANA
A FACTORY DIRECT SKYLIGHT ROCKINGHAM, MANDURAH, KWINANA AREAS...SAVE MONEY ON ELECTRICITY BY INSTALLING SKYLIGHTS SUPPLIED & INSTALLED
Natural lighting systems - made to measure
SKYLIGHT MANUFACTURERS SAFETY BAY SKYLIGHT INSTALLERS - ROCKINGHAM SKYLIGHT REPAIRS AND SKYLIGHT MAINTENANCE ROCKINGHAM * ALL WORK FULLY GUARANTEED * ROCKINGHAM SKYLIGHT DIY KITS AVAILABLE * WE ALSO FIT ROOF VENTS ROCKINGHAM

---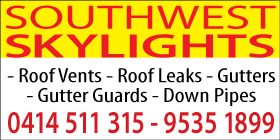 *Southwest Skylights - Phone 0414 511 315 - Skylights Mandurah
- Mandurah, 6210
MANDURAH
SKYLIGHTS MANDURAH, SKYLIGHTS ROCKINGHAM, SKYLIGHTS KWINANA, SKYLIGHTS PEEL.
ROOF VENTS MANDURAH, ROCKINGHAM, KWINANA. ROOF LEAKS MANDURAH, ROCKINGHAM, KWINANA. GUTTERS MANDURAH, ROCKINGHAM, KWINANA. DOWN PIPES MANDURAH, ROCKINGHAM, KWINANA.
Introducing natural light into your house PLUS our skylight that will not leak.

---
---
---