Sporting Activities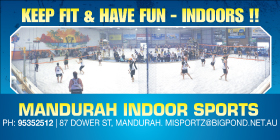 *Mandurah Indoor Sports - Phone 9535 2512 - Sporting Activities Mandurah
- Mandurah, WA 6210
MANDURAH
SPORT ACTIVITIES MANDURAH.
Centrally located and only a short stroll from the new Mandurah train and bus station, Mandurah Indoor Sportz is the premier multi sports centre of the Peel region. Situated in the Rushton Park sports complex, Mandurah Indoor Sportz offers competitions in a variety of sports from Monday to Friday with private bookings for birthday parties, social and corporate bookings welcome.
BEACH VOLLEYBALL MANDURAH - NETBALL MANDURAH - SOCCER MANDURAH - CRICKET MANDURAH - DODGEBALL MANDURAH.
CLICK TO BOOK & FACEBOOK ON FEATURE

---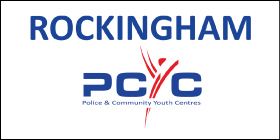 *PCYC Police & Community Youth Centre - Phone 9592 1232 - Sporting Activities Rockingham
- Rockingham, WA 6168
ROCKINGHAM PCYC
PCYC POLICE AND COMMUNITY YOUTH CENTRE ROCKINGHAM.
The Rockingham PCYC in Emma Street (formerly Smythe St) Rockingham has been offering services to the community of Rockingham since 1972.
In 1998, Rockingham PCYC built the first skate park of its kind in WA, aka the "Rocko Skate Park". The skate park continues to be a popular place for young people of Rockingham.
Rockingham PCYC conduct a number of sport and recreational activities for youth and in some cases adults plus provides learning and development opportunities and courses for disengaged youth.
View full details page direct click buttons for
ROCKINGHAM PCYC WEBPAGE & ROCKINGHAM PCYC FACEBOOK

---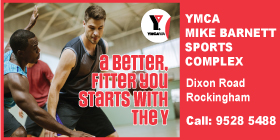 *YMCA Mike Barnett Sports Complex - Phone 9528 5488 - Sporting Activities Rockingham - Rockingham, WA 6168

ROCKINGHAM
SPORTS COMPLEX ROCKINGHAM.
Mike Barnett Sports Complex is a multi-purpose community facility owned by the City of Rockingham and professionally managed by the YMCA WA.
Our mission is to provide opportunities for children and young people to grow in body, mind and spirit. Our values underpin everything we do. They are honesty, respect, responsibility and caring.
CLICK FOR YMCA MIKE BARNETT SPORTS COMPLEX & FACEBOOK ON FEATURE

---
---
---