Takeaways Rockingham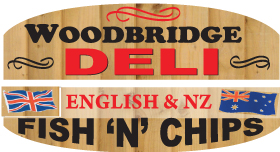 WOODBRIDGE FISH AND CHIPS🐟ONLINE MENU - 🇳🇿NEW ZEALAND KINA FRESH STOCK AVAILABLE - CALL IN OR HOME DELIVERY 7 DAYS A WEEK 5pm - 8pm - THE ORIGINAL WOODBRIDGE DELI
- Cooloongup, WA 6168
ROCKINGHAM TAKEAWAYS WOODBRIDGE FISH AND CHIPS COOLOONGUP FISH AND CHIPS WOODBRIDGE ENGLISH FISH AND CHIPS

ROCKINGHAM TAKEAWAYS, WOODBRIDGE SUPER DELI AND ENGLISH FISH AND CHIPS, PORT KENNEDY TAKEAWAYS, ROCKINGHAM TAKEAWAYS, WOODBRIDGE SUPER DELI, ENGLISH FISH AND CHIPS, ROCKINGHAM DELIVERY TAKEAWAYS, TAKEAWAY FISH AND CHIPS ROCKINGHAM, HOME MADE DESERTS, CAKES, DELICATESSEN, DELI ROCKINGHAM, SUPER DELI, FULL TAKEAWAY MENU, KIWI PRODUCTS ROCKINGHAM, ENGLISH FISH N CHIPS, SPECIALITY CAKES ROCKINGHAM, WOODBRIDGE KIWI PRODUCTS, ROCKINGHAM KIWI GIFTS SAFETY BAY TAKEAWAYS, WARNBRO TAKEAWAYS, COOLOONGUP TAKEAWAY
*WOODBRIDGE FISH AND CHIPS - NEW ZEALAND KINA - FRESH AND STOCKED NOW AVAILABLE CALL IN OR PHONE ORDERS WELCOME - THE ORIGINAL WOODBRIDGE DELI - ONLINE MENU - HOME DELIVERY 7 DAYS A WEEK 5pm - 8pm ENGLISH & NZ FISH AND CHIPS
Woodbridge Deli has delicious Home Made food, including everyday items ie: Fresh Milk, Bread, Eggs, Grocery Items
- WE DELIVER TAKEAWAYS - 7 NIGHTS A WEEK PLEASE PHONE 9527 1510 or 0414 666 191 to place orders, 5 TO 8 PM, orders $25 or more (food) Rockingham to Port Kennedy
TAKEAWAY FISH AND CHIPS ROCKINGHAM, HOME MADE DESSERTS AND CAKES
OPEN 365 DAYS A YEAR - SUPER DELI, FULL TAKEAWAY MENU. KIWI PRODUCTS ROCKINGHAM (LOTS OF VARIETY), WOODBRIDGE. ENGLISH FISH N CHIPS. SPECIALITY CAKES ROCKINGHAM.
WOODBRIDGE KIWI PRODUCTS & GIFTS AVAILABLE (Lots of Variety). ROCKINGHAM KIWI GIFTS & PRODUCTS. Chocolate, Lollies,
YES WE DELIVER - 7 NIGHTS A WEEK 5PM - 8PM min order $25 on food.
---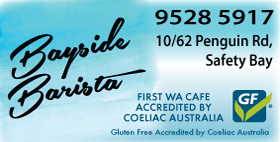 BAYSIDE BARISTA 👌GLUTEN FREE - COELIAC ACCREDITED CAFE GOLD PLATE WINNERS
- Safety Bay, 6169
SAFETY BAY HEALTHY TAKEAWAYS ROCKINGHAM TAKEAWAYS ROCKINGHAM COELIAC APPROVED CAFE AND TAKEAWAYS WARNBRO TAKEAWAYS

TAKEAWAYS ROCKINGHAM CAFE RESTAURANT TAKEAWAYS COFFEE TAKESWAYS GLUTEN FREE TAKEWAYS ROCKINGHAM RESTAURANT CAFE SAFETY BAY RESTAURANTS SAFETY BAY TAKEAWAYS GLUTEN FREE COELIC ACCREDITED RESTAURANT CAFES. WARNBRO RESTAURANT CAFES SHOALWATER RESTAURANT CAFES, SAFETY BAY CAFE COELIAC AUSTRALIAN ACCREDITED. CAFE ROCKINGHAM COELIAC AUSTRALIAN ACCREDITED CAFE RESTAURANT SAFETY BAY, GLUTEN FREE CAFE SAFETY BAY ROCKINGHAM COELIAC AUSTRALIAN ACCREDITED CAFE ROCKINGHAM SAFETY BAY SAFETY BAY RESTAURANT
Bayside Barista offers Delicious All Day Breakfast & Brunch GLUTEN AND COELIAC FREE ~ Lunches ~ Fresh Cakes
Premium Gesha Coffee ~ Gourmet Specials - Vegan Dishes - Hot and Cold Takeaways
100% Gluten Free
WE ARE OPEN FOR DINE-IN OR TAKEAWAY 6.30AM-1PM WALK-INS WELCOME OR PLEASE PHONE 9528 5917 TO BOOK
FIRST WA CAFE ACCREDITED BY COELIAC AUSTRALIA - GLUTEN FREE ACCREDITED BY COELIAC AUSTRALIA
2017 GOLD PLATE AWARD WINNER FOR BEST COFFEE SHOP
2018 GOLD PLATE FINALIST BEST COFFEE SHOP, BEST BREAKFAST.
VIEW FULL FEATURE PAGE FOR ONLINE MENU AND FACEBOOK LINK
---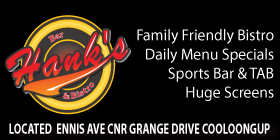 HANKS BAR & BISTRO TAKEAWAY MEALS AVAILABLE - 10AM-LATE BOOKINGS RECOMMENDED WALK-INS WELCOME - BISTRO - PUBTAB - BOTTLESHOP -
- Cooloongup, 6168
ROCKINGHAM TAKEAWAYS PUB MEAL TAKEAWAYS ROCKINGHAM PORT KENNEDY BURGER TAKEAWAYS ROCKINGHAM BISTRO TAKEAWAYS WARNBRO PUB MEAL TAKEAWAYS BISTRO MEALS TAKEAWAYS ROCKINGHAM

ROCKINGHAM TAKEAWAYS ROCKINGHAM BURGER TAKEAWAYS ROCKINGHAM PUB MENU TAKEAWAYS COOLOONGUP PUB TAKEAWAYS WARNBRO PUB TAKEAWAYS PORT KENNEDY BISTRO TAKEAWAYS BURGER TAKEAWAYS PORT KENNEDY CHEF MENU TAKEAWAYS ROCKINGHAM WOODBRIDGE TAKEAWAYS WOODBRIDGE BURGER CHIPS TAKEAWAYS HILLMAN TAKEAWAYS HILLMAN PUB MENU TAKEAWAYS WAIKIKI PUB TAKEAWAYS WAIKIKI BISTRO TAKEAWAYS ROCKINGHAM RESTAURANT PUB MEALS RESTAURANTS ROCKINGHAM, BALDIVIS PUB MENU TAKEAWAYS RESTAURANTSROCKINGHAM TAKEAWAYS PUB MEAL TAKEAWAYS ROCKINGHAM PORT KENNEDY BURGER TAKEAWAYS ROCKINGHAM BISTRO TAKEAWAYS WARNBRO PUB MEAL TAKEAWAYS BISTRO MEALS TAKEAWAYS ROCKINGHAM ROCKINGHAM RESTAURANTS TAB BAR PUB MEALS TAKEAWAYS ROCKINGHAM PUB BISTROS ROCKINGHAM PUB BISTRO TAB FACILITIES ROCKINGHAM PUB DAILY MENU SPECIALS RESTAURANTS ROCKINGHAM, BALDIVIS RESTAURANTS, WARNBRO RESTAURANTS, MEALS ROCKINGHAM, Rockingham Bistro and Bar Cooloongup, Hank's Bar & Bistro located Ennis Avenue, Cooloongup. Nags Head Tavern IS NOW HANK'S BAR & BISTRO FULL MENU ONLINE SEE FULL FEATURE PAGE Rockingham Pub Bistro Cooloongup, Bistro and Bar Rockingham, Rockingham Bar, Bistro and Lounge. Sports Bar Rockingham, Sports Bar Bistro and TAB Cooloongup Rockingham. Rockingham Tavern Cooloongup. HANKS BAR & BISTRO Bottle Shop Cooloongup, Sports Bar and TAB Cooloongup, Bistro and Restaurant Rockingham. Open 7 Days a week, family friendly Restaurant Bistro. Function Room for Corporate and Private Events. Drive Thru Bottleshop, Lounge Bar and Bistro
BECOME A VIP MEMBER AND SAVE
Hanks Bar & Bistro We've Changed Different menu, different layout, bigger TV's. Come down and see what's new. We are located in the picturesque coastal city of Rockingham, just 40kms south from the Perth CBD. Our premises are comprised of an expansive bistro which can accommodate up to 80 people, a sportsbar with TAB facilities and a convenient drive thru bottleshop.
HANKS BAR & BISTRO - WE ARE FULLY OPEN - 10AM-LATE BOOKINGS RECOMMENDED WALK-INS WELCOME - BISTRO - PUBTAB - BOTTLESHOP - WE ARE OPEN FOR DRIVE THROUGH TAKEAWAYS
---
---
---