Television and Phone Points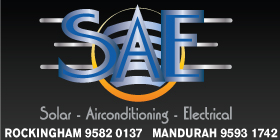 *SAE Solar, Airconditioning & Electrical - Television and Phone Points Mandurah - Mandurah, 6210

ROCKINGHAM MANDURAH KWINANA PEEL REGION
Telephone points Mandurah Television points installed, Rockingham TV and phone point installations Rockingham, Mandurah, Peel Region.
APPLIANCE REPAIRS ROCKINGHAM AND MANDURAH
SAE - Solar, Air Conditioning & Electrical is a locally owned company with a team of electrical, refrigeration, gas and solar technicians who provide trade services and skills to the Rockingham, Mandurah and Murray regions and surrounding areas.
CLICK FOR ELECTRICAL & FACEBOOK ON FEATURE

---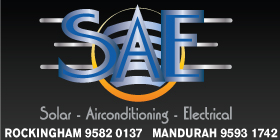 *SAE Solar, Airconditioning & Electrical - Television and Phone Points Rockingham - Rockingham, 6168

ROCKINGHAM MANDURAH KWINANA PEEL REGION
Telephone points Mandurah Television points installed, Rockingham TV and phone point installations Rockingham, Mandurah, Peel Region.
APPLIANCE REPAIRS ROCKINGHAM AND MANDURAH
SAE - Solar, Air Conditioning & Electrical is a locally owned company with a team of electrical, refrigeration, gas and solar technicians who provide trade services and skills to the Rockingham, Mandurah and Murray regions and surrounding areas.
CLICK FOR ELECTRICAL & FACEBOOK ON FEATURE

---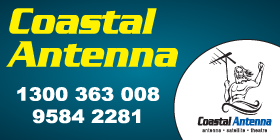 *Coastal Antenna - Television Antennas Mandurah - Phone 9584 2281 - Mandurah, 6210

MANDURAH, ROCKINGHAM, PEEL REGION
TELEVISION ANTENNAS MANDURAH. TELEPHONE AND DATA INSTALLATIONS MANDURAH.
NBN CABLING MANDURAH AND WIFI RANGE EXTENDERS MANDURAH.
Get an Expert on the Job. Your Digital Reception Specialists.. Rockingham to Dawesville, Mandurah to Waroona & Surrounding Areas. INTERNET TV, NBN specialists don't loose your connections when the new NBN comes through phone Coastal Antennas. SETUP AND FAULT FINDING CALL NOW...

---
---
---