Tourist Information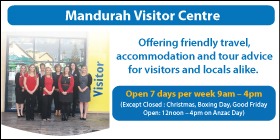 *Mandurah Visitor Centre - Phone 9550 3999 - Tourist Information Mandurah
- Mandurah, 6210
MANDURAH PEEL REGION
PEEL TOURIST INFORMATION MANDURAH.
Mandurah Visitor Centre located in central Mandurah offers friendly travel, accommodation and tour advice for visitors and locals alike.
CLICK TO VIEW MANDURAH VISITOR CENTRE & FACEBOOK ON FEATURE

---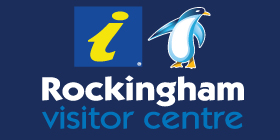 *Rockingham Visitor Centre - Phone 9592 3464 - Tourist Information Rockingham
- Rockingham, WA 6168
ROCKINGHAM
TOURIST INFORMATION IN ROCKINGHAM.
Conveniently located, with ample parking and friendly staff, the Rockingham Visitor Centre is full of information and local knowledge to help you explore Rockingham.
CLICK TO VIEW ROCKINGHAM VISITOR CENTRE & FACEBOOK ON FEATURE

---
---
---