Treelopping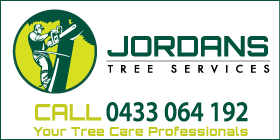 *Jordans Tree Services - Phone 0433 064 192 - Treelopping Safety Bay Rockingham - Safety Bay, 6169

ROCKINGHAM - MANDURAH - BALDIVIS - KWINANA
SAFETY BAY TREE LOPPING ROCKINGHAM. SAFETY BAY STUMP GRINDING ROCKINGHAM.
Tree Lopping & Tree Removal Services - Tree Pruning & Trimming Services - Chipping & Mulching Deliveries - Palm Clearing & Maintenance - Stump Grinding Services - Palm Removal
OBLIGATION FREE QUOTE - PROFESSIONAL RELIABLE AFFORDABLE
Servicing Rockingham, Mandurah, Baldivis & Kwinana
CLICK FOR FREE ONLINE QUOTE BUTTON & CLICK FOR FACEBOOK ON FEATURE

---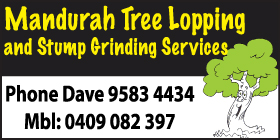 *Mandurah Tree Lopping - Phone 9583 4434 - Treelopping Mandurah
- Mandurah, WA 6210
MANDURAH ROCKINGHAM PEEL REGION
TREELOPPING MANDURAH. STUMPGRINDING MANDURAH.
Mandurah Tree Lopping and Stump Grinding Services. Rockingham, Mandurah, Kwinana, Peel Region. Tree Services, Tree Removal, Stump Grinding, Block Clearing, Mulching, 21Mtr Cherry Picker, Mulch Sales, Free Quotes. Fully Insured.
CLICK FOR FACEBOOK ON FEATURE

---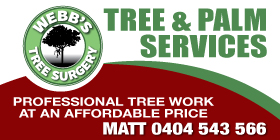 *Webb Tree Surgery - Phone 0404 543 566 - Treelopping Rockingham
- Secret Harbour, 6173
ROCKINGHAM AND ALL AREAS
TREELOPPING ROCKINGHAM.
Webb's Tree Surgery offer Professional Tree Work At An Affordable Price.
Rockingham, Wellard, Baldivis, Kwinana, Serpentine, Jarrahdale, Pinjarra, Peel Region, Mandurah and all surrounding areas. Pruning and Removals, Rockingham Large Tree Specialists
Webb Tree Surgery offer Professional and Reliable services for the following:
Mulching, Power Line Clearances, Blocks Cleared, Storm Damage, Stump Grinding, Pensioner Discounts. Webb Tree Surgery are fully insured and offer
EMERGENCY CALL OUTS - FREE QUOTES 7 DAYS A WEEK.
CLICK FOR FACEBOOK ON FEATURE

---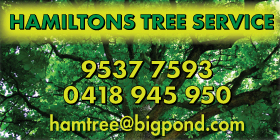 *Hamiltons Tree Service - Phone 0418 945 950 - Treelopping Mandurah
- MANDURAH, WA 6210
MANDURAH ROCKINGHAM PEEL REGION
TREELOPPING MANDURAH AND SURROUNDS. STUMP GRINDING MANDURAH AND SURROUNDS. MULCHING MANDURAH AND SURROUNDS.
We've been around for 25 years and our services include: - Tree Removal - Tree Trimming - 15m Easy Access - Power Line Clearance - Lopping - Pruning - Mulching - Thinning - Wood Chipping - Stump Grinding - INSURANCE JOBS * EMERGENCY CALL OUT.
CLICK FOR FACEBOOK ON FEATURE

---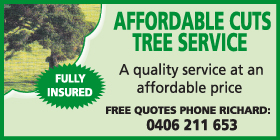 *Affordable Cuts Tree Service - Phone 0406 211 653 - Treelopping Rockingham
- Rockingham, WA 6168
ROCKINGHAM
SERVICING ROCKINGHAM, MANDURAH AND KWINANA.
TREELOPPING ROCKINGHAM. TREELOPPING PORT KENNEDY. MANDURAH TREE LOPPING KWINANA.
STUMP GRINDING ROCKINGHAM. STUMP GRINDING PORT KENNEDY. MANDURAH STUMPGRINDING KWINANA. PRUNING AND SHAPING ROCKINGHAM. PRUNING AND SHAPING PORT KENNEDY. PORT KENNEDY TREE AND PALM REMOVAL ROCKINGHAM.
A quality service at an affordable price * Pensioner discounts * Insurance Work.
CLICK FOR FACEBOOK ON FEATURE

---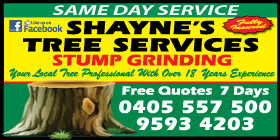 *Shayne's Tree Services - Phone 0405 557 500 - Treelopping Port Kennedy Rockingham
- Port Kennedy, WA 6172
ROCKINGHAM
TREELOPPING ROCKINGHAM. TREE SERVICES ROCKINGHAM. STUMP GRINDING ROCKINGHAM.
Same Day Service - Your Local Tree Professional with over 18 years experience.
INSURANCE WORK - FREE QUOTE 7 DAYS - 24/7 EMERGENCY CALL OUT STORM DAMAGE.
CLICK FOR FACEBOOK & SERVICES BUTTON ON FEATURE

---
---
---