Upholstery Cleaning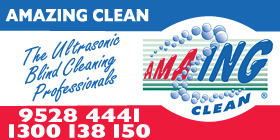 Amazing Clean Rockingham - Phone 1300 138 150 - Upholstery Cleaning Rockingham
- Rockingham, WA 6168
ROCKINGHAM - MANDURAH
UPHOLSTERY CLEANING ROCKINGHAM & MANDURAH UPHOLSTERY CLEANING.
BLIND CLEANING ROCKINGHAM & MANDURAH BLIND REPAIRS.
BLIND CORD SAFETY ROCKINGHAM & MANDURAH.
Corded Internal Window Coverings Safety Audit and Rectification Work.
Same day pick up & return - Servicing Mandurah & Rockingham.
THE ULTRASONIC BLIND CLEANING PROFESSIONALS....
CLICK FOR UPHOLSTERY CLEANING, FACEBOOK AND TO WATCH VIDEO ON FEATURE

---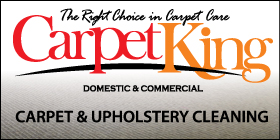 *Carpet King - Phone 0417 095 169 - Upholstery Cleaning
- Rockingham , 6168
ROCKINGHAM
CARPET CLEANING ROCKINGHAM. UPHOLSTERY CLEANING ROCKINGHAM.
CAR CARPET CLEANING ROCKINGHAM. DOMESTIC AND COMMERCIAL CARPET CLEANING ROCKINGHAM.
Mention RMK Directories to receive free deodorising valued at $25.
FIND US ON FACEBOOK ON FEATURE

---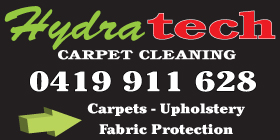 Hydra Tech Carpet Cleaning Phone - Phone 0419 911 628 - Upholstery Cleaning Mandurah - Mandurah, 6210

MANDURAH - ROCKINGHAM - KWINANA
CARPET CLEANING MANDURAH UPHOLSTERY CLEANING. CARPET CLEANING ROCKINGHAM UPHOLSTERY CLEANING.
MANDURAH FABRIC PROTECTION ROCKINGHAM, HYDRATECH CARPET CLEANING USES POWERFUL TRUCK MOUNTED EQUIPMENT.

---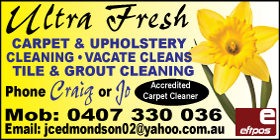 *Ultra Fresh Carpet and Upholstery Cleaning - Upholstery Cleaning Golden Bay - Golden Bay, WA 6174

ROCKINGHAM - MANDURAH - KWINANA
UPHOLSTERY CLEANING ROCKINGHAM, UPHOLSTERY CLEANING MANDURAH, UPHOLSTERY CLEANING KWINANA. TILE AND GROUT CLEANING ROCKINGHAM, MANDURAH, KWINANA.
CARPET CLEANING MANDURAH TO ROCKINGHAM. MANDURAH VACATE CLEANS ROCKINGHAM.
BALDIVIS UPHOLSTERY CLEANING SINGLETON UPHOLSTERY CLEANING MEADOW SPRINGS UPHOLSTERY CLEANING PORT KENNEDY.
We offer carpet cleaning, upholstery cleaning as well as tile and grout cleaning. Prompt professional service - Truck mount machine.
CLICK FOR FACEBOOK ON FEATURE

---
---
---