Welding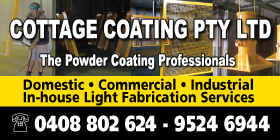 *Cottage Coating Pty Ltd - Phone 0408 802 624 - Welding Port Kennedy Rockingham - Port Kennedy, 6172

ROCKINGHAM - MANDURAH - KWINANA
WELDING PORT KENNEDY, WELDING ROCKINGHAM, WELDING MANDURAH, WELDING KWINANA. METAL RESTORATION ROCKINGHAM, METAL RESTORATION MANDURAH, METAL RESTORATION KWINANA, METAL RESTORATION PORT KENNEDY.
POWDER COATING PORT KENNEDY, POWDER COATING ROCKINGHAM, POWDER COATING MANDURAH, POWDER COATING KWINANA.
Pickup and delivery service within Perth Metro area - DOMESTIC * COMMERCIAL * INDUSTRIAL.
If it CAN be powder coated - we will do it for you! Call us for an obligation FREE QUOTE....
CLICK FOR SERVICES BUTTON ON FEATURE

---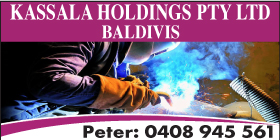 *Kassala Holdings Pty Ltd - Phone Peter 0408 945 561 - Welding Baldivis Rockingham
- Baldivis, WA 6171
ROCKINGHAM, BALDIVIS, KWINANA, MANDURAH, PERTH
WELDING ROCKINGHAM. WELDING BALDIVIS.
RURAL WELDING ROCKINGHAM. Phone Peter 0408 945 561
Complete Welding Services, Maintenance, Fabrication, Mechanical Repairs & Servicing.
Earthmoving, Agricultural, Transport
Restoration, Conversions, Reconstructions
Welding: MIG, TIG, Stainless Steel, Aluminium
Innershield, Man/Electrodes, Site Welding.
ALL MECHANICAL MAINTENANCE
Earthmoving, Industrial, Agricultural, Trucks, Cars & Tractors, Electrical, Hydraulics, Transport Mechanical/Automotive. Marine repair hulls, Boat Trailers, Fabrication, Lawn Mowers, Horse Floats - FIELD SERVICE AVAILABLE. Water Cart Hire Available.
CLICK FOR FACEBOOK ON FEATURE

---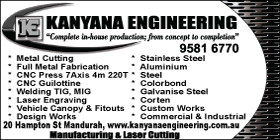 *Kanyana Engineering Pty Ltd -Welding Mandurah - Mandurah, 6210

MANDURAH
WELDING MANDURAH, ALL WELDING SERVICES, SHEET METAL WORK MANDURAH - FABRICATION MANDURAH. CUSTOM SHEETMETAL FABRICATION MANDURAH
Laser Cutting Mandurah, Kanyana Engineering Pty Ltd provides a complete in-house manufacturing service, undertaking every stage of production from concept to completion, saving you lead time, money and quality control.
Every step of our manufacturing process is governed by our Quality Management System servicing Australia Wide.
The precise nature of laser cutting ensures every component part is right the first time. Our Laser Machines can handle sheet sizes 3000mmx1500mm.
Mild Steel up to 25mm
Aluminium up to 12mm
Stainless Steel up to 16mm


---
---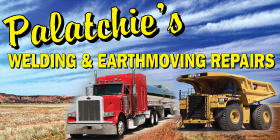 Palatchie's Earthmoving Repairs - Welding Rockingham - Phone 9592 2622
- Rockingham, 6168
ROCKINGHAM
WELDING ROCKINGHAM.
Heavy Duty Diesel Repairs Rockingham - Mechanical Repairs Rockingham - Earthmoving Repairs Rockingham. TRUCK PARTS ROCKINGHAM TRAILER PARTS. STEEL SUPPLIES ROCKINGHAM.
SEE EARTHMOVING REPAIRS FOR FULL FEATURE
---
---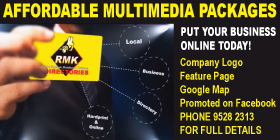 See also Boat Trailers - Rockingham, Mandurah, Kwinana,

ROCKINGHAM MANDURAH KWINANA
WELDING IN ROCKINGHAM, MANDURAH AND KWINANA.

---