Windscreens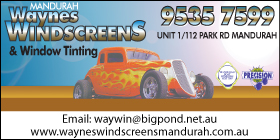 *Waynes Windscreens Mandurah - Windscreens and Tinting Mandurah - 24 HR EMERGENCY CALL OUT - Mandurah, WA 6168

MANDURAH WINDSCREENS 24 HR CALL OUT ROCKINGHAM WINDSCREENS PINJARRA WINDSCREENS 24 HR EMERGENCY YUNDERUP WINDCREENS
MANDURAH WINDSCREENS MOBILE WINDSCREENS MOBILE 24 HOUR EMERGENCY WINDSCREEN REPAIRS ROCKINGHAM WINDSCREENS AND CHIP REPAIRS, WINDSCREENS BALDIVIS WINDSCREENS PEEL REGION, SINGLETON WINDSCREENS BOUVARD, PINJARRA WINDSCREENS, DAWESVILLE WINDSCREENS,WAROONA WINDSCREENS REPAIRS BODDINGTON WINDSCREENS WINDOW TINTING FALCON REPLACEMENT WINDSCREENS AND REPAIRS DWELLINGUP WINDOW TINTING FALCON, WINDOW TINTING MANDURAH
Wayne's Windscreens Mandurah is Mandurah's No. 1 windscreen repair/replacement & window tinting specialists. We have been servicing the Mandurah/Peel area and including Waroona in the South West, Boddington and Dwellingup in the East plus coastal areas including Rockingham/Kwinana for over 30 years.
Our services include four wheel drive windscreens and tinting and earthmoving equipment windscreens and tinting.
Windscreens replaced by by Wayne's Windscreens come with FREE Chip Repairs.
24 EMERGENCY CALL OUT WINDSCREENS MANDURAH.

---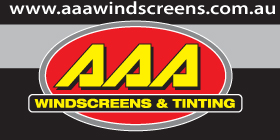 *AAA WINDSCREENS AND TINTING - WE ARE OPEN FOR BUSINESS AS USUAL - MOBILE SERVICES TO CUSTOMERS WITH ALL PRECAUTIONS IN PLACE- QUALITY PRODUCTS QUALITY PRICE - Rockingham, WA 6168

ROCKINGHAM WINDSCREENS COCKBURN WINDSCREENS FREMANTLE WINDSCREENS
WINDSCREENS ROCKINGHAM EMERGENCY CALL OUTS MOBILE UNITS FOR WINDSCREENS BALDIVIS, WINDSCREENS PORT KENNEDY, WINDSCREENS FREMANTLE WINDSCREENS COCKBURN EMERGENCY CALL OUTS MOBILE UNITS WINDSCREENS REPLACED AND REPAIRED BYFORD, ARMADALE WINDSCREENS EMERGENCY CALL OUTS MOBILE UNITS CANNINGTON WINDSCREENS EMERGENCY CALL OUTS MOBILE UNITS KWINANA, SECRET HARBOUR WINDSCREENS, GOLDEN BAY WINDSCREENS, WELLARD WINDSCREENS EMERGENCY CALL OUTS MOBILE UNITS
WINDSCREENS - FRONT, SIDE & REAR ROCKINGHAM. All Automotive Glass Repairs Rockingham in Dixon Road. Rockingham Windscreen Chip and Glass Repair Baldivis, Kwinana.
WE ARE OPEN FOR BUSINESS AS USUAL OFFERING MOBILE SERVICES TO CUSTOMERS WITH ALL PRECAUTIONS IN PLACE.
AAA Windscreens & Tinting are your windscreen replacement & repair, mobile windscreen replacement service and car window replacement specialists Rockingham. We provide a comprehensive range of products and services for your windscreen replacement needs.
VIEW GALLERY AND VIRTUAL TOUR OF AAA WINDSCREENS & TINTING, SEE FULL FEATURE PAGE

---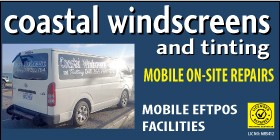 *Coastal Windscreens - Windscreen Replacements Rockingham MOBILE WE COME TO YOU - Rockingham, WA 6168

ROCKINGHAM WINDSCREENS MANDURAH WINDSCREENS NAVAL BASE WINDSCREENS SINGLETON WINDSCREENS BALDIVIS WINDSCREENS KWINANA WINDSCREENS
ROCKINGHAM WINDSCREENS MANDURAH WINDSCREENS BALDIVIS WINDSCREENS KWINANA WINDSCREENS SECRET HARBOUR WINDSCREENS KARNUP WINDSCREENS WINDSCREENS PORT KENNEDY MOBILE WINDSCREEN CHIPS REPAIRS AND REPLACEMENTS ROCKINGHAM MOBILE WINDSCREEN CHIPS REPAIRS AND REPLACEMENTS BALDIVIS my windscreen needs replacing MOBILE WINDSCREEN CHIPS REPAIRS AND REPLACEMENTS KWINANA MOBILE WINDSCREENS KWINANA, REPLACEMENT WINDSCREENS AND REPAIRS BALDIVIS MOBILE WINDOW TINTING ROCKINGHAM, How do I replace my windscreen MOBILE WINDOW TINTING BALDIVIS. KARNUP WINDSCREEN REPAIRS AND REPLACEMENT.. WINDOW TINTING ROCKINGHAM.
COASTAL WINDSCREENS are a mobile service which will come to you for all windscreen repairs and replacements.
With 30 years experience in the industry Vince offers the full range of services:
* Stone Chip Repairs
* Restoration Work
* Reseals
Rockingham Windscreens for Automotive Window Tinting / Domestic Window Tinting / Commercial Window Tinting .
MOBILE WINDSCREENS AND WINDOW TINTING

---
---
---