Written Off Vehicle Inspectors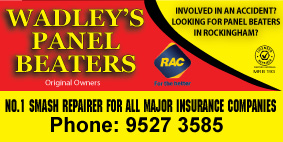 WADLEYS PANEL BEATERS - Written Off Vehicle Inspectors *Wadleys Panel Beaters - ORIGINAL OWNERS - NO.1 SMASH REPAIRER
- Rockingham, 6168
ROCKINGHAM WRITTEN OFF VEHICLE INSPECTORS BALDIVIS WRITTEN OFF VEHICLE INSPECTORS PERTH WRITTEN OFF VEHICLE INSPECTORS KWINANA WRITTEN OFF VEHICLE INSPECTORS SINGLETON WRITTEN OFF VEHICLE INSPECTORS NAVAL BASE WRITTEN OFF VEHICLE INSPECTORS WELLARD WRITTE

ROCKINGHAM WRITTEN OFF VEHICLE INSPECTORS MANDURAH VEHICLE INSPECTION WRITTEN OFF VEHICLES GOLDEN BAY VEHICLE INSPECTION WRITTEN OFF VEHICLES WANDI VEHICLE INSPECTION WRITTEN OFF VEHICLES HAMILTON HILL VEHICLE INSPECTION WRITTEN OFF VEHICLES SPEARWOOD VEHICLE INSPECTION WRITTEN OFF VEHICLES COCKBURN VEHICLE INSPECTION WRITTEN OFF VEHICLES BALDIVIS WRITTEN OFF VEHICLE INSPECTORS PERTH WRITTEN OFF VEHICLE INSPECTORS KWINANA WRITTEN OFF VEHICLE INSPECTORS SINGLETON WRITTEN OFF VEHICLE INSPECTORS NAVAL BASE WRITTEN OFF VEHICLE INSPECTORS WELLARD WRITTEN OFF VEHICLE INSPECTORS PORT KENNEDY WRITTEN OFF VEHICLE INSPECTORS BUNBURY WRITTEN OFF VEHICLE INSPECTORS FREMANTLE INSPECTIONS STATION FOR WRITTEN OFF VEHICLES SERPENTINE VEHICLE INSPECTION WRITTEN OFF VEHICLES JARRAHDALE VEHICLE INSPECTION WRITTEN OFF VEHICLES
WADLEY'S PANEL BEATERS ROCKINGHAM ARE THE APPROVED WRITTEN-OFF VEHICLE INSPECTORS FOR THE DEPARTMENT OF TRANSPORT (INSPECTION NO 601)
People buy economical write-offs from Pickles or other auction houses and sometimes they buy them privately. These vehicles are unlicensed and in need of repair.
A vehicle is deemed a repairable write-off if it has been damaged such that its salvage value plus the cost to repair it exceeds its market value.
An older car could be considered a write-off even with relatively minor damage, simply because the cost to repair it is greater than what it is worth on the used car market.
But a car deemed a write-off can be repaired and returned to the road providing it has been repaired to the manufacturer's standards, has undergone an inspection by the relevant government inspector, passed a roadworthiness check and had its identity validated.
---
---
---