*Bake & Brew at Home - Brewing Rockingham THE BEST HOME BREW SHOP | Brewing - ROCKINGHAM BREWING MANDURAH BREWING NAVAL BASE BREWING SINGLETON BREWING BALDIVIS BREWING KWINANA BREWING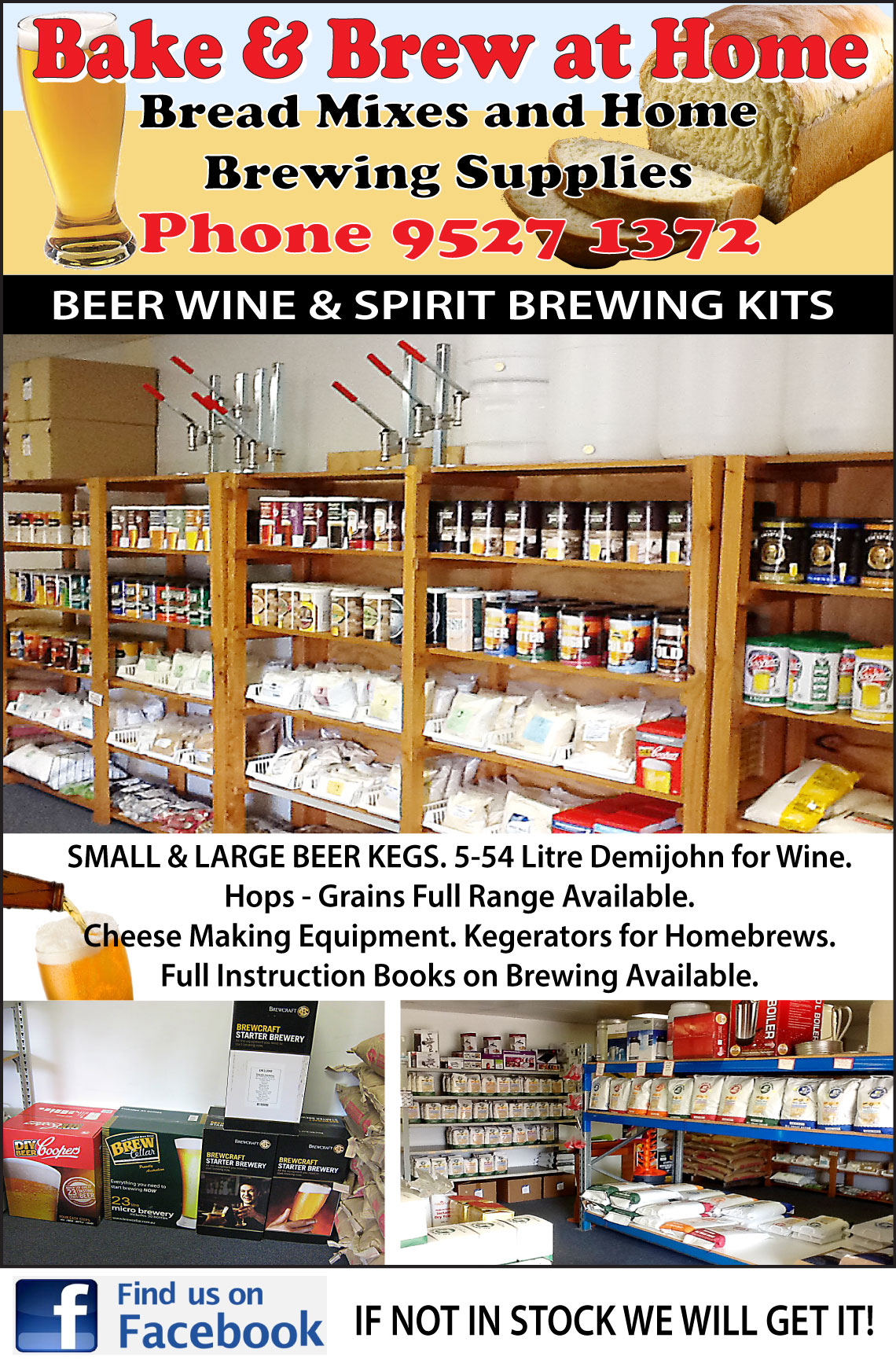 ---
---
Address
2/18 Livingstone Road Rockingham 6168
---
---
About Us
BREWING ROCKINGHAM
HOME BREWING ROCKINGHAM
HOME BREW SUPPLIES BALDIVIS, KWINANA HOME BREWING, BREWING PORT KENNEDY, MANDURAH BREWING SUPPLIES, SECRET HARBOUR BREWING SUPPLIES, BREAD MIXES ROCKINGHAM, BREAD MIXES BALDIVIS, PORT KENNEDY BREAD MIXES. HOME BREW SUPPLIES WELLARD, ROCKINGHAM'S BEST HOME BREW SHOP BAKE AND BREW AT HOME
For all your Bread Mixes and Home Brewing Supplies. BEER WINE & SPIRIT BREWING KITS
SMALL & LARGE BEER KEGS. 5-54 Litre Demijohn for Wine. Hops - Grains Full Range Available. Cheese Making Equipment. Kegerators for Homebrews. Full Instruction Books on Brewing Available.
Brewing Supplies:
Phone, Fax, Email or call in and see Tom & Judy.
CLICK FOR FACEBOOK & VIRTUAL TOUR ON FEATURE
---
Products / Services
BREWING ROCKINGHAM
HOME BREWING ROCKINGHAM
For all your Bread Mixes and Home Brewing Supplies. BEER WINE & SPIRIT BREWING KITS
SMALL & LARGE BEER KEGS. 5-54 Litre Demijohn for Wine. Hops - Grains Full Range Available. Cheese Making Equipment. Kegerators for Homebrews. Full Instruction Books on Brewing Available.
Brewing Supplies:
Phone, Fax, Email or call in and see Tom & Judy.
---
Trading Hours
Mon:
9.00am - 5.00pm
Tue:
9.00am - 5.00pm
Wed:
9.00am - 5.00pm
Thu:
9.00am - 5.00pm
Fri:
9.00am - 5.00pm
Sat:
9.00am - 1.00pm
Sun:
Closed
---
Payments Accepted
Cash, Cheque, Credit Card, EFT