*SUPER TAP MAN - EMERGENCY 24/7 YOUR PLUMBING & GAS SPECIALISTS | Plumbers
- ROCKINGHAM PLUMBERS HOT WATER UNITS, KWINANA PLUMBERS & GAS, BALDIVIS PLUMBERS & GAS, MANDURAH PLUMBERS KWINANA PLUMBERS & HOT WATER, MANDURAH PLUMBERS GAS SERVICES PORT KENNEDY PLUMBING & GAS, GREENFIELDS PLUMBING HOT WATER & GAS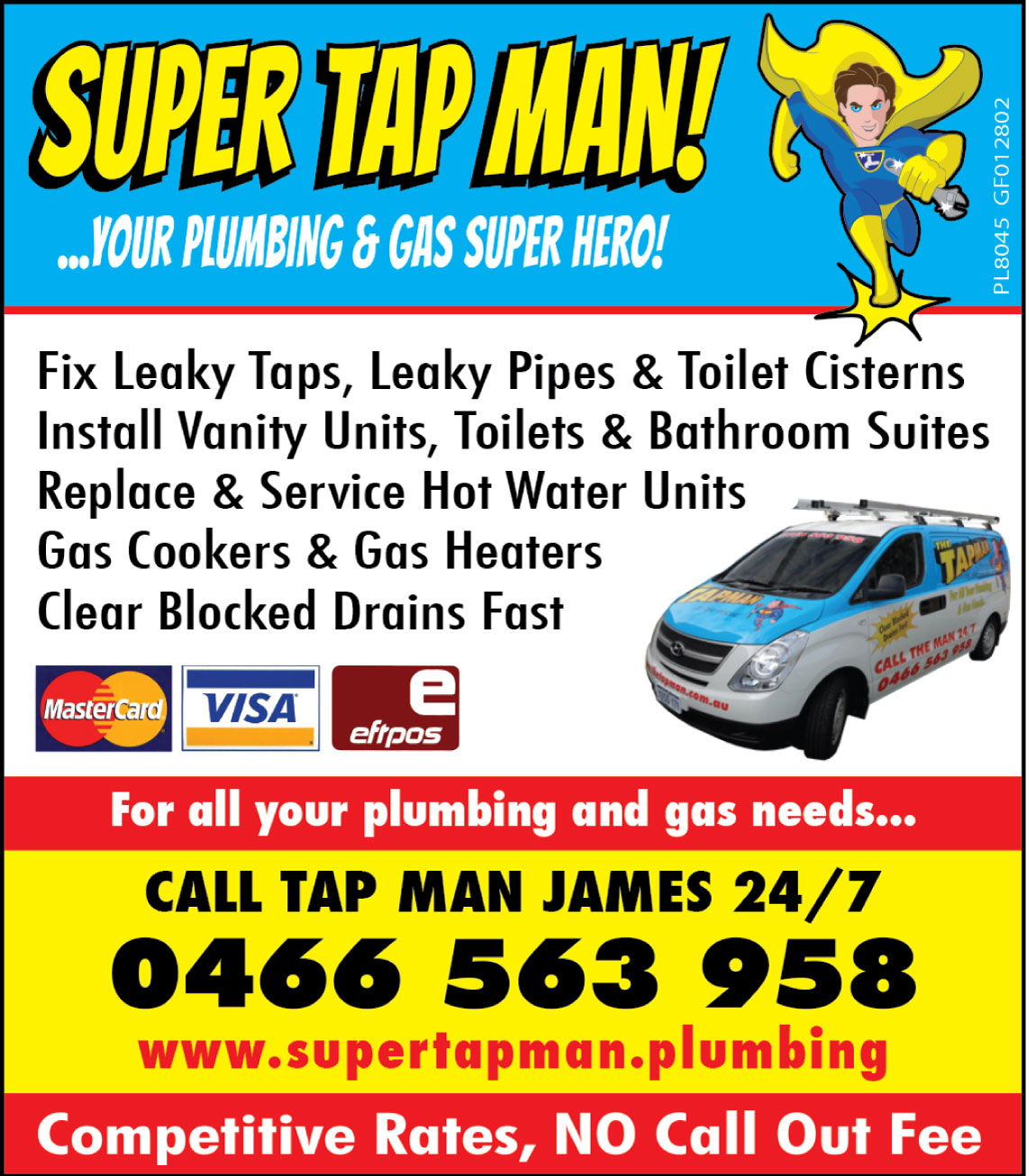 ---
---
---
---
About Us
ROCKINGHAM PLUMBERS AND GAS SERVICE, BALDIVIS PLUMBING AND GAS, MANDURAH HOT UNITS REPLACE AND REPAIRS WATER PLUMBING AND GAS, HOT WATER UNITS REPLACE AND REPAIRS BALDIVIS HOT WATER UNITS REPLACE AND REPAIRS SECRET HARBOUR HOT WATER UNITS REPLACE AND REPAIRS ROCKINGHAM HOT WATER UNITS REPLACE AND REPAIRS KWINANA HOT WATER UNITS REPLACE AND REPAIRS WELLARD HOT WATER UNITS REPLACE AND REPAIRS MEDINA HOT WATER UNITS REPLACE AND REPAIRS PORT KENNEDY HOT WATER UNITS REPLACE AND REPAIRS MEADOW SPRINGS HOT WATER UNITS REPLACE AND REPAIRS SINGLETON HOT WATER UNITS REPLACE AND REPAIRS ROCKINGHAM HOT WATER, BALDIVIS GAS, ROCKINGHAM GAS AND PLUMBING, MANDURAH BATHROOM INSTALLATIONS, ROCKINGHAM BATHROOM INSTALLATIONS, BALDIVIS PLUMBING, KWINANA GAS & HOT WATER, KWINANA HOT WATER, ROCKINGHAM PLUMBERS GAS HEATERS, BALDIVIS GAS & HOT WATER, MANDURAH HOT WATER, BALDIVIS PLUMBER & GAS ROCKINGHAM. HOT WATER ROCKINGHAM, MANDURAH PLUMBERS, MANDURAH HOTWATER SERVICES, ROCKINGHAM PLUMBER BALDIVIS PLUMBER MANDURAH HOT WATER ROCKINGHAM HOT WATER BALDIVIS GAS ROCKINGHAM GAS MANDURAH BATHROOM INSTALLATIONS ROCKINGHAM BATHROOM INSTALLATIONS BALDIVIS PLUMBING KWINANA GAS KWINANA HOT WATERROCKINGHAM BALDIVIS PLUMBING & GAS KWINANA HOT WATER SERVICES.
Emergency Plumbers Available in Rockingham Kwinana and Mandurah
Do you have drains that are constantly becoming blocked when you use your Kitchen sink or take a shower? Or are you having trouble with your water heating system? Are your toilets leaking water? Or are you in need of the services of a top quality plumber for your homes renovations? For all your plumbing and gas needs CALL SUPER TAPMAN JAMES 24/7...
VIEW SERVICES, PRODUCTS & GALLERY ON FULL FEATURE

---
Business Details
We provide an excellent plumbing and gas services in Perth and all surrounding areas. It doesn't matter if you need a clogged drain unblocked or need a replacement water heater – our team of licensed and highly experienced plumbing technicians will fix all your plumbing and gas related issues.
We don't charge our customers if we can't provide an adequate solution for your plumbing issues.
* Fix Leaky Taps Rockingham, Leaky Pipes Rockingham and Toilet Cisterns Rockingham * Vanity Units Rockingham, Toilets Rockingham and Bathroom Installation Rockingham * Replace and Service Hot Water Units Rockingham * Gas Cookers Rockingham and Gas Heaters Rockingham * Fast Clear Blocked Drain Rockingham.
COMPETITIVE RATES * NO CALL OUT FEE.

---
Trading Hours
Mon: By Appointment 24/7
Tue: By Appointment 24/7
Wed: By Appointment 24/7
Thu: By Appointment 24/7
Fri: By Appointment 24/7
Sat: By Appointment 24/7
Sun: By Appointment 24/7
---
Payments Accepted
Cash, Cheque, Credit Card, EFT