*Mandurah's South Coast Auto Electrics - Auto Electrics and Auto Air Conditioning Mandurah | Auto Electrics - MANDURAH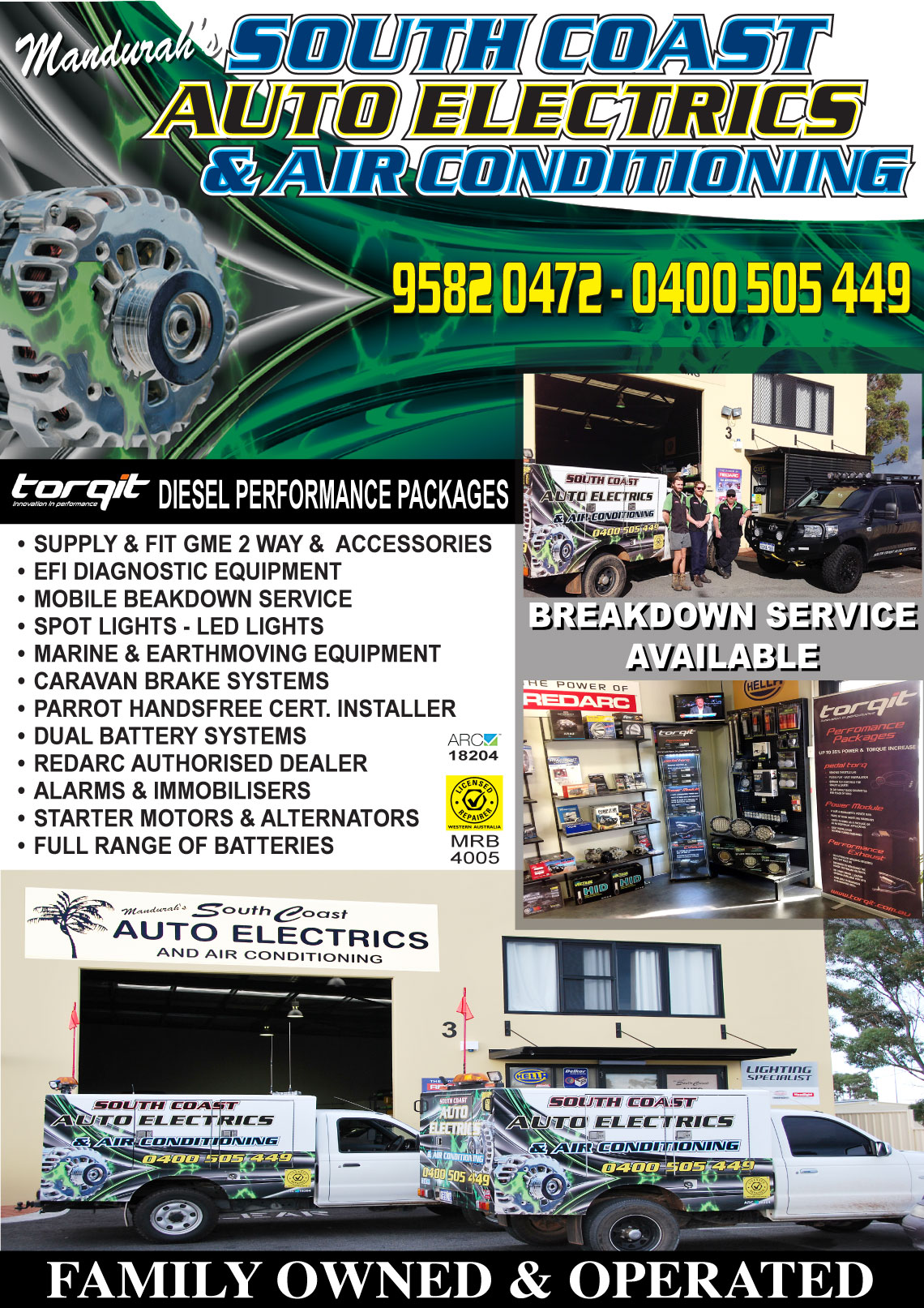 ---
---
Address
U3, 33 Thornborough Road, Cnr Fitzgerald St Mandurah 6210
---
---
About Us
AUTO ELECTRICS MANDURAH. AUTO ELECTRICS GREENFIELDS, MEADOW SPRINGS AUTO ELECTRICS, MANDURAH CAR REPAIRS AND AUTO ELECTRICS. AUTO AIRCONDITIONING MANDURAH.
TORQIT DIESEL PERFORMANCE PACKAGES MANDURAH
Auto Electricians in Mandurah region. Auto Electrical Specialists, Marine and Earthmoving Equipment, Mandurah Caravan Brake Systems, Parrot Handsfree Certified Installer, Dual Battery Systems, GME 2 Way and Accessories In Mandurah, Alarms and Immobilisers installed and repaired Mandurah Region, Starter Motors and Alternators. Full Range of Batteries Mandurah, Peel Region. BREAKDOWN SERVICE AVAILABLE MANDURAH, ROCKINGHAM, PEEL REGION. Licensed Repairer MRB4005 Arc 18204.
CLICK TO CONTACT AND CLICK FOR SERVICES BUTTON ON FEATURE
---
Products / Services
AUTO ELECTRICS MANDURAH. AUTO AIRCONDITIONING MANDURAH.
Auto Electricians in Mandurah region.
TORQIT DIESEL PERFORMANCE PACKAGES MANDURAH
Auto Electrical Specialists, Marine and Earthmoving Equipment, Mandurah Caravan Brake Systems, Parrot Handsfree Certified Installer, Dual Battery Systems, GME 2 Way and Accessories In Mandurah, Alarms and Immobilisers installed and repaired Mandurah Region, Starter Motors and Alternators. Full Range of Batteries Mandurah, Peel Region. BREAKDOWN SERVICE AVAILABLE MANDURAH, ROCKINGHAM, PEEL REGION. Licensed Repairer MRB4005 Arc 18204.
---
Trading Hours
Mon:
8.00am - 5.00pm
Tue:
8.00am - 5.00pm
Wed:
8.00am - 5.00pm
Thu:
8.00am - 5.00pm
Fri:
8.00am - 5.00pm
Sat:
By Appointment
Sun:
Closed
---
Payments Accepted
Cash, Credit Cards, Direct Debit