LINDSAYS MECHANIC SERVICES - SPECIALISTS IN CARS - 4WDS - FORKLIFTS - SMALL BUSES - VANS - TRUCKS SERVICE AND REPAIRS | Motor Vehicle Repairs
- ROCKINGHAM MECHANICS, GOLDEN BAY MECHANICS, MANDURAH MECHANICS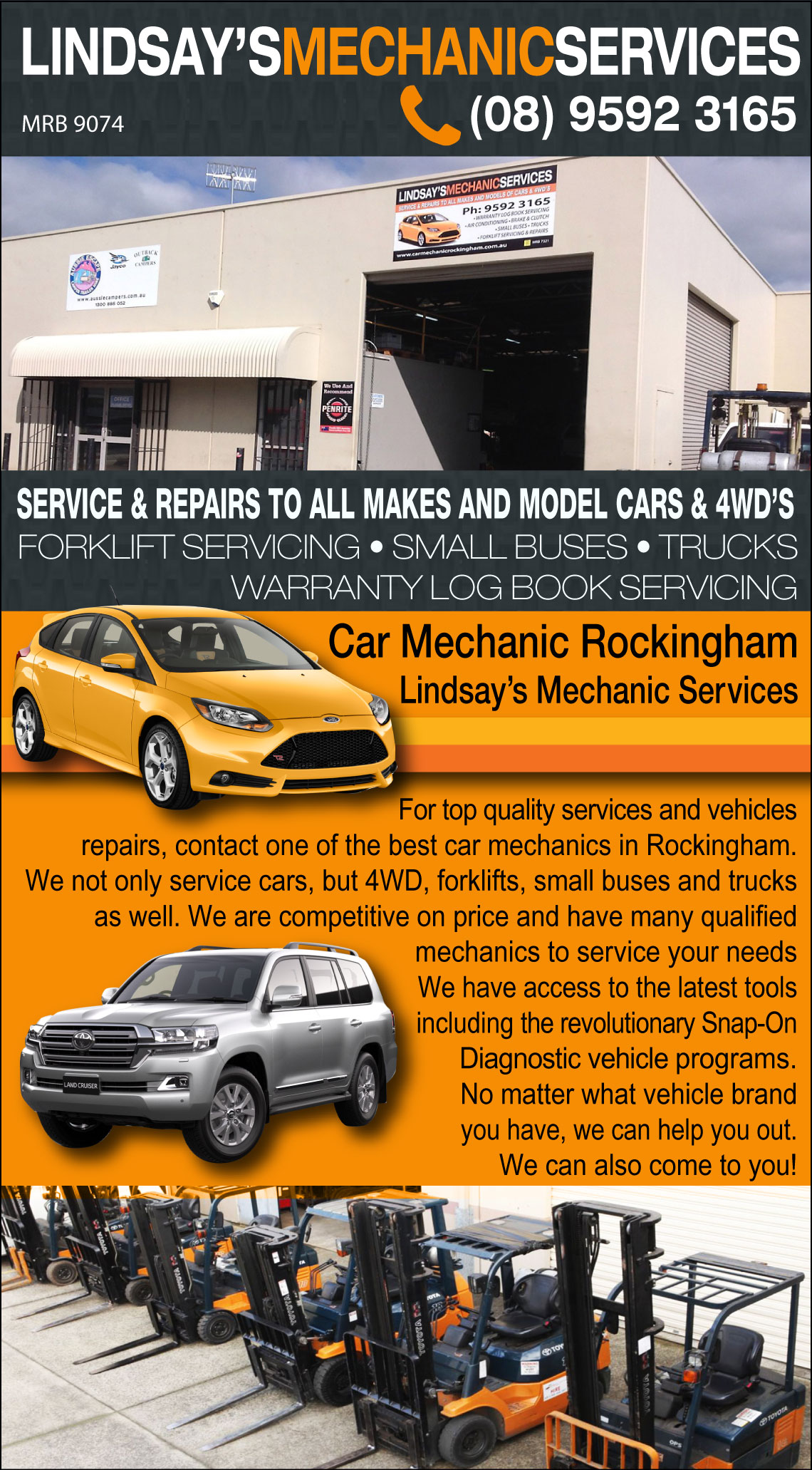 ---
LINDSAYS MECHANIC SERVICES - SPECIALISTS IN CARS - 4WDS - FORKLIFTS - SMALL BUSES - VANS - TRUCKS SERVICE AND REPAIRS

---
Address
1/9 McCamey Avenue Rockingham 6168
---
---
About Us
CAR MECHANICS ROCKINGHAM CAR MECHANICS WARNBRO CAR MECHANICS WAIKIKI SNAP ON DIAGNOSTICS COCKBURN MECHANICS ROCKINGHAM SNAP ON VEHICLE DIAGNOSTICS LUXURY VEHICLE REPAIRS ROCKINGHAM BALDIVIS VEHICLE REPAIRERS ROCKINGHAM SNAP ON VEHICLE DIAGNOSTICS AUTO AIR CON AUTHORISED REPAIRER LPG SERVICE AND REPAIRS AUTO ELECTRICS ROCKINGHAM AUTO ELECTRICS ON VANS ROCKINGHAM AUTO ELECTRICS WARNBRO AUTO ELECTRIC REPAIRS FORKLIFTS BALDIVIS AUTO ELECTRIC REPAIRS VANS FORKLIFTS PORT KENNEDY BALDIVIS UTILITY VAN SERVICE REPAIRS VAN MECHANICAL REPAIRS ROCKINGHAM WARNBRO VAN SERVICING NEAR ME KWINANA VEHICLE SERVICE CENTRE NEAR ME ROCKINGHAM ROCKINGHAM Mechanics, COCKBURN Auto Repairs, BALDIVIS Brakes, ROCKINGHAM Clutch Repairs, EMERGENCY Car Service ROCKINGHAM EMERGENCY MOBILE MECHANIC NEAR ME ROCKINGHAM, Car Repairs, Fleet Servicing, ROCKINGHAM MOTOR VEHICLE REPAIRS ROCKINGHAM CAR SERVICE REPAIRS ROCKINGHAM 4WD SERVICE AND REPAIR ROCKINGHAM CAR MECHANIC CAR REPAIRS ROCKINGHAM VEHICLE SERVICE BALDIVIS VEHICLE CAR SERVICE NEAR ME KWINANA CAR SERVICE GOLDEN BAY VEHICLE SERVICE WELLARD Motor Vehicle Repairs, Car Services, 4WD Repairs, Forklift Repairs 4WD CAR MECHANICS NEAR ME BALDIVIS CAR MECHANICS NEAR ME GOLDEN BAY CAR MECHANICS NEAR ME SECRET HARBOUR EMERGENCY 4WD AND CAR MECHANICS NEAR ME MANDURAH 4wd service repairs near me 4 WHEEL DRIVE SERVICING NEAR ME 4WD MOBILE MECHANIC NEAR ME COCKBURN 4WD MOBILE MECHANIC NEAR ME HAMILTON HILL 4WD MOBILE MECHANIC NEAR ME SPEARWOOD 4WD MOBILE MECHANIC NEAR ME WANDI 4WD MOBILE MECHANIC NEAR ME SERPENTINE VEHICLE LOG BOOK SERVICE WELLARD COST OF CAR SERVICING ROCKINGHAM MANDURAH 4WD DRIVE SERVICE COST SERVICE ON 4WD ROCKINGHAM CAR SERVICE PRICING ROCKINGHAM MANDURAH CAR SERVICE AND REPAIRS, FORKLIFT SERVICING PRICE ROCKINGHAM FORKLIFT SERVICING KWINANA FORKLIFT SERVICING PINJARRA MOBILE MECHANIC FORKLIFT SERVICE PINJARRA MOBILE MECHANIC FORKLIFT SERVICE BALDIVIS MOBILE MECHANIC FORKLIFT SERVICE KARNUP SMALL BUS SERVICING ROCKINGHAM SMALL BUS SERVICE REPAIRS ROCKINGHAM CAR WARRANTY SERVICE ROCKINGHAM CAR WARRANTY SERVICE BALDIVIS LOG BOOK MECHANIC ROCKINGHAM LOG BOOK MECHANICS MANDURAH LOG BOOK MECHANICS KWINANA BEST CAR MECHANICS ROCKINGHAM CAR MECHANICS NEAR ME ROCKINGHAM ROCKINGHAM MECHANICS CAR SERVICE ROCKINGHAM, BALDIVIS CAR MECHANICS, MECHANICAL WORKSHOP ROCKINGHAM, BALDIVIS MECHANICAL WORKSHOP. KWINANA MECHANICS, Motor Vehicle Repair Rockingham, Baldivis Car Repairs and Servicing, Port Kennedy Vehicle repairs and servicing. - VAN MECHANICS MECHANICAL REPAIRS ON VANS ROCKINGHAM Car Servicing Rockingham car servicing near me Baldivis- 4wd Service and Repairs Rockingham, Baldivis 4wd Service and Repairs Golden Bay 4wd Service and Repairs Secret Harbour Mandurah Vehicle Repairs. Rockingham, Baldivis Karnup Forklifts SERVICE REPAIRS SERVICE Small Buses ROCKINGHAM Truck Servicing Rockingham
Lindsay's Mechanical Services a wide range of mechanical vehicles - cars, 4wd, forklifts, small buses and trucks. We are competitive on price and have many qualified mechanics to service your needs.
We have access to the latest tools including the revolutionary Snap-On Diagnostic vehicle programs.
No matter what vehicle brand you have, we can repair and service it. We can also come to you!
PHONE 9592 3156 TO MAKE AN APPOINTMENT
CLICK TO CONTACT & CLICK FOR FACEBOOK ON FEATURE


---
Business Details
Lindsays Mechanical Services are your reliable and experienced mechanics.
Qualified tradesmen for:
SERVICING OF CARS, LUXURY VEHICLES, UTILITY VANS, TRUCKS, 4WDS, FORKLIFTS. SNAP ON VEHICLE DIAGNOSTICS
AIR-CON AUTHROSIED REPAIRER
LPG SERVICE & REPAIRS
AUTO ELECTRICS
ALL MECHANICAL REPAIRS
We are a family run business, operating in the Rockingham area for over 20 years.
Lindsay is the director and has extensive knowledge in the car mechanic and automotive repair industry in the Rockingham area.
The current workshop now operating out of McCamey Avenue has vehicle hoists for cars and 4wds.
There is also a bigger 4 poster hoist for small buses and trucks.
We have licensed mechanics with extensive vehicle knowledge in the more popular brands and models.
For top quality services and vehicles repairs, contact one of the best car mechanics in Rockingham.

---
Trading Hours
Mon: 8.00am - 5.00pm
Tue: 8.00am - 5.00pm
Wed: 8.00am - 5.00pm
Thu: 8.00am - 5.00pm
Fri: 8.00am - 5.00pm
Sat: Closed
Sun: Closed
---
Payments Accepted
Cash, Credit Cards, Direct Debit