CAMELOT PET RESORT😸❤️ CATTERY KARNUP AFFORDABLE CAT BOARDING - FAMILY OWNED AND OPERATED | Cattery
- KARNUP CATTERY ROCKINGHAM CATTERY MANDURAH CATTERY NAVAL BASE CATTERY SINGLETON CATTERY BALDIVIS CATTERY KWINANA CATTERY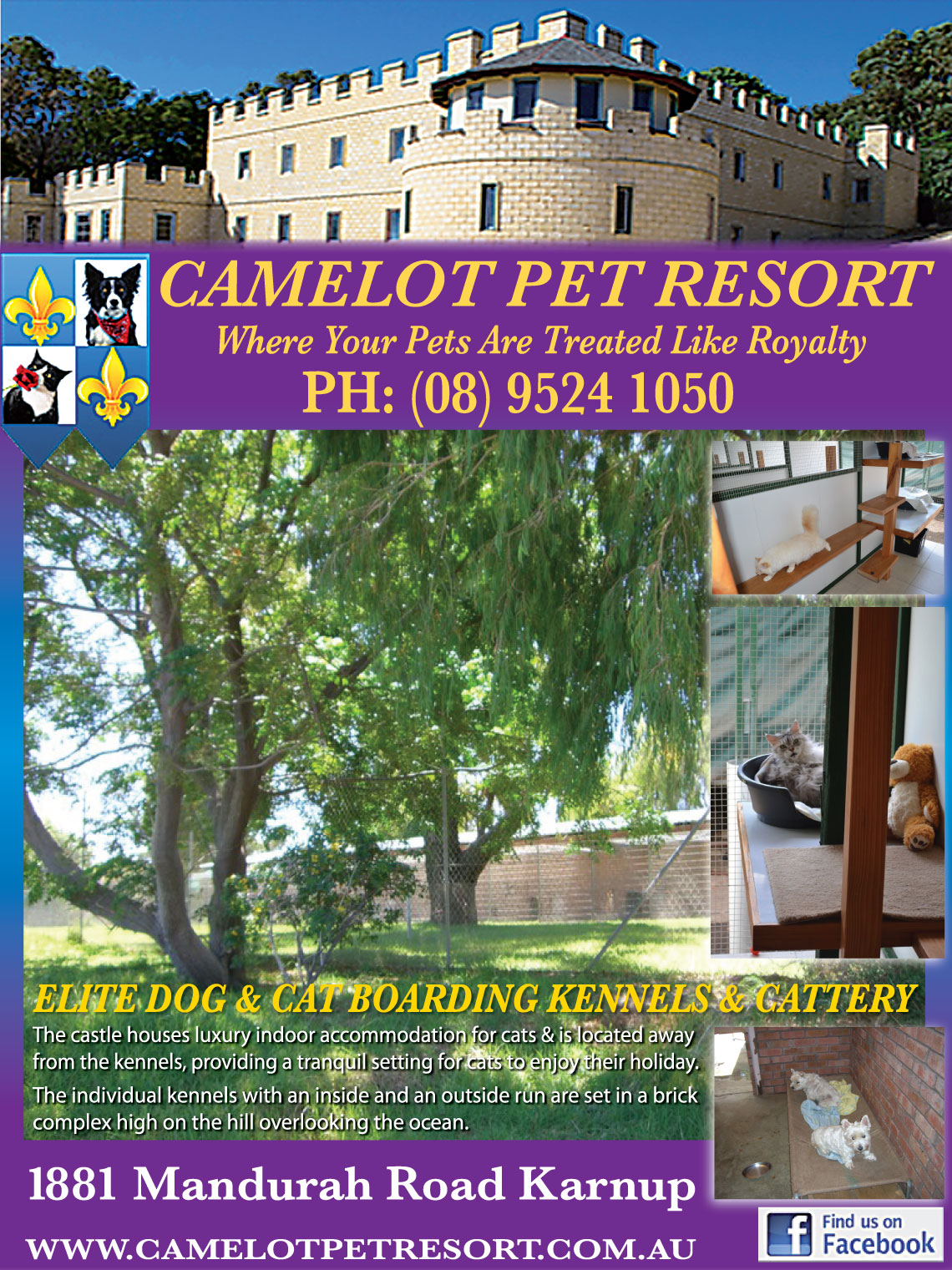 ---
---
Address
1881 Mandurah Road Karnup 6176
---
---
About Us
CATTERY ROCKINGHAM, DOG AND CAT BOARDING KENNELS KARNUP, PORT KENNEDY, a special place to leave your pet BALDIVIS DOG BOARDING KENNELS, GOLDEN BAY DOG AND CAT BOARDING KENNELS holiday solution for your cat LOCATED IN KARNUP, cattery MANDURAH ROAD. ROCKINGHAM & ELITE CAT BOARDING KENNELS ROCKINGHAM & ELITE CATTERY KARNUP ROCKINGHAM.
Camelot Pet Resort is a family owned and run business. Steve and Lillian Butcher purchased the business in 1986, and are still providing a caring professional service 31 years later. Over the years the facilities have grown with building of new kennel blocks and the construction of the now iconic Camelot Castle Cattery.
Camelot Pet Resort was opened as Ocean View Kennels in 1978. Camelot has changed a lot over the last 41 years. All that remains of the original Kennel complex is the concrete slab floor, with a new brick complex being constructed over the early 1990's. Steve then undertook the huge tasks of building our iconic Castle Cattery. We changed our name to Camelot Pet Resort in 1999 reflecting the theme of our extensions.
In May 2017 we received planning approval for the extension of our dog boarding kennels with a further 76 kennels and entry statement to be built in keeping with our castle theme, as well as an upgrade to our existing kennels.
CAMELOT PET RESORT IS STILL TAKING BOOKINGS AND WORKING WITHIN THE REGULATIONS TO ASSIST YOU WITH YOUR PET ACCOMMODATION.
ONLINE PRICING SEE FULL FEATURE PAGE
---
Business Details
At Camelot Pet Resort the castle houses luxury indoor accommodation for cats & is located away from the kennels, providing a tranquil setting for cats to enjoy their holiday.
The individual kennels with an inside and an outside run are set in a brick complex high on the hill overlooking the ocean.
Double kennels can accommodate dogs from the same family.
Camelot has a strict no mixing policy, so owners can be rest assured that their pet will not become involved in a pack fight.
All dogs however are exercised at least three times a day in large grassed exercise yards.
All dogs need to be currently vaccinated for a minimum C5 vaccination. The vaccinations must be current in the last 12 months, and immunity periods do apply if vaccinations need to be done.
Please contact us for further information as if vaccinations are not correct, your pet may be ineligible to board with us. A vet certificate must be provided.
The castle houses luxury indoor accommodation for cats and is located away from the kennels, providing a tranquil setting for cats to enjoy their holiday.
Cats enjoy an individual kennel overlooking into a central atrium (double kennels are available for customers with 2 or more cats), and 3/4 height solid dividers between the kennels provide privacy from the other cats giving confidence to even the most timid cat.
Every cat is provided with a basket and cushion as well as carpet square for comfort on their bed area, however we encourage customers to bring in a blanket or bedding from home as well as toys or scratching post to help them to settle in as quickly and easily as possible.
All cats need to be sterilised (de-sexed) and currently vaccinated for a minimum F3 vaccination. The vaccinations must be current in the last 12 months, and immunity periods do apply if vaccinations need to be done.
Please contact us for further information as if vaccinations are not correct, your pet may be ineligible to board with us.
A vet certificate must be provided.
PHONE 9524 1050

---
Trading Hours
Mon: 8am-12/4pm-5pm
Tue: 8am-12/4pm-5pm
Wed: 8am-12/4pm-5pm
Thu: 8am-12/4pm-5pm
Fri: 8am-12/4pm-5pm
Sat: 8am-12
Sun: 4pm-5pm By app
---
Payments Accepted
Cash, Cheque, Credit Card, EFT