*Port Kennedy Self Storage Units - Self Storage Port Kennedy Rockingham | Self Storage
- PORT KENNEDY SELF STORAGE ROCKINGHAM SELF STORAGE BALDIVIS SELF STORAGE MANDURAH SELF STORAGE PINJARRA SELF STORAGE SECRET HARBOUR SELF STORAGE GOLDEN BAY SELF STORAGE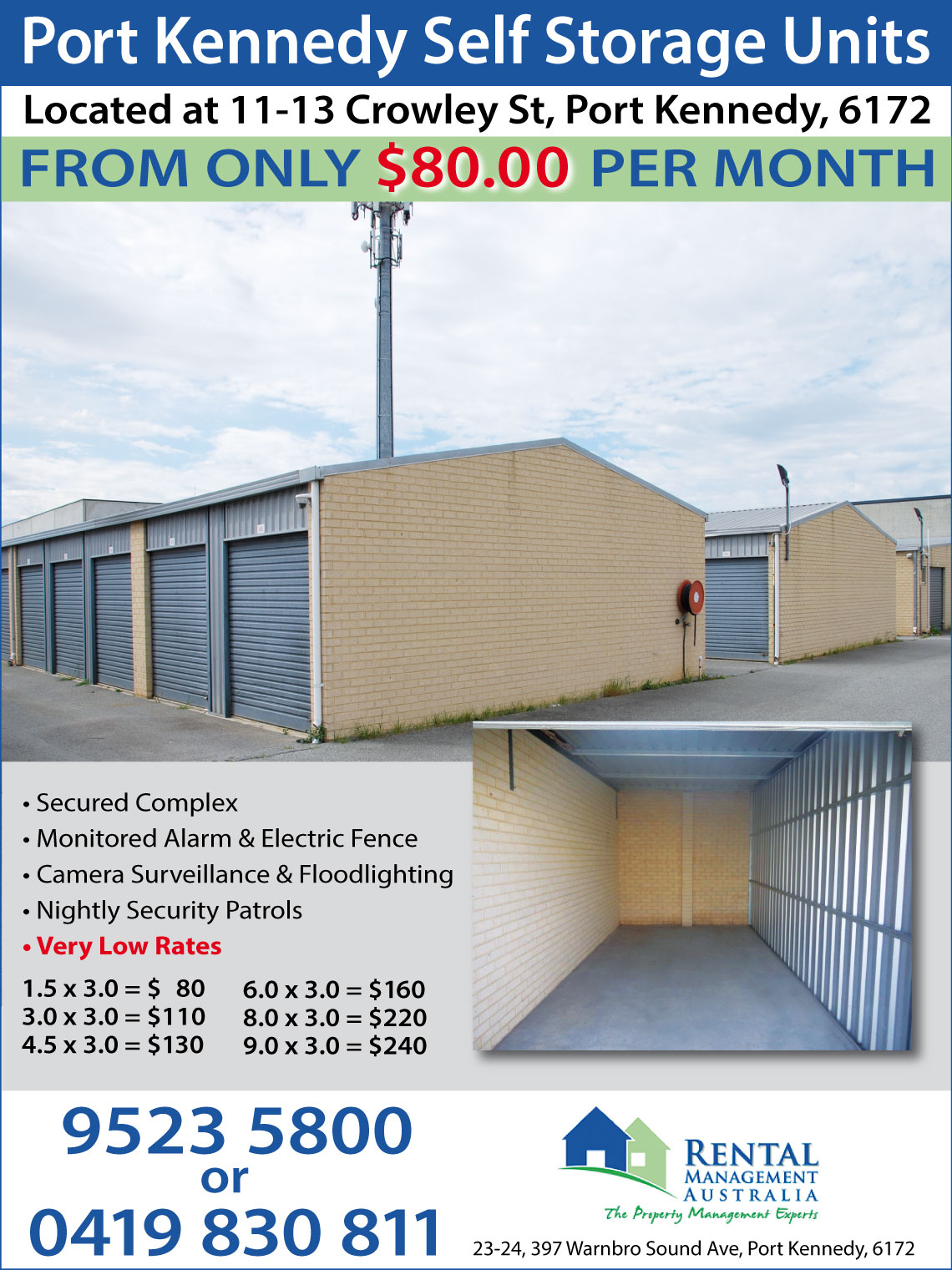 ---
---
Address
11-13 Crowley Street Port Kennedy 6172
---
---
About Us
PORT KENNEDY SELF STORAGE ROCKINGHAM SELF STORAGE BALDIVIS SELF STORAGE MANDURAH SELF STORAGE PINJARRA SELF STORAGE SECRET HARBOUR SELF STORAGE GOLDEN BAY SELF STORAGE PORT KENNEDY SELF STORAGE UNITS
Located at 11-13 Crowley St, Port Kennedy, 6172
- Secured Complex - Monitored Alarm and Electric Fence - Camera Surveillance and Floodlighting - Nightly Security Patrols - Very Low Rates - STORAGE FROM ONLY $80 PER MONTH.
CLICK TO CONTACT & FOR FACEBOOK ON FEATURE
---
Business Details
SELF STORAGE UNITS PORT KENNEDY.
STORAGE PORT KENNEDY.
SELF STORAGE ROCKINGHAM.
PORT KENNEDY SELF STORAGE UNITS
Located at 11-13 Crowley St, Port Kennedy, 6172
- Secured Complex - Monitored Alarm and Electric Fence - Camera Surveillance and Floodlighting - Nightly Security Patrols - Very Low Rates - STORAGE FROM ONLY $80 PER MONTH.
---
Trading Hours
Mon:
8.30am - 5.00pm
Tue:
8.30am - 5.00pm
Wed:
8.30am - 5.00pm
Thu:
8.30am - 5.00pm
Fri:
8.30am - 5.00pm
Sat:
8.30am - 1.00pm
Sun:
Closed
---
Payments Accepted
Cash, Cheque, Credit Card, EFT