MANDURAHS SOUTH COAST AUTO ELECTRICS & AIR CONDITIONING - BREAKDOWN SERVICE AVAILABLE | Motor Vehicle Repairs
- MANDURAH CAR REPAIRS, ERSKINE CAR REPAIRS, HALLS HEAD CAR REPAIRS, GREENFILDS CAR REPAIRS, ROCKINGHAM CAR REPAIRS.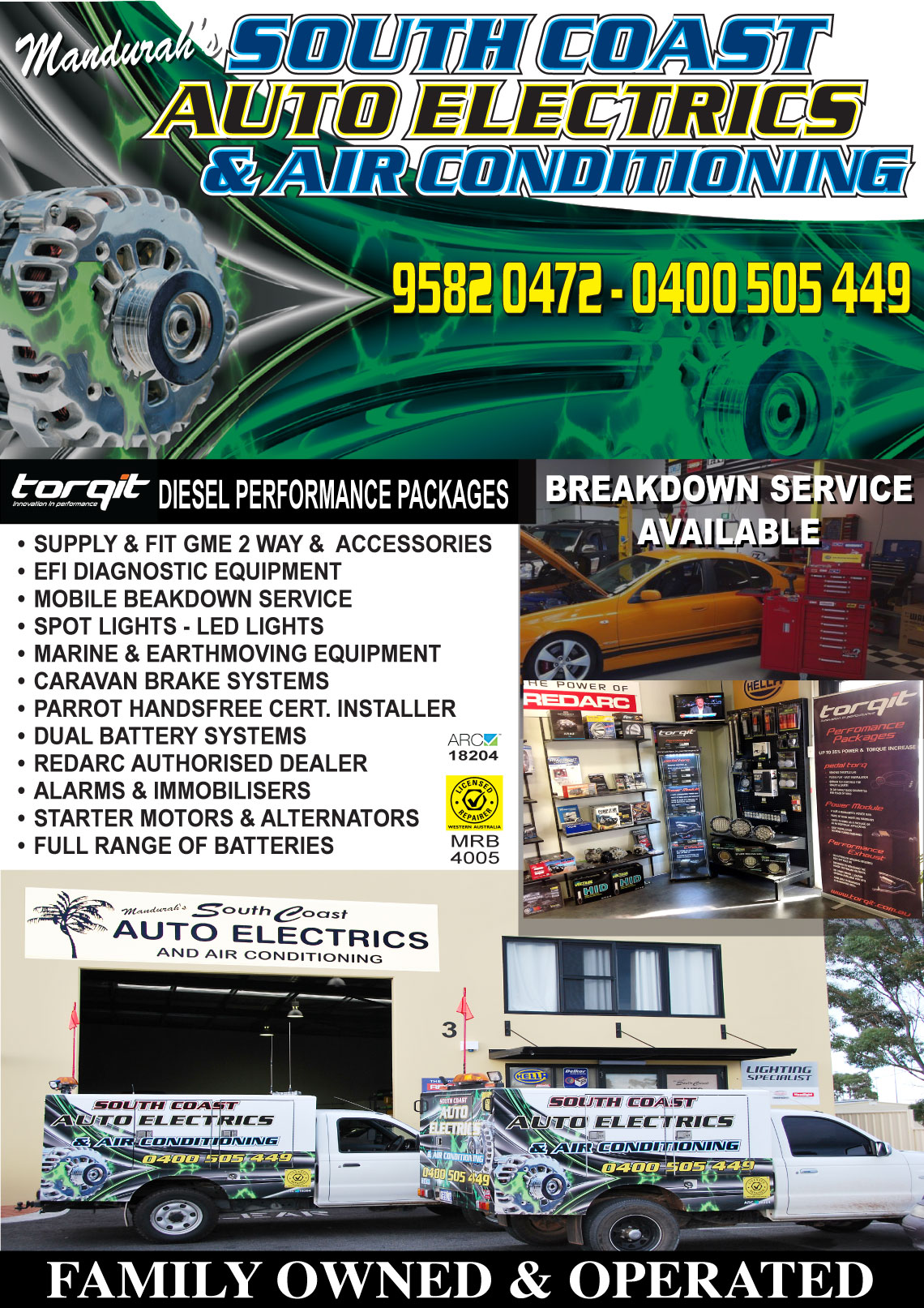 ---
---
Address
U3 33 Thornborough Road Mandurah 6210
---
---
About Us
CAR SERVICE MANDURAH, CAR REPAIRS SERVICE ERSKINE, HALLS HEAD CAR MECHANICS, AUTO REPAIRS MANDURAH, MOTOR VEHICLE REPAIRS MANDURAH Auto Electrics and Automotive Repairers Mandurah. AUTO ELECTRICS MANDURAH. Auto Electrical Specialists Pinjarra auto electricians Birchmont auto electricians Ravens Wood auto electricians Lakelands auto electricians Meadow Springs auto electricians Falcon auto electricians Golden Bay auto electricians Secret Harbour auto electricians Singleton auto electricians colour auto electricians Herron auto electricians Clifton auto electricians Bouvard auto electricians Wannanup auto electricians Dawesville Auto Electrical Specialists GREENFIELDS CAR REPAIRS AND AUTO ELECTRICIANS, MEADOW SPRINGS CAR SERVICING AND REPAIRS, MANDURAH CAR REPAIRERS, AND AUTO ELECTRICAL. AUTO AIRCONDITIONING MANDURAH. TORQIT DIESEL PERFORMANCE PACKAGES MANDURAH Auto Electricians in Mandurah region. Auto Electrical Specialists, Marine and Earthmoving Equipment, Mandurah Caravan Brake Systems, Parrot Handsfree Certified Installer, Dual Battery Systems, GME 2 Way and Accessories In Mandurah, Alarms and Immobilisers installed and repaired Mandurah Region, Starter Motors and Alternators. Full Range of Batteries Mandurah, Peel Region.
Mandurah-based South Coast Auto Electrics is Western Australia's leading auto electric and air conditioning specialist.
BREAKDOWN SERVICE AVAILABLE MANDURAH, ROCKINGHAM, PEEL REGION. Licensed Repairer MRB4005 Arc 18204.
With expert technicians on site to repair, service and maintain your vehicle and a fully equipped workshop using the latest diagnostic tools and reliable mobile service units, South Coast Auto Electrics guarantees work of the highest standards to keep your vehicle on the road.
We deliver prompt and friendly service and will see to all of your auto electrical and air conditioning needs.
---
Business Details
Auto Electricians in Mandurah region.
TORQIT DIESEL PERFORMANCE PACKAGES MANDURAH
Auto Electrical Specialists, Marine and Earthmoving Equipment, Mandurah Caravan Brake Systems, Parrot Handsfree Certified Installer, Dual Battery Systems, GME 2 Way and Accessories In Mandurah, Alarms and Immobilisers installed and repaired, Starter Motors and Alternators. Full Range of Batteries Mandurah, Peel Region.
BREAKDOWN SERVICE AVAILABLE MANDURAH, ROCKINGHAM, PEEL REGION. Licensed Repairer MRB4005 Arc 1820
South Coast Auto Electrics specialises in the repair, installation and supply of high quality components and services to fleet vehicles of all makes and models, as well as marine- and earth moving equipment, trailers, caravans and private vehicles.
Our services include;
EFI Diagnostics
Mobile breakdown services
Spot lights – LED lights
Parrot hands free installations
Dual battery systems and full range of batteries
GME 2-way and accessories
Alarms and immobilisers
Starter motors and alternators
Solar panels
Torqit Performance Systems
Performance tuning and exhausts
PHONE US ON 9582 0472 TO DISCUSS YOU AUTO ELECTRICS NEEDS

---
Trading Hours
Mon: 8.00am - 5.00pm
Tue: 8.00am - 5.00pm
Wed: 8.00am - 5.00pm
Thu: 8.00am - 5.00pm
Fri: 8.00am - 5.00pm
Sat: By Appointment
Sun: Closed
---
Payments Accepted
Cash, Credit Cards, Direct Debit