STB CLEANING - COMMERCIAL & HOME CLEANING SERVICES - AFFORDABLE WINDOW CLEANING SPECIALISTS ALSO CARPET, TILE & GROUT ROOF GUTTERS & HIGH PRESSURE CLEANING | Window Cleaners
- ROCKINGHAM CLEANING SERVICES BALDIVIS CLEANING SERVICES MANDURAH CLEANING SERVICES KWINANA CLEANING SERVICES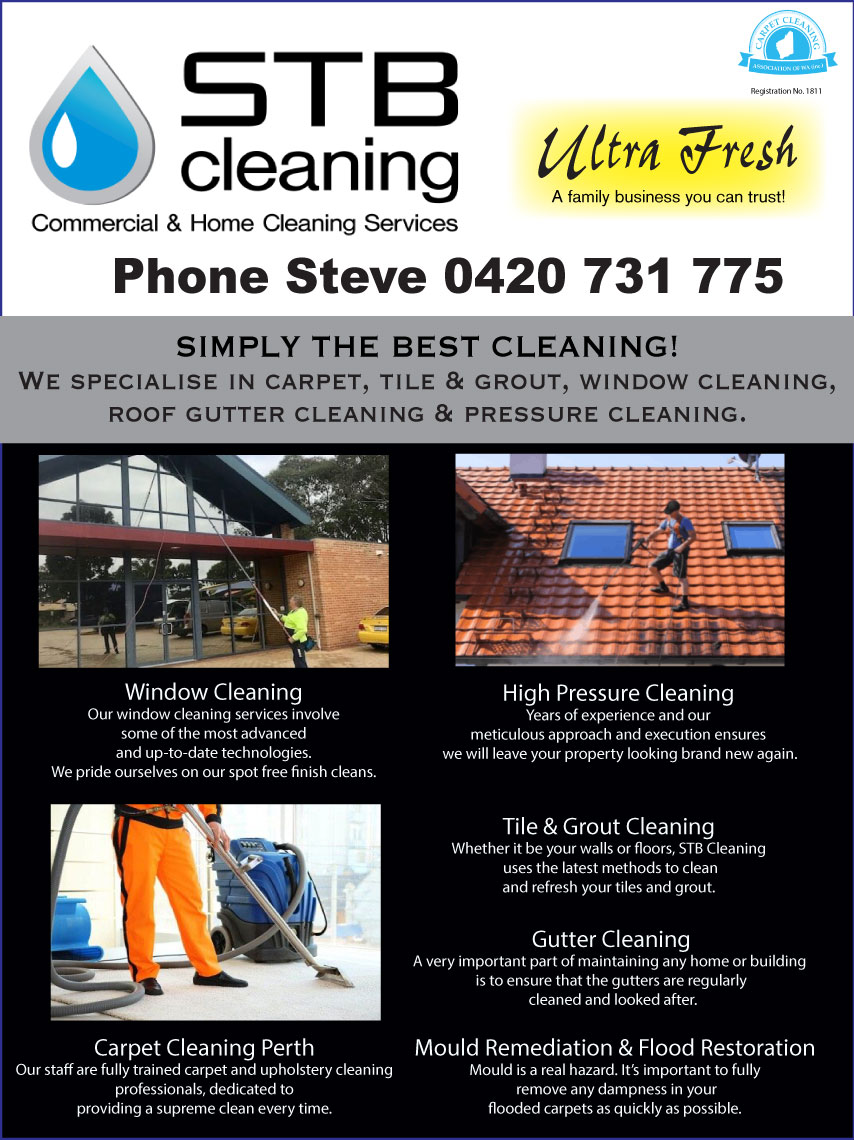 ---
---
---
---
About Us
ROCKINGHAM WINDOW CLEANING SERVICES MANDURAH WINDOW CLEANING SERVICES KWINANA WINDOW CLEANING SERVICES MANDURAH AFFORDABLE WINDOW CLEANING SERVICES BALDIVIS VACATE CLEANS ROCKINGHAM.
BALDIVIS CLEANING SERVICES SINGLETON CLEANING SERVICES MEADOW SPRINGS WINDOW AND CARPET CLEANING SERVICES PORT KENNEDY My grout needs a clean.
STB Cleaning are your local window cleaning specialist, reliable, fast service and a company you can trust including Ultra Fresh Carpet & Upholstery Cleaning.
Multi Storey Window Cleaning, and carpet cleaning, tile and grout cleaning. Prompt professional service - Truck mount machine. We also specialise in High Pressure Cleaning & Gutter Cleaning.
REQUEST A QUOTE TODAY!

---
Business Details
STB CLEANING .STB Cleaning is a family owned cleaning business.
Our fully trained cleaning technicians perform each task in a cost efficient and professional manner to ensure we achieve your expectations on time and on budget.
Thanks to our "family concept", our skills and special equipment we can offer better prices than others.
We love what we do and take pride every day and in every job, we have done.
We provide comprehensive cleaning and maintenance services for all types of commercial (but also private) facilities. Whether you are a small business or a large corporation, we have the experience and expertise to make your facility a clean, safe, and healthy environment for business. We are the company you can rely on.We strive to offer you excellent service that exceeds your expectations and leaves your building with a renewed look. Our expert cleaning professionals will complete your job professionally and efficiently ensuring to leave your premises mess free on their departure.
We do every job efficiently and safely. We are prompt, reliable and environmentally friendly.
Our multi-purpose cleaning equipment will effectively clean most surfaces.
We know that you are our partner and that is the reason, why we approach every customer individually.
To help us provide our customers with the very best service, we have obtained the following:
- Member of CCWA (Carpet Cleaning Association of Western Australia)
- Police Clearances
- Fully Insured
- Working At Height Certification
- Elevated Platform Licence
- White Card
The most important business for us is your order!!!
---
Trading Hours
Mon: By Appointment
Tue: By Appointment
Wed: By Appointment
Thu: By Appointment
Fri: By Appointment
Sat: By Appointment
Sun: BY Appointment
---
Payments Accepted
Cash, Cheque, Credit Card,